'Wonder or horror': Four waterspouts emerge near Spanish island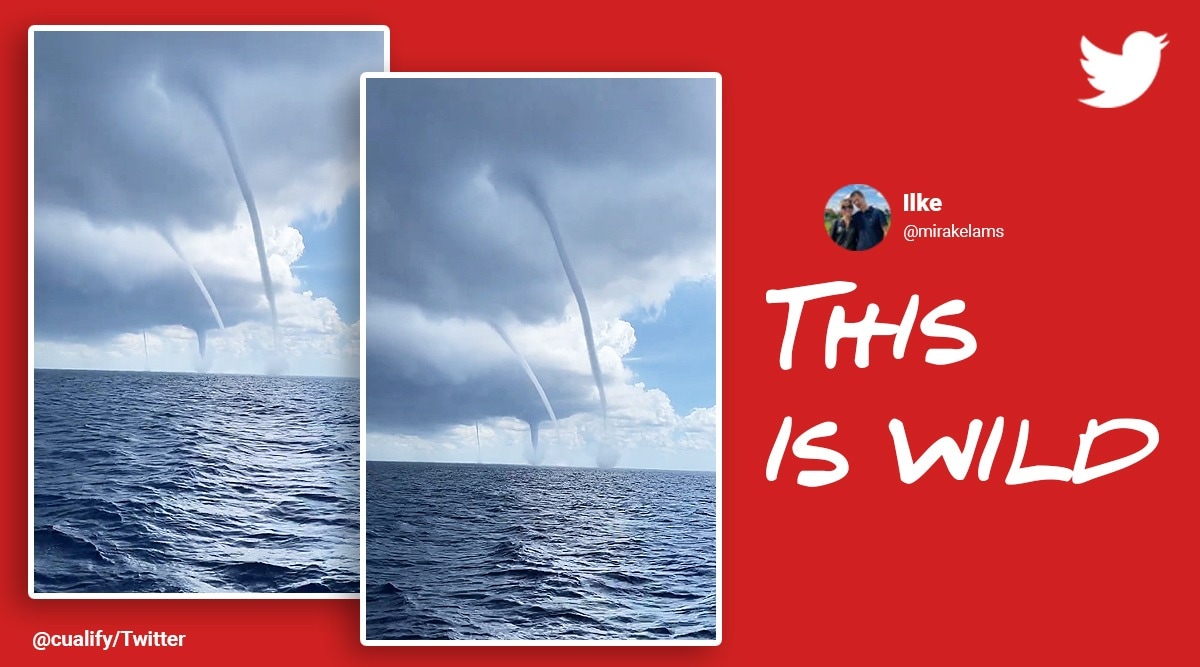 Seeing a waterspout can be rare. However, many people who visited the Spanish island of Mallorca had a unique opportunity to see not one, but four waterspouts appearing close together.
The rare weather phenomenon was captured in a video shared online on September 16, 2022 by a Twitter user by the name of ENTJ (@cualify). It appears that the video was taken on a boat trip.
The six-second clip has been viewed over 1.6 million times. Netizens expressed their awe and concern over the video.
@antena3com @tiempobrasero @rtve @cuatro @informativost5 Majorca! pic.twitter.com/TTtW2M8Cew

— ENTJ (@cualify) 09/16/2022
Had numerous nightmares about this very thing!!! Frighteningly beautiful!

— Betty☮️🌻🇺🇦 (@TiredBetty) September 18, 2022
It's a refill station for the storms.

— Brett Falconer (@B_Falconer1975) September 18, 2022
They are beautiful and terrifying at the same time.

— A Jones (@MustacheHam) September 18, 2022
Is this…. Is that even normal?

— Jack the Colorful (@Jack_the_Expat) September 18, 2022
Who says "Oh cool, waterspouts – worth filming for 6 seconds"? What, your battery was low?

— Aidan Cook (@AidanCook) September 18, 2022
No chance not to have a nightmare with this surreal video.

— Lulu Slader (@LuluSlader) September 19, 2022
Oh my god I would freak out seeing this in person. From a boat? Forget it! https://t.co/vsaATGwrEx

— MichelleCharlesworth (@mcharlesworth7) September 19, 2022
miracle or terror? https://t.co/0srU7ZXXpP

—Davone Morales (@davonemorales) September 19, 2022
A Twitter user wrote: "Wonder or horror?". Another person wrote: "This is spectacular and scary at the same time…". One netizen commented, "Oh my god I would freak out seeing this in person. From a boat? Forget it!".
According to Mallorca Daily Bulletin, a Spanish news agency, the four waterspouts emerged a day after the storm hit different parts of Mallorca.
A Waterspout is a whirl, often shaped like a funnel spinning over bodies of water. They are also known as sea tornadoes. According to Michael Branick's Comprehensive Glossary of Weather, "Waterspouts are most commonly found over tropical or subtropical waters." They are usually weak and do not cause storm-like weather conditions.
In early July, people at Vellayil fishing port in Kozhikode, Kerala were surprised after witnessing a Waterspout that surfaced after a brief hurricane had hit the shore.
'The skeleton got your order': Man completes food delivery in a spooky style ahead of Halloween
As Halloween is approaching, more and more people are getting involved in the spooky festival, and a delivery man in the US is one of them. A video showing a DoorDash courier's funny but unusual delivery style has gone viral. DoorDash is an American online grocery ordering company.
The video, which appears to have been captured by a door camera, shows a delivery man approaching a house with a package of groceries. Instead of simply leaving the package in front of the front door, the delivery person puts it on your lap Halloween decoration Skeleton preserved on the porch of the house. The deliverer also rearranges the skeleton's hand over the package, making it appear as if the skeleton is holding the food package.
The funny moment, captured on camera, was shared on Instagram by content creator Khloe Kuriatnyk on September 26. Kuriatnyk also shared the DoorDash text she received from the delivery man, which read, "Hi, the skeleton received your order."
While sharing the video, Kuriatnyk wrote, "There are good people in the world and some of them happen to be door handle delivery drivers."
The video received over 12,000 likes. One Twitter user wrote: "Hahaha yeeee!! So healthy and wonderful!" Another person wrote, "It's the smile on his face while he's doing it that is so humbling."
Woman 'ran over and killed man who she thought was killing a cat'
A California woman has been accused of running over and killing a man after accusing him of trying to run over a cat with his car.
Hannah Star Esser, 20, has been charged with the murder of Luis Anthony Victor, 43, the Orange County Attorney's Office said in a statement.
Esser was driving in Cypress, a Southern California suburb, on September 25 when she confronted Victor and accused him of trying to run over a cat, authorities said.
They both got out of their cars and got into a verbal argument involving profanity against Victor, which Esser recorded on her cell phone.
Victor tried to talk to Esser, who got so angry that she got back in her car, made a three-point turn, and "accelerated" toward Victor.
Prosecutors allege that Esser deliberately accelerated as he drove toward Victor, purposefully hit him and ejected him onto the hood and windshield of the car. Victor flipped through the air several times before landing on the street.
He was pronounced dead at the scene.
Victor, a father of five daughters, was expecting his first grandchild this fall and was killed outside the apartment building where he lived. He died in the arms of his only brother, according to a statement released on behalf of his family.
"This senseless act of violence stole a bright light from the world that will never be forgotten," the statement said.
"This action showed a complete disregard for human life," Orange County District Attorney Todd Spitzer said.
Officials have not said if a real cat was involved in the crime. Officials are still investigating the case.
"The Orange County District Attorney's Office will ensure that this random act of violence against a stranger is prosecuted to the fullest extent of the law."
She is due to be charged on October 13 and could face 25 years of life imprisonment. She is being held on $1 million bail.
Get in touch with our messaging team by emailing us at [email protected] Medias.co.uk.
For more stories like this, Visit our news page.
Get the top news, feel-good stories, analysis and more
Thailand elephant slides down muddy hill for fun. Watch video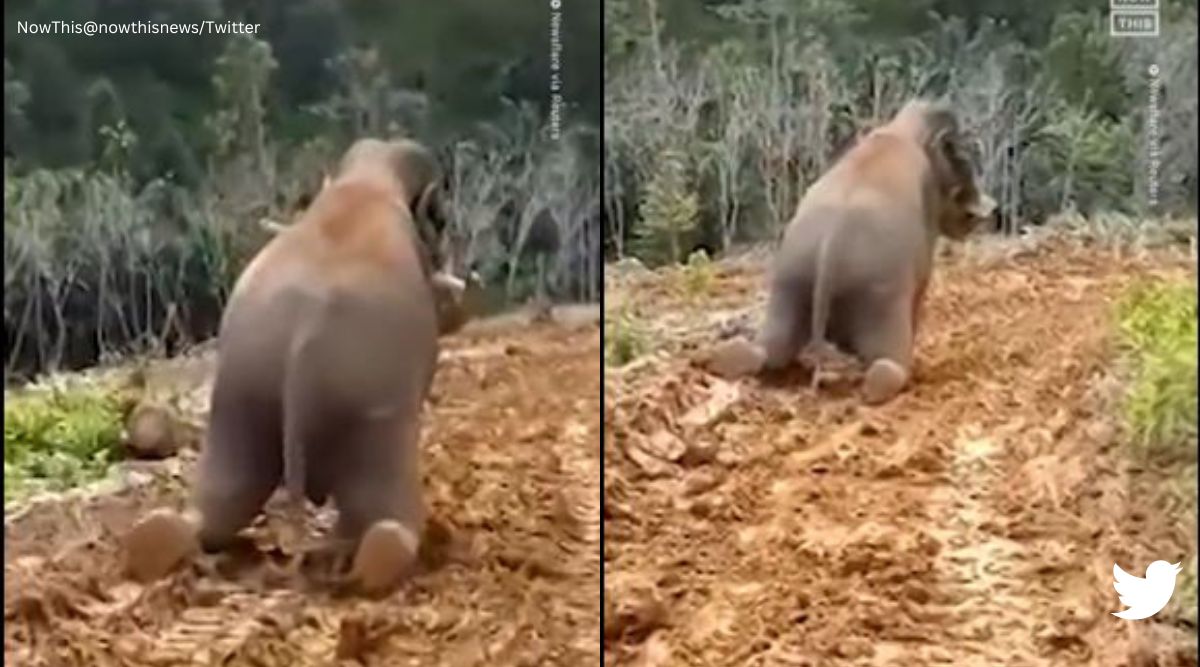 There is no shortage of fun content online. Light-hearted videos instantly lift everyone's spirits and spread happiness. laughter, on elephant slid down a muddy hill on his hind legs and won hearts online with his antics.
The clip, shared by Now This on Twitter, shows the gentle giant sliding down a muddy hill. The carefree onestrong>pachyderm enjoying the ride on the muddy slope. The elephant also makes grunting noises while riding on its hind legs.
The elephant decided to have fun after a rainstorm in Ranong, Thailand. "A giant male elephant named Somsak decided to have some fun by sliding down a muddy hill on his own knees after a rainstorm in Ranong, Thailand. "I couldn't stop laughing… He's so funny," zoo keeper Tawatchai Suriwong said via Newsflare," the Now This tweet read. The clip has garnered more than 12,800 views on Twitter since it was posted on Thursday.
A giant male elephant named Somsak decided to have some fun by sliding down a muddy hill on his own knees after a rainstorm in Ranong, Thailand.

"I couldn't stop laughing… He's so funny," zoo keeper Tawatchai Suriwong told Newsflare. pic.twitter.com/8m5v0IPIev

— NowThis (@nowthisnews) September 29, 2022
A video recently went viral on social media showing an elephant wriggling out of a building. The clip was shared by Indian Forest Service officer Susanta Nanda and the elephant was seen struggling to get out of a small doorway. After some bending and maneuvering, the animal managed to exit the building.