The Ocean Cleanup Conceptualizes Its Third Massive Apparatus to Remove Trash from the 'Great Pacific Garbage Patch'


Unfortunately known as the Great Pacific Garbage Patch, a wide strip of sea between the US coast and Japan, is a giant garbage patch. A vortex, or current system, surrounds the area and sucks debris and garbage into its rotation, trapping hundreds of millions of kilograms of plastic waste in its 20 million square kilometers.
Back in 2018, The Ocean Cleanup constructed a slow-moving contraption called System 001 designed to wade through the patch to retrieve junk with a massive web. The nonprofit, which aims to eliminate 90 percent of floating plastic by 2040, is now designing the third iteration of the machine, which will be the largest and most efficient model yet. "When it comes to cleaning up the oceans, size matters" a statement says about the new technology. "Larger systems mean fewer support vessels, which are the main cost driver (and biggest CO2 emitter) in our operations. In short, larger systems mean lower cost per kilogram." System 002 removed more than 100,000 kilograms Plastic from July 2022.
In a newly produced concept video, The Ocean Cleanup suggests System 3 will now consist of three ships that rely on drones to identify debris hotspots. The ships will carry a massive net system 2,500 meters wide and four meters deep that will sweep target areas to collect debris and channel it into a sizable containment zone. Once the waste is collected and retrieved from the water, it is organized into shipping containers and sent for recycling or reuse.
The Ocean Cleanup plans to build a fleet of ten System 03 machines over the coming months, which the organization estimates will be powerful enough to restore much of the area. You can follow the progress on Twitter and Instagramand go to his side for occasional live streams.
Are such stories and artists important to you? To become something Colossal member Join today and support independent art publications for as little as $5 a month. You'll connect with a community of like-minded readers passionate about contemporary art, read articles and newsletters ad-free, continue our interview series, receive discounts and early access to our limited-edition print publications, and more. Join now!
2nd International Original Print Exhibition (2022)
I went to see those International Original Print Exhibition 2022 In the Bankside Gallery on the South Bank on Tuesday. It ends on Sunday October 2nd.
I definitely recommend it as a diverse collection of original fine art prints that showcase the diversity of different approaches to printmaking
The prints also varied between very colorful and monochrome.
All of the works on display are the result of an open submission exhibition set up by the Royal Society of Painter-Printmakers. The exhibition aims to celebrate the very best in all forms of contemporary printmaking.
These include
Aquatint etching
chinese colle
engraving
Digital
drypoint etching
etching
Giclée
hand stenciled screenprint
High relief carborundum
gravure
Woodcut with laser engraving
linocut
lithograph
mezzotint
Mokuhanga (water-based wood block)
monotype
photolithography
Etching of photopolymers
risograph
screen printing
Screenprint and woodcut
soft ground
solar etching
stone lithograph
woodcut and stencil
block of wood
and variations on the above.
It is also an exhibition with a variety of sponsors of both the exhibition and the individual awards.
The general tendency of the subject is either abstract or landscape oriented with fewer images of people than you might expect.
selection
The works on display were also selected from thousands of entries.
The guest voters this year were:
Katriona Gillespie – an expert on contemporary Australian art
Nadia Phillips – a curator
dr John Phillips – Former Director of the London Print Studio
sale
One comment I would like to make is that this show did NOT sell as many as I think it could and should have.
I think there can be three reasons for this
the print run size is not noted on the label next to the print – and I never buy an unframed print without knowing the print run size (The information is available – it's just not there to seize the moment when someone is interested!)
I haven't seen much marketing for the exhibition – and there are very few social media posts about it.
which is partly because artists don't bother to market their work either! Gail Brodholt's post is an isolated post!
Very pleased that my linocut 'Storm Clouds Over Whitehall' is part of the International Original Print Exhibition at @BanksideGallery. Open every day (until 2nd October) with a wonderful selection of artist prints. Free entry and right next to Tate Modern!#Print Exhibition #linocut pic.twitter.com/BRUpSWMkuQ

— Gail Brodholt (@gailbrodholt) September 25, 2022
PS If you are visiting you might be interested in seeing those Lubaina Humid Exhibition next door at Tate Modern – which also ends on October 2nd.
I have uploaded some photos from this exhibition to my Facebook page Making A Mark – see below
The Hidden Poetry of Everyday Life
HUDSON, New York — I'm a fan of shows with the word "poetry" in the title. While researching Olana, the palatial home of Hudson River artist Frederic Church, I went to check it out Still life and the poetry of the place at the Pamela Salisbury Gallery (September 3 to October 16, 2022), comprised of more than 100 modest and tightly scaled artworks spread over six floors in two buildings. There were pieces by artists I'd followed for years, as well as artists whose names I knew but whose art I had never seen, and others that were completely unknown to me.
Jane Freilicher's One Cat, Two Fish (1974) is one of the largest and most idiosyncratic still lifes the late artist has created in her career. The unlikely scenario – a cat lying on a table surrounded by jars and buns filled with flowers, with a platter of two large fish near the puny enclosure – is funny and atypical. Other outstanding works include Peter Aron's archival inkjet print The Pantry in Olana (2022), Susan Jane Walp's two muted still lifes, Judith Linhare's paintings of flower-filled vases emerging from succulent ribbons and splashes of paint, Trevor Winkfield's absurd arrangements of various objects, Brenda Goodman's haunting autobiographical studio views; and Catherine Murphy's large two-page magazine painting depicting an opulent home interior.
Many of the artists who were new to me are represented with more than one work, which gives me a sense of what they can do with color and/or subject matter. Scott Brodie's images of a single object (various bars of soap and an egg carton) are outstanding; Phoebe Helander's cropped aerial shots of fruits, vegetables and unexpected items like flattened bungee hooks; Elisa Jensen's atmospheric depictions of interiors with windows; Ron Milewicz's isolated views of kale on a table; Donna Moylan's homey, object-populated interiors; and Kathy Osborn's odd, interesting portrayals of a woman in the midst of mundane activity.
The real surprise, however, came with two early works by Harry Roseman, whose previous shows I have reviewed. Made of cast, painted aluminum and electric lights, Room with a View of Hoboken (1976) is set in what may once have been a small storeroom.
Lothar Osterburg is another artist whose work I was not familiar with until this exhibition. He transforms boxes to create containers with a lens opening that we look into; inside is a shadowy, mysterious room. In Card Catalog (2022) we see an aisle lined on both sides with card catalogs neatly stacked from floor to ceiling. At the rear, a vertical corridor suggests a larger, visually inaccessible space. We got lost in the basement of Jorge Luis Borges' infinite library. Osterburg's works are just some of the highlights of this wonderful show.
Still life and the poetry of the place continues through October 16 at Pamela Salisbury Gallery (362 1/2 Warren Street, Hudson, New York). The exhibition was organized by the gallery.
Juxtapoz Magazine – Psychedelic Artist Chuck Sperry Brings "Idyllion" to Denver in 3-Day Pop-Up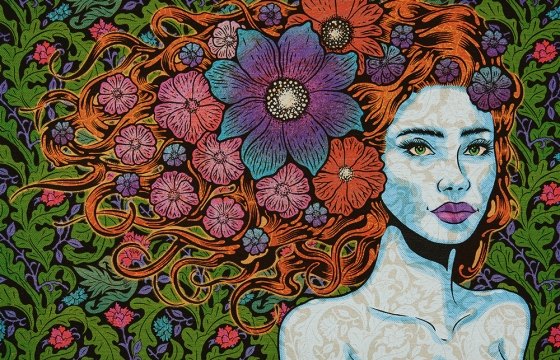 harman projects is pleased to present Idyllion, a solo show by the Oakland-based artist and screenprinter Chuck Sperry. This exhibition is our latest collaboration with the artist, following several Incredible solo shows in San Francisco, Santa Monica, and New York City.
Tucked away in sprawling Hangar 18 in Oakland, CA, local legend Chuck Sperry can often be found creating stunning and inspiring screenprints using eye-popping inks and lustrous papers. Throughout a career spanning more than thirty years, Sperry has drawn inspiration from the beauty and reality of the world, past and present. Continuing his Muses series, Idyllion is a full-scale collection and celebration of Chuck's admiration for Greek mythology and the power of womanhood.
Sperry never shies away from the political zeitgeist and passion for human rights that the Bay Area is known for. Sperry created and donated his work to continue the fight for equality. Most recently, his artwork Equal Rights, Flower of Democracy was part of an effort to raise awareness of the Equal Rights Amendment in the United States, and in support of this cause the gallery and artist are proud to donate a percentage of sales to support to donate to the tie vote as well as the Consciousness Alliance.
idyll, is a collection and celebration of the diverse worlds that have captivated Sperry since the early 1990s. Gig posters of internationally acclaimed musicians, hauntingly gorgeous muses with intricate patterns on shimmering foils, blotting paper prints and his new book of the same name offer audiences a glimpse into the universe Chuck has been painstakingly creating for years.
With decades of experience and an unwavering growth in execution, these works build on Sperry's combination of classic design elements, captivating muses, and hand-blended inks that combine with a depth of texture not often associated with format to create an unforgettable image create. New limited edition screen prints on wood panels will be available at the exhibition, along with custom framed prints from the artist's personal archive. The exhibition also serves as the world premiere of two new collectible categories, an oversized blotter edition and a deluxe postcard set. Idyllion, the latest monograph chronicling this growing body of work, will also be available in person exclusively at the exhibition.
Harman Projects is held at: Mirus Gallery & Art Bar Denver 1144 Broadway, Denver, CO 80203
To watch: Friday 30 September 2022 – Sunday 2 October 2022