Scorpion: The police task force set up to tackle high murder rates, now involved in the killing of an unarmed man | US News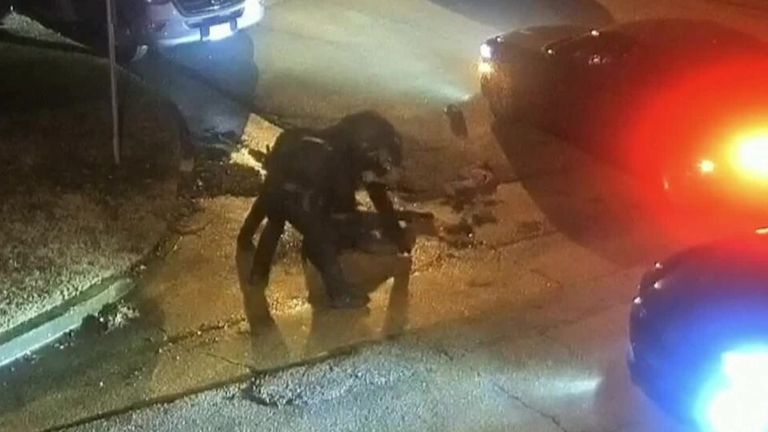 When Memphis, a city in southwest Tennessee, hit a record number of homicides in 2021 for the second year in a row, many called for action.
Attention turned to the Memphis Police Department to tackle the homicide rate, leading to the creation of the Scorpion Unit in October 2021.
"MPD's new SCORPION UNIT launched!" Read a post on the department's Facebook page, along with a video clip showing a group of officers in tactical vests at roll call.
The name stands for the "Street Crimes Operation to Restore Peace In Our Neighborhoods" – but officers from the same unit were in charge of the operation brutal attack by Tire Nichols earlier this month during a traffic stop for allegedly reckless driving.
Memphis authorities have released video footage of Tire Nichols being held down by officers and repeatedly beaten as he cried out for his mother.

"The Scorpion unit was involved," said Steve Mulroy, the district attorney for Shelby County, Tennessee, Thursday as he announced murder charges against five officers.
Police Commissioner Cerelyn Davis, who has called the attack "abhorrent, inconsiderate and inhumane", has announced a review of all police department special forces, including Scorpion, in response to Mr Nichols' death.
A "crime-fighting" unit
The Scorpion unit was set up under the police department's organized crime branch in October 2021 after a record 346 murders were reported in 2021 – up from 332 the year before.
Consisting of 40 officers divided into four teams of 10, the unit was tasked with fighting violent crime and investigating auto thefts and gangs.
Last January, Mayor Jim Strickland promoted the unit as part of the solution to the high homicide rate, saying it made hundreds of arrests and seized hundreds of cars and guns in the first three months.
His operations were showcased on the police department's Facebook page: arrests that began with traffic stops, escalated into more serious confrontations and ended with arrests of people for drugs and weapons.
"The police are doing what they can to arrest people"
Mark LeSure, a former Memphis Police Department sergeant who retired in 2021, said he began seeing large numbers of relatively inexperienced officers being transferred to special operations units when other members of the force left.
Mr. LeSure added that the units did not have enough senior staff to train the new officers.
"Rookies were put in specialized units where they weren't supposed to be," he said.
Two of the five officers involved in the attack on Mr Nicols, aged between 24 and 32, had been in office for a number of years and the others for no more than six years.
Mr LeSure said some of his former colleagues who are still with the department had told him that the Scorpion unit, which was formed after his retirement, was known for having a "zero tolerance" policy towards crime – which meant that the officials "do what". they can arrest people".
Police initially said Mr Nichols was pulled over for reckless driving on January 7 and that there was a "confrontation" to arrest him.
However, Ms Davis said a review of the incident could not "substantiate" the allegation of reckless driving.
He died three days after the attack.
"Unity is an excuse to harass everyday residents"
E. Winslow Chapman, the director of the Police Department from 1976 to 1983, said that when he headed the police force, officers were ineligible for specialized units without at least seven years in office.
Mr Chapman said: "They are using officers to send a message that we are here and will no longer tolerate criminal activity … and it can go overboard very easily, which it obviously did in this case."
Chelsea Glass, a Memphis community organizer working for criminal justice reform, called Scorpion a street crime team that relies on traffic stops as an excuse to find violent criminals and guns.
"They harass ordinary residents and call it high-level policing," he said.
"But it's really just stop-and-frisk on wheels. It doesn't matter what name you put on it."
What do we know about the officers?
The five officers were charged with second-degree murder, misconduct, aggravated kidnapping, official repression and aggravated assault.
Here's what is known about each.
Demetrius Haley, 30
Haley joined the Memphis Police Department in August 2020.
He previously worked as a correctional officer for the Shelby County Correctional Department and was accused of assaulting an inmate.
The lawsuit against him was dismissed because the inmate had not filled out all the paperwork.
Tadarrius bean, 24
Bean was also hired in August 2020, having previously worked at a fast food restaurant and a telecommunications company AT&T, according to his LinkedIn profile.
It said he studied criminal justice and law enforcement at the University of Mississippi from 2016 to 2020 and did an internship with the campus police force.
Emmit Martin III, 30
Martin was hired by the Memphis Police Department in March 2018.
Joshua Harper, a pastor in Memphis, said he followed Martin on social media and that the man pictured in the court filings "is not the person I know."
"I was shocked for just a second because I understood that he was a cop and I know behind the badge that anything can happen when everyone has power and authority," Harper said.
Desmond Mills Jr., 32
Mills was hired by the Memphis Police Department in March 2017.
He earned the nickname "Box" while playing American football for West Virginia State University.
One of his former coaches, Kip Shaw, said: "When I saw the news I was just shocked. I've been training for a long time and you just never know. I said to my wife, 'This man played for us at West Virginia'."
Justin Smith, 28
Smith was hired by the Memphis Police Department in March 2018.
After his arrest, Smith posted his $250,000 bail and was released from custody Thursday night.
5 killed in west Sudan tribal violence, rights group says
CAIRO (AP) — Two days of tribal violence in western Sudan's long-settled Darfur region killed at least 5 people, tribal leaders and a rights group said on Friday.
Violence between African Masalit tribesmen and Arab herdsmen in west Darfur erupted on Thursday after two gunmen fatally shot a merchant in a remote area, leaders of both groups said.
In a statement, Masalit tribesmen accused Arab militias of being behind the killing. The killing sparked a series of targeted attacks that killed at least four other people, the tribal leaders and rights group said.
Five victims were later identified by the Darfur Bar Association, a Sudanese rights group focused on human rights in the western province. The group urged both sides to de-escalate tensions.
The violence comes as quarrelsome bipartisan talks continue in Khartoum over how the African country will institute civilian rule after 17 months of military rule.
Sudan has descended into chaos after a military coup led by the country's top general, Abdel-Fattah Burhan, ousted a Western-backed government in October 2021, turning the short-lived transition to democracy on its head.
But last December, the country's ruling military and various pro-democracy forces signed a tentative agreement in which they pledged to resume the transition.
Last week, signatories to the December accord pledged to begin forming a new civilian-led interim government on April 11. However, many important political forces in the country remain opposed to the agreement.
Since the military takeover, Sudan has also seen a surge in inter-tribal violence in the west and south of the country.
Analysts see the violence and growing insecurity in Sudan's remote regions as a result of the power vacuum created by the military takeover.
I'm a champion bodybuilding goliath – my title-winning workout makes a specific area of your body mega-ripped
ERIN Banks has unveiled his title-winning workout that will transform a specific area of ​​your body into a mega-ripped phenomenon.
The master body builder is one of the biggest names in the lifting world, but his latest fitness regimen has wowed fans.
banks began competing professionally in 2019 and has since won the Men's Physique Olympia as well as the highly regarded Arnold Classic.
However, his success was not pure luck, but dedication.
Most days, Banks starts his day at 4:30 a.m., where he kicks off fast cardio.
For the rest of the day he balances family life with a strength program and finishes it by 8 p.m. at the latest.
He told BarBend, "If I'm really locked down for these shows and prep, I'll be in bed by 7pm.
"I don't like to push beyond that because recovery is key.
"Routine is so important.
"I believe a lot of my success comes from what I do every day – adapt and stay focused."
However, Banks is most notable for his incredible V-shaped physique, evident through his huge back muscles.
And he has now let fans in on his secret workout, which he does twice a week.
It contains:
Lat pulldowns with straight arms: 4 x 20 reps (moderate weight to warm up)
Chest Assisted T-Bar Row: 4 x 12 reps (Hard)
Seated Lat Pulldown: 4 x 12 reps (hard)
Rack pulls: 3 x 10 reps (super hard)
Extended row: 4 x ten reps (super hard)
Before competing professionally, Banks was a gifted athlete in high school and then majored in kinesiology in college.
Despite his inclination towards fitness, he admitted that he never wanted to be a bodybuilder.
But in 2017, trainer Terry Reeves "begged" Banks to try.
Since then, the 33-year-old has perfected his craft to become the best in the world.
He said: "We've tried to preserve every other part of the body, but once you start exercising to the extreme, everything grows.
"During these months we became more sophisticated."
During one cut, Banks burned about 2,700 calories per day.
After a ten-week break from competition, he increased it to 3,200 calories.
Most of its nutrient gains come from chicken breast, rice, and broccoli.
He said, "After 10 to 12 weeks, we push that stuff aside.
"It's based on being the best.
"I've never gotten bored with food, so for the past three years I've prepared myself and eaten the same things over and over again."
After his InstagramBanks teased that he would try the Classic Physique division when he retires.
Rodolphe Jaar pleads guilty in Haiti president's assassination
The late former President of Haiti Jovenel Moise.
Haitian-Chilean national Rodolphe Jaar pleaded guilty before a US judge on Friday to three counts relating to his role in the assassination of Haitian President Jovenel Moise, who was killed at his home in July 2021, court documents showed.
Jaar is one of 11 defendants in the case, including businessmen accused of helping to obtain vehicles and firearms from Florida and former Colombian soldiers accused of gunning down Moise in his bedroom.
According to the US Department of Justice, Jaar had been charged with helping get arms to the Colombians who also lived in a home he controlled and helping them while they were in hiding from Haitian authorities.
He was arrested in January 2022 in the Dominican Republic, which shares the island of Hispaniola with Haiti.
Jaar's sentencing, which could face life imprisonment, was set for June 2 in Miami, according to court documents.
Moise's murder left a political vacuum in the Caribbean nation and emboldened powerful gangs that now effectively control large parts of the country and whose turf wars are fueling a humanitarian crisis that has displaced at least 160,000 people.
Jaar's lawyer declined to comment.
---
We live in a world where fact and fiction blur
In uncertain times, you need journalism you can trust. For 14 free days you have access to a world of in-depth analysis, investigative journalism, top opinions and a range of features. Journalism strengthens democracy. Invest in the future today. After that you will be charged R75 per month. You can cancel at any time and if you cancel within 14 days you will not be charged.