Science and Empathy in the Art of Dario Robleto"
What do we owe to the memories of the hearts of others?
This central question runs through the exhibition The Knowing of the Heart: Science and Empathy in the Art of Dario Robletopresented by Northwestern University's Block Museum of Art and the McCormick School of Engineering from January 26 to July 9, 2023.
For the American artist Dario Robleto (b. 1972), artists and scientists share a common goal: to increase the sensitivity of their observations. Throughout the history of scientific invention, instruments such as the cardiograph and the telescope have extended the range of perception from the tiniest movements of the human body to the farthest reaches of space. In his prints, sculptures, video and sound installations, Robleto considers the emotional significance of these technologies and brings us closer to life's latent traces buried in the scientific record.
The knowledge of the heart focuses on the last decade of Robleto's creative practice, a period of deepening engagement with the history of medicine, biomedical engineering, sound recording, and space exploration. The exhibition organizes the artist's work as a series of multi-sensory encounters between art and science. Each piece seeks to attune the viewer to phenomena ranging from the intimate to the universal, always coming back to the question: does empathy transcend the boundaries of time and space?
In The First Time, the Heart (A Portrait of Life 1854–1913) (2017), Robleto transforms early measurements of heartbeats, taken by pioneers of cardiography in the 19th century, into exquisite photolithographs executed on paper, dusted by hand with candle flames. For the installation The Pulse Armed With a Pen (An Unknown History of the Human Heartbeat) (2014), Robleto digitally recreates these historical heartbeats, allowing visitors to hear life pulses recorded before the invention of sound reproduction. Two immersive video installations, The Boundary of Life is Quietly Crossed (2019) and The Aorta of an Archivist (2020-2021), weave Robleto's archival investigation into the first recorded heartbeats with a meditation on the cosmic limits of perception and intricate sculptures such as "Small Crafts on Sisyphean Seas" (2018) give shape to the speculative search for intelligent life in the universe.
The knowledge of the heart marks the culmination of Robleto's five-year engagement as Artist at Large at Northwestern University's McCormick School of Engineering and Applied Science. This exhibition reflects the spirit of this company, expanding the conversations about ethics and empathy in scientific fields and inviting us to look at and listen to the life that surrounds us with curiosity and compassion.
The companion publication is currently available from ARTBOOK DAP.
the Block Art Museum is always free and open to everyone.
To learn more, visit blockmuseum.northwestern.edu.
What's Iconoclastic About a Blackface Madonna?
What is an act of desecration? The work of the Detroit-based artist Tony Rave has uncovered controversial discussions about this question and the implications of reconfiguring religiously themed objects by combining them with images from popular and mass culture.
Rave's collection includes a Series of white porcelain putti and other statues, busts and figures of the Virgin Mary – all in blackface. Some of these characters are standalone pieces, while others combine ephemeral images of the mother with pornography of women in glass cases. A few other works are assembled into larger crafts containing remnants of branded products: empty Hennessy bottles, Newport menthol cigarette packs, baking powder boxes, the Nike emblem, a painted face of Colonel Sanders, and logos such as Gucci and Louis Vuitton.
In its modern definition, profanation is not only the destruction or disregard of sacred objects, but the very concept of it deprive them of their holy character. However, the word "desecrate" comes from Latin profane, meaning "to sanctify," with the prefix "de-" meaning "of" or "concerning," as opposed to undo or the opposite of being. Rave's work arguably does not desecrate the image of the Virgin, but rather sanctifies its symbolic nature, dismantling the long-term systematization of female holiness as pure white. With Mary in blackface, drooling crimson paint, we are reminded of the complicated story of how art represents holiness, and that the veneration of sacred idols and images – including the female body of Mary – is not unique to a European Christian belief system.
The use of sacred themes in and around art has always been a controversial issue and one with a long history in the pre-modern world. We are reminded of the violent efforts of the 8th and 9th century Byzantine iconoclasm and iconoclasm of the Reformation, which argued that the making and use of images for Christian worship was contrary to the word of the Bible and the second commandment. We also know that different sects of Christianity have different rules about the place of idols and religious paintings in churches, if any. Despite these debates, cults of saints were and are revered and worshiped to similar gods; and churches still contain paintings of saints, Bible stories, and statues of saints—whose early intent was to teach Scripture to an illiterate audience. Similar discussions about representation can also be found in theater history, where the depiction and characterization of God on stage has also been heavily debated.
In the 13th century Western Europe saw a significant change in the representation of women and their role in society. This period saw the rise of colloquialism (as opposed to Church Latin) and subsequently the production of romantic stories containing elements from the so-called "East", influenced by Europeans' cross-cultural contact with Southwest Asia and North Africa (SWANA) communities, mainly as Outcome of Crusade advances from Western Europe. These factors changed the way devotional practices by and through women were portrayed in manuscript and visual culture. Above all – because Orientalist images of women reconciled the "East" with fetishized exoticism – Western European art ontologically recast the image of virginity within its own moral-ethical parameters, associating a white female body with piety and devotion Latin Christianity. The main character then became the image of a white Holy Mother of God, now objectified and trapped in a male-eyed desire.
Rave's work reminds us that the metaphorical qualities associated with the female body transcended those imposed by Western European colonial practices; that throughout Europe and the world icons, shrines and statues of the Black Madonna or Black Virgin have long been erected and venerated as equal counterparts. That also conveys the work Piety is not purely white; that the allegorical imagery of Mary – also one of the most important female figures in Islam – functioned symbolically as a reminder of the important role of women in spiritual culture. The Lament of the Virgin, for example, and the shift in her metaphorical representations are consistent with historical changes in a world where goddesses were seen as equal to gods, where women played an active and significant role in ritual culture, particularly in the practice of lamentation Women negotiated the beliefs of their communities with the gods. Until it was usurped by a male monotheism.
When all this constitutes an act Desecration, Then maybe it's time we re-examine how and what our society worships.
Nike Careers | Communication Arts
Responses from Hector Garcia, Chief Innovation Officer, Associate Partner; and Trevor Hubbard, Global Chief Executive Officer, Butcher Shop® Global.
Background: This site aims to create a consumer-centric global hiring experience for Nike and its family of brands. We transformed Nike's employer brand, digital experience, technology, platforms and content to attract, recruit, hire and retain top talent worldwide. This extensive project involved many talented people and lasted more than a year. We were challenged to make job hunting as enjoyable as buying shoes by creating a database that matched candidate personalities to teams, groups and jobs – as seen in the Find Your Fit app. Targeting a diverse, global audience, we ensured each region was represented in the content and prioritized diversity and inclusion, which reflects Nike's thoughtfulness and values.
Technology: The project was technically divided into four key elements. The first was the front end. Our goal was a fast, fluid experience where everything feels connected. To achieve this, we used React as our front-end framework Next.js for server-side rendering. We also added an extra layer of functionality to the frontend to easily integrate 3rd party features like chatbots and custom tracking tools.
The second element was a robust fully custom CMS. Our challenge was that Nike has many locations and it was important to showcase the specific benefits, lifestyles and microcultures of each location and add specific job opportunities to each location. We needed an extensive localization layer as people are accessing the site from all over the world. We have chosen django as the basis for the CMS and created all the necessary customizations, including a custom user interface and metrics dashboards to track aggregated data.
The third aspect was the job postings themselves. Like any large company, Nike needs multiple options for talent tracking systems. Each global Nike office supported more than four talent platforms like Taleo or Avature, and local offices could add more. Because of this fragmented ecosystem, we needed to create a jobs API that would connect to each talent provider and unify the response for our CMS and frontend. The Jobs API or internal talent system had its infrastructure, database and CDN; was completely independent; and focused solely on syncing and unifying job listings.
The fourth and final part was the infrastructure and scaling strategies we employed. We created a Kubernetes cluster to define rules and metrics to monitor traffic and server loads and increase or decrease the number of instances for each service. In addition, we have ensured optimal performance worldwide by dividing our infrastructure into three main regions, each operating according to different strategies.
The X factor was that we also developed all of this for other standalone Nike brands like Converse.
Challenges: Building a rich experience of features and tools for HR managers and recruiters at Nike presented two major challenges.
First, data management was a hurdle as numerous teams, job data, geospatial data, benefits, profiles, and applicant tracking systems were collated and stored in different locations, hampering innovation. Our first step was to centralize and structure the data to allow for layering and tagging, e.g. B. Personal information and behavioral information for optimizing the job search. Our data teams and experienced strategists built a core data engine to manage thousands of jobs, making it easy to create new teams, jobs and content.
Second, content was critical to building a platform that would improve the recruitment and hiring of top talent. Acquiring Nike's acclaimed content was a challenge as much of it was in the hands of vendors around the world and focused on marketing products rather than showcasing work experience. Our "Look Closer" idea aimed to make Nike's work culture visible worldwide. We likened the process to furnishing a beautiful home to make it welcoming and comfortable for guests and family. We secured the budget and support to create numerous videos and thousands of images, sending three teams to sixteen countries over six weeks, resulting in a content suite mapped to the site's architecture. That hard work has paid off and improved the overall experience.
favorite details: One of the most impressive features of the Nike Career website is the job cart feature that allows users to add jobs that they want to apply for. The Find Your Fit search tool helps users find suitable teams or jobs based on their skills, experience and personality. The site provides a glimpse of work at Nike locations around the world, from Japan to the headquarters in Beaverton, Oregon. Additionally, the team's movement language subtly reflects Nike's brand movement. These elements combine to create a powerful, delightful experience befitting Nike's career site. Finally, the speed of the site and the technology that powers its functions are top notch. You can really feel it when you surf the site.
New Lessons: We used our Beat Failure® methodology to extract these insights. Like most agencies, we started with the cliche question: what does success look like? After collecting the responses, we held a Beat Failure resolution meeting with our client and our team to find out what was causing this project and the careers site experience to fail. There were numerous unforeseen failure points that would have hindered its success. We found it was impossible to get content from Nike, the job matrix and data sources were siled and we had to engage with different stakeholders and decision makers. Overcoming these challenges proved crucial as the project impacted every aspect of the global company.
Browse Projects
Click on an image to view more of each project
Juxtapoz Magazine – Sweet Dreams & Beautiful Nightmares: Delisha @ Thinkspace Projects, Los Angeles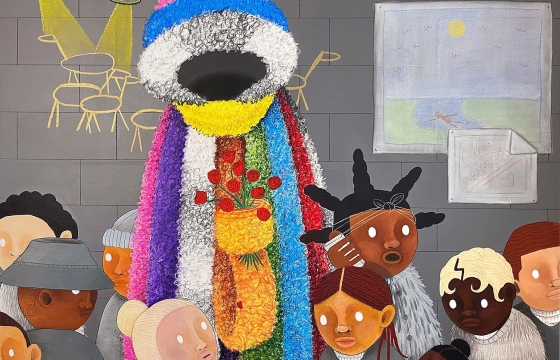 Thinkspace Projects is honored to present delishas Sweet dreams and beautiful nightmares, on the walls of Gallery III. Delisha focuses on the "BEAUTIFUL MONSTER" and creates a range of childlike perspectives and narratives.
Influenced by the comics by Bill Watterson and Dr. Seuss, Delisha explores children's dreams and nightmares, their potential and their sadness. She sees children as "little people who organize their emotions" and is able to convey their experiences in breathtaking ways, capturing the imaginations of all her viewers.
In this particular work, The BEAUTIFUL MONSTER acts as a security blanket to help us deal with life's problems and block out the harshness of the world. It's easier to tune out the judgment, abuse, neglect, and doubt while wrapped in the comfort of scarves. Manifesting from a cold world, A BEAUTIFUL MONSTER is also a reminder to embrace fear, for perhaps you will find solace in uncovering what is really there."
About Delisha
Delisha currently resides on Chicago's Westside, where she creates paintings with childlike perspectives and narratives. Inspired by Bill Watterson's comics and the late great Dr. Seuss, Delisha is definitely doing it for the kids. She speaks of their dreams and nightmares, their potential and their sadness, and would rather see them as "little people organizing their feelings" rather than just "kids." Her imagery of children and toys speaks in detail of those experiences that are hidden in the adult psyche; awakens the imagination in all of us.