Ralph Lemon Awarded Whitney Biennial's $100,000 Bucksbaum Award
New York's Whitney Museum of American Art presented the $100,000 Bucksbaum Award to American choreographer and visual artist Ralph Lemon, who was selected from 63 artists and collectives ongoing Whitney Biennialtitled "Quiet as It's Kept," which runs through October 16.
"With the Bucksbaum Prize, the Whitney seeks to honor an artist who promises to make a lasting contribution to the history of American art," said Scott Rothkopf, the Whitney's chief curator. "In the case of Ralph Lemon, that has already happened. His work has shifted paradigms around performance, sculpture, drawing and more, and the differences between them – all with rigor, ethics, humor and heart."
Throughout his career spanning more than four decades, Lemon has transcended disciplinary boundaries in his exploration of memory, race, spirituality, language, sadness and joy, and other abstractions. A recipient of the MacArthur "Genius" grant and the National Medal of Arts, among many other laurels, Lemon is currently the Artistic Director of Cross Performance, a company dedicated to cross-cultural and interdisciplinary performance and presentation.
For the Whitney Biennial, Lemon staged what the museum calls a "choreography of presentation," showing hundreds of drawings from roughly the last twenty-five years in various configurations that played out over the course of the exhibition. Characterizing the work as "a mapping akin to an anthropological practice," Lemon drew inspiration from trips to Japan, Haiti, Côte d'Ivoire, and the Mississippi Delta.
The six jury members for the Bucksbaum Prize included Whitney director Adam Weinberg, Rothkopf, Whitney Biennial co-curators David Breslin and Adrienne Edwards, art historian and art forum Associate editor Huey Copeland and curator and writer Meg Onli. The award was initiated in 2000 by the late Melva Bucksbaum, a Whitney patron and longtime trustee. Past honorees include Paul Pfeiffer, Mark Bradford, Michael Asher, Pope.L and Tiona Nekkia McClodden, who won in 2019.
ALL PICTURES
The Hidden Poetry of Everyday Life
HUDSON, New York — I'm a fan of shows with the word "poetry" in the title. While researching Olana, the palatial home of Hudson River artist Frederic Church, I went to check it out Still life and the poetry of the place at the Pamela Salisbury Gallery (September 3 to October 16, 2022), comprised of more than 100 modest and tightly scaled artworks spread over six floors in two buildings. There were pieces by artists I'd followed for years, as well as artists whose names I knew but whose art I had never seen, and others that were completely unknown to me.
Jane Freilicher's One Cat, Two Fish (1974) is one of the largest and most idiosyncratic still lifes the late artist has created in her career. The unlikely scenario – a cat lying on a table surrounded by jars and buns filled with flowers, with a platter of two large fish near the puny enclosure – is funny and atypical. Other outstanding works include Peter Aron's archival inkjet print The Pantry in Olana (2022), Susan Jane Walp's two muted still lifes, Judith Linhare's paintings of flower-filled vases emerging from succulent ribbons and splashes of paint, Trevor Winkfield's absurd arrangements of various objects, Brenda Goodman's haunting autobiographical studio views; and Catherine Murphy's large two-page magazine painting depicting an opulent home interior.
Many of the artists who were new to me are represented with more than one work, which gives me a sense of what they can do with color and/or subject matter. Scott Brodie's images of a single object (various bars of soap and an egg carton) are outstanding; Phoebe Helander's cropped aerial shots of fruits, vegetables and unexpected items like flattened bungee hooks; Elisa Jensen's atmospheric depictions of interiors with windows; Ron Milewicz's isolated views of kale on a table; Donna Moylan's homey, object-populated interiors; and Kathy Osborn's odd, interesting portrayals of a woman in the midst of mundane activity.
The real surprise, however, came with two early works by Harry Roseman, whose previous shows I have reviewed. Made of cast, painted aluminum and electric lights, Room with a View of Hoboken (1976) is set in what may once have been a small storeroom.
Lothar Osterburg is another artist whose work I was not familiar with until this exhibition. He transforms boxes to create containers with a lens opening that we look into; inside is a shadowy, mysterious room. In Card Catalog (2022) we see an aisle lined on both sides with card catalogs neatly stacked from floor to ceiling. At the rear, a vertical corridor suggests a larger, visually inaccessible space. We got lost in the basement of Jorge Luis Borges' infinite library. Osterburg's works are just some of the highlights of this wonderful show.
Still life and the poetry of the place continues through October 16 at Pamela Salisbury Gallery (362 1/2 Warren Street, Hudson, New York). The exhibition was organized by the gallery.
Juxtapoz Magazine – Psychedelic Artist Chuck Sperry Brings "Idyllion" to Denver in 3-Day Pop-Up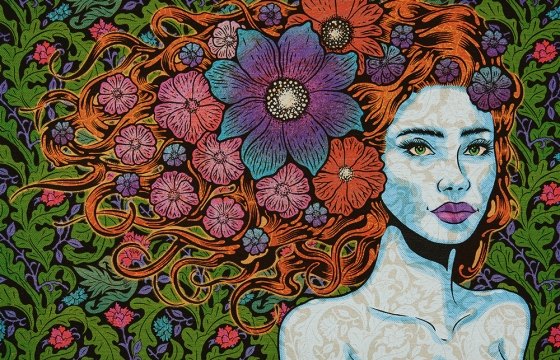 harman projects is pleased to present Idyllion, a solo show by the Oakland-based artist and screenprinter Chuck Sperry. This exhibition is our latest collaboration with the artist, following several Incredible solo shows in San Francisco, Santa Monica, and New York City.
Tucked away in sprawling Hangar 18 in Oakland, CA, local legend Chuck Sperry can often be found creating stunning and inspiring screenprints using eye-popping inks and lustrous papers. Throughout a career spanning more than thirty years, Sperry has drawn inspiration from the beauty and reality of the world, past and present. Continuing his Muses series, Idyllion is a full-scale collection and celebration of Chuck's admiration for Greek mythology and the power of womanhood.
Sperry never shies away from the political zeitgeist and passion for human rights that the Bay Area is known for. Sperry created and donated his work to continue the fight for equality. Most recently, his artwork Equal Rights, Flower of Democracy was part of an effort to raise awareness of the Equal Rights Amendment in the United States, and in support of this cause the gallery and artist are proud to donate a percentage of sales to support to donate to the tie vote as well as the Consciousness Alliance.
idyll, is a collection and celebration of the diverse worlds that have captivated Sperry since the early 1990s. Gig posters of internationally acclaimed musicians, hauntingly gorgeous muses with intricate patterns on shimmering foils, blotting paper prints and his new book of the same name offer audiences a glimpse into the universe Chuck has been painstakingly creating for years.
With decades of experience and an unwavering growth in execution, these works build on Sperry's combination of classic design elements, captivating muses, and hand-blended inks that combine with a depth of texture not often associated with format to create an unforgettable image create. New limited edition screen prints on wood panels will be available at the exhibition, along with custom framed prints from the artist's personal archive. The exhibition also serves as the world premiere of two new collectible categories, an oversized blotter edition and a deluxe postcard set. Idyllion, the latest monograph chronicling this growing body of work, will also be available in person exclusively at the exhibition.
Harman Projects is held at: Mirus Gallery & Art Bar Denver 1144 Broadway, Denver, CO 80203
To watch: Friday 30 September 2022 – Sunday 2 October 2022
Jan Avgikos on Geles Cabrera
Geles Cabrera, now 97, was the focus of a 2018 exhibition at the Museo Experimental El Eco in Mexico City entitled Mexico's First Female Sculptor, in recognition of her pioneering determination to enter a discipline practiced almost exclusively by men becomes. After her art school education in Mexico City and Havana, she appeared in the early 1950s and became associated with the Generation de la Rupture (Breakaway Generation), a group of artists who distanced themselves from the nationalist and political motifs of Mexican muralists in the pursuit of abstraction.
Cabrera embodied the potential of experimentation to catalyze artistic expansion. She filled her sculpture with what she learned as a dancer. Her intuitive understanding of how the body moves in space became a defining feature of her vibrant figural work. Her materials—carved, cast, or molded—encompass a wonderful range, from volcanic rock, stone, terracotta, and wood to various metals, papier-mâché, plant fibers, and plexiglass. The feel of their surfaces – rough, smooth, pockmarked, pebbly – calls for immediate sensual exploration. In fact, her art wants to be lovingly stroked.
This kind of contact with her objects may have been possible given the circumstances of their initial exhibition. Alongside a long career as an artist and collaborator on public projects, in 1966 Cabrera founded a museum of her own art – the Museo Escultórico Geles Cabrera in Mexico City – which she opened to the community. Many of the pieces in the exhibition at the Americas Society – her first in the United States, with works created between 1950 and 1999 – were originally displayed on terraces surrounding the Museo Escultórico (which closed in 2006) near her home issued in the US Coyoacán district of the city. Vintage photographs from her extensive archive have been included in the exhibition here. The photos documented various sculptures placed in outdoor niches or on simple plinths, formed from plumbing fixtures and surrounded by plants (the American society adopted this style of installation). In the lush and inviting surroundings of the patio, one could imagine rushing to feel the inviting contours and textures of her lyrical works. In her art, touch is more than a random physical encounter; it is an integral part of their work.
The bodies she depicts are oversimplified forms that harbor a rainbow of affinities. Leaning elegantly and fluidly on modernism, we see the animated dancers of Rodin and Matisse and can imagine how they must have sparked the instincts of Cabrera, a dancer herself. A distinct pagan element is also at play in many works that share an affinity with ancient Mexican artifacts—not only in the radically stylized figurines they produce, but also in the suggestion of their potential use as ritual or erotic instruments.
Fertility plays a big part in Cabrera's production, as does sexual pleasure. Some sculptures depict curvaceous female bodies with swollen breasts and protruding nipples. Two small terracotta sculptures, both ca. 1983, approximate the curves and folds of the labia and possess a talismanic appeal. Streamlined bodies, documented both in the exhibition and in old photographs, sprout erect phalli. Several variations on the theme of a wearable phallus suggest a dildo-like function. One of the largest sculptures on display (Untitled, ca. 1970), approximately four feet long and carved from dark, porous volcanic rock, was a curvy and classically reclining odalisque with voluptuous breasts and a full set of male genitalia. Also, sybaritic depictions of mating were everywhere, with intertwined figures lounging, hugging, and sitting side by side. Whether lazy or in spirited movement, Cabrera's people radiate an erotic sensitivity that is in harmony with beauty and the naturalness of life.
How many mid-century women artists were so sexually free and pleasure-oriented in their work? Cabrera's practice—liberated but not affiliated with any particular feminist movement—is virtually unique in this regard. Working in a gallery system that she largely ignored, she expanded the scope of her art to include local communities and cultures, turning her ostracism into something deeply beneficial. The artist combined her own life experiences with a selection of avant-garde and indigenous art practices, creating a kind of alternative modernism. Cabrera's path was entirely hers: she was oblivious to the rules, avoided the whims of the art market and was open to the rhythms of life.