New HIMARS are not headed to Ukraine, not imminently, and that's okay
This was announced by the Pentagon a new $1.1 billion aid package for Ukraine yesterday this included "18 High Mobility Artillery Rocket Systems (HIMARS) and associated munitions". While the news initially caused a lot of excitement, it didn't take long for people to notice the fine print. "Unlike the Presidential Drawdown Authority (PDA), which continues to use the DoD to ship DoD-held equipment to Ukraine at an historic rate, USAI is [Ukraine Security Assistance Initiative ] is an agency under which the United States procures capabilities from industry," the Pentagon said in its press release. "This announcement marks the start of a procurement process to provide additional priority capabilities to Ukraine in the medium and long term."
In other words, the US has given Ukraine money to go shopping, but such shipments of arms arrive whenever manufacturers can get that equipment to them. Items like Humvees are likely to be plentiful and should arrive quickly. HIMARS, not so much, and could last up to two years.
But that's not the problem that many make of it. Ukraine's bottleneck is the same as always – ammunition. The US and its allies simply don't have enough HIMARS missiles to satisfy Ukraine's insatiable hunger for more.
As of January 2021, 50,000 GMLRS rockets, or around 8,333 pods, have been manufactured. The production rate last year was 9,000 rockets or 1,500 capsules. The United States used many of these capsules in Afghanistan and Iraq, and many went to allies using MLRS or HIMARS systems. So the total number available was significantly less than the number produced.
Ukraine has 16 HIMARS and 10 M270 MLRS launchers. For mathematical reasons, let's assume that Ukraine had 10,000 GMLRS pods (which is more than were made). Divide that by Ukraine's 26 GMLRS-compatible systems, and that would be just 384 pods per unit. If each launch vehicle fired 10 capsules per day – much less than its daily capacity – Ukraine would exhaust the stockpile in 38 days. The actual number of available GMLRS missile pods in Ukraine is more likely in the hundreds. Adding more HIMARS launchers does not magically multiply the available ammo.
My estimate of "hundreds" has some support. Military expert Thomas Theiner on Twitter rummaged through Department of Defense reports Insight into what was sent to Ukraine.
Ukraine received its first four HIMARS in June, which were doubled in July. So in the second month of operation it looks like they got 180 pods for their eight launchers. So for this whole month any HIMAR launcher was fair 22 Pods. Now those 1,080 missiles have helped shut down the Antonovsky Bridge, provided spectacular HIMARS clock images and halted Russia's advance in Donbass. So that's not to say 1,080 GMLRS rockets weren't enough, just that eight launchers could handle them more than easily.
Ukraine now has 26 launchers, so chances are the number of GMLRS pods has increased. But we're not talking about massive numbers. Other allies probably interfered. Germany sent its own ammunition, including MLRS missiles sow the anti-tank mines over a large area. There have been rumors that Ukraine has been given old-school unguided missiles to use against prepared Russian defenses, but we have seen no visible evidence of this, and that would mean using cluster mines, which international treaties prohibit.
Also keep in mind that each six-rocket pod costs $750,000. Ukraine had to budget for equipment received under the Presidential Withdrawal Authority. The money is limited. So it had to balance its desire for GMLRS missiles with its need for regular 155mm artillery shells, body armour, night vision goggles, spare parts, rifle ammo, grenades, javelins, stingers, trucks, Hummers and all the practically infinite much-needed items to order to defend himself.
Meanwhile, the Department of Defense has placed strict limits on how low its ammunition stockpiles can be amid Chinese belligerence over Taiwan and the ever-present North Korean threat.
The good news is that the Pentagon is investing heavily in rapidly expanding production of GMLRS missiles and HIMRS launchers.
Well, it's bad news considering how that money could be used for peaceful efforts, but it's good news for Ukraine's longer-term survival efforts.
"We have received nearly $400 million to replenish HIMARS and GMLRS in DOD inventories," said William LaPlante, Secretary of Defense for Procurement and Maintenance, during a visit to the Arkansas factory that makes these systems. "In addition, we are planning nearly $200 million to expand and accelerate production, and expect to receive orders this fall and early next year." Business at this facility will boom for years to come as countries queue to buy the high-performing, proven system. Poland alone has ordered 500 HIMARS, imagine what this ammunition order will look like! (It seems there is also a demand for a much cheaper unguided version, like the ones used during my time at MLRS).
The problem is that expanding a factory line takes time—time to set up the facilities, install the robotic and machining equipment, and hire and train staff to operate and manage the increased capacity (in times of low unemployment). Until then, the current monthly production rate of 125 capsules will have little impact on demand in Ukraine.
All of this means that Ukraine has no use for additional HIMARS, and their public statements confirm this. HIMARS are fun and effective and Twitter loves them and #NAFO makes the cutest memes, but the ammo just isn't there to take full advantage of the launchers Ukraine already has. That's why they demand tanks, armored personnel carriers and F-16s instead.
And really, it's time to make it happen. At least This is now more realistic:
These were announced a few months ago, but both Ukraine and the US subsequently decided that these $23 million drones were too vulnerable to Russian air defenses to make the investment worthwhile. There also appeared to be concerns that Russia might get its hands on the technology. These are not the Taliban or ISIS they would fly against.
But the new Ukrainian air defenses have hit the underperforming Russian Air Force hard over the past week, and the HARM anti-radar missile has decimated Russian air defenses to the point that it can now:
Those Gray Eagles suddenly make a lot more sense.
——————-
Ukrainian President Volodymyr Zelenskyy said he expected good news from the front soon. Telegram is full of Ukrainian sources barely holding back and claiming the same thing but under strict shutdown. So while not much has officially moving around Lyman, things are definitely happening.
The Ukrainian advance east of Kupjansk is exciting. Russia spent several days pushing Ukraine back to the western side of the Oskil River split the city in half. Thankfully, Russia's efforts were in vain as Ukraine is now expanding that beachhead.
Meanwhile, pro-Russian sources yesterday focused on an alleged Russian counterattack in Kherson and claimed they had broken up the Ukrainian advance in the region. Ukraine claimed otherwise, and they are not liars like the Russians. Regardless, Ukraine's initial push in Kherson helped conceal their spectacularly successful push in Kharkiv, but it was a serious effort in its own right. However, why should Ukraine step up these efforts when it has had such incredible success in what Mark Sumner called the "tri-oblast" (Kharkiv, Donetsk, Luhansk)?
Had the Russian defenses at Kherson collapsed instead, reinforcements would flock there instead. Ukraine does not have the resources to launch two all-out attacks at once, nor should it. Remember, I spent the first two months of the war blaming Russia for trying to fight a multifront war. Therefore, for now, Ukraine appears content to supply only HIMARS to Russian forces and bridges in the region, forcing them to resupply via inefficient barges and helicopters. Winter could take better care of those Russian lines than anything Ukraine can muster right now.
·
Kos

The biggest pro-Russian military blogger Rybar warns of the imminent collapse of their defenses at Lyman.
He claims the Ukrainians are attacking from all sides. I hope that's not true. Surrounding them might be enough to force the garrison's surrender. If it's true that 3-5 Russian BTGs are in town, that would be a lot of new equipment for the Ukrainian army (several dozen tanks and possibly over 100 armored personnel carriers, as well as artillery and support vehicles).
Biden Is Sufficiently Far-Left for Progressives to Back Him In 2024
After the Democrats managed to roll back the "red wave" in the midterm elections, the focus has naturally turned to the 2024 election.
But not only on the Republican side. The Hill shows that it is on the far left seemingly happy with Joe Bidenand they are no longer looking for a replacement.
While Biden has long said he would run again, there have been rumors that he wasn't up to the job or wasn't left enough to please the party's increasingly radical left wing. That no longer seems to be the case.
I hope Joe Biden runs again in 2024, it will be the clearest victory for Trump

– dr Mikey P Rogers, Ph.D. (@DocMikeRogers) November 26, 2022
TIED TOGETHER: Trafficking victim reveals it takes 5 to 13 years to 'buy' his freedom
Biden all-in on the far-left agenda
The Hill spoke to some left-wing luminaries about it.
Far-left MP Pramila Jayapal (D-WA) chairs the Congressional Progressive Caucus. in one last interview with Politico, Jayapal said, "He wasn't my first or second choice for president, but I'm a convert." to complete the agenda we have set."
Jayapal, who is as leftist as "Squad," is not alone. Cooper Teboe is a far-left Democratic strategist who sees a silence of those who could I have doubts about Joe Biden.
Support conservative voices!
Sign up to get the latest political news, insights and commentary delivered straight to your inbox.
He said: "I think what the Midterms have achieved is that they have silenced that. Even if Biden ran for re-election, I think we could have seen a few people running against him. But now I think he has an open field."
In other words, don't look for Californian Gavin Newsom or the world's oldest man, Socialist Bernie Sanders, to take on Biden's left.
While Joe Biden has always been a New England Liberal, the far left wing of the Democratic Party has clearly overtaken him. The first two years of his presidency prove that.
The chaos at the US's wide-open southern border continues to be a major concern.
Fox News reports in the 2022 financial year there were 2.3 million migrant encounters. That's well above the 1.7 million reported for fiscal 2021. There is no indication that fiscal 2023 will be any better as 230,000 encounters were reported for October 2022 alone.
To give you an idea of ​​how radically left borderline Biden is, even Bill Clinton recently said there is a limit how many immigrants America could absorb.
Lately, Biden proposed a ban Everyone Semi-automatic weapons – one of the most radical gun control agendas in decades, if not ever.
On the spending front, the Inflation Reduction Act quickly became Tax, Healthcareand Climate Bill, following a report by CBS News, explained that a group of economists said the massive $740 billion would do very little to curb inflation.
But it was music to progressives' ears and addressed all of their pet problems. The list goes on, but the point is: Biden is far left enough for far left.
What will Joe Biden promise and not do if he and Dems win in 2024?

— Eddie (@SoSocialism) November 23, 2022
TIED TOGETHER: Trump slams McConnell as 'our nation's loser' after Senator criticized his dinner with Fuentes
Long way to 2024
There may still be a hurdle on the road to Joe Biden's nomination and re-election. Because if he were re-elected, he would be 83 years old when he was sworn in. Should he serve a full second term, he would leave office on January 20, 2029 at the age of 87.
Former President Donald Trump has already thrown his hat in the ring for 2024, and he would be slightly younger when he takes office at age 78. And while Trump continues to enjoy strong Republican support and still leads in polls, a possible golden ticket for Republicans headed against Biden in 2024 could be a much younger Ron DeSantis.
But for now the guy is for Democrats Joe Biden.
Jonathan Kott, former adviser to Sen. Joe Manchin (D-WV), said: "Those calls died down because Bidenism proved a winning strategy at halftime and he was the most legally successful president of our generation. I don't think those calls will come back because President Biden is the only Democrat who can win in 2024."
That's the story of the Democrats and they seem to be sticking to it.
WATCH: Joe Biden was just asked by while shopping in Nantucket @betsy_klein
"How are your 2024 talks going" with his family.

The President replies, "We don't have any. We are celebrating." pic.twitter.com/qk4aPBf6BW

— TV News Now (@TVNewsNow) November 27, 2022
Now is the time to support and share the sources you trust.
Political Insider ranks #3 feed spots "100 Best Political Blogs and Websites."
Senate Gives LGBTQ Americans Reason To Breathe Easier

In my most vulnerable moments, I imagined having to tell my young child that his mother's marriage was no longer honored. I imagined holding back the tears and reminding him that it doesn't mean he's any less loved or protected. I imagined telling him that our family is just as important as any other family – including a family with a mother and father.
Sam Bankman-Fried Says FTX Had A 'Bad Month' But Didn't Try To Defraud Anyone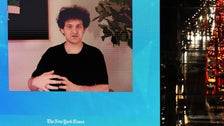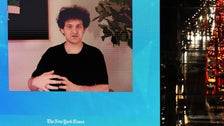 Sam Bankman-Fried, the former head of massive cryptocurrency exchange FTX, said he's had a "bad month." didn't want to cheat anyone before the company collapsed earlier this month.
"I wasn't trying to scam anyone," Bankman-Fried, who emerged via videoconference from the Bahamas, told the Times Summit. "A month ago I was hooked on FTX. … I grossly underestimated the magnitude and speed of the market crash."
The crypto world was stunned in November when FTX, valued at around $32 billion at its peak, imploded practically overnight. declare bankruptcy and leave behind more than a million believers. Investigators are investigating allegations that FTX Used up billions of dollars in customer funds to fund a sister company, Alameda Research. These claims began to worry investors sparked a bank run over the past few weeks that has led to the collapse and massive questions about how a crypto darling could practically disappear in less than a week.
Bankman-Fried resigned from his position at FTX and said Wednesday that he was left with "almost nothing," a quick fall from favor for the 30-year-old mogul who was once hailed as a technological prodigy by philanthropists, lawmakers and investors. He personally donated tens of millions of dollars to democratic causes.
He said Wednesday that he did not "knowingly" mix funds between FTX and Alameda Research, saying that although he ran the company and founded the trading firm, "I didn't know what was going on."
"A lot of the things I've learned over the last month," Bankman-Fried told the summit. "Look, I messed it up. I was the CEO of FTX. I keep saying that. That means I had a responsibility. We screwed it up big."
FTX's demise reflects general concerns about the crypto industry, which has surged during the pandemic during a Wild West investment boom with little to no regulation. Treasury Secretary Janet Yellen recently said that was the case with FTX "Lehman moment" of the industry that crypto needs to be regulated and is now big enough to cause "significant harm" to investors.
Bankman-Fried said while he "shocked" With the collapse of FTX, he focused on returning funds to clients.
"I have a duty to explain what happened and I have a duty to try to help," he said during the DealBook summit. "What matters here is all customers and stakeholders who have been hurt and helping them. What happens to me is not the important part."