Murdered Palestinian Journalist Was Deliberately Targeted by Israeli Forces, Report Finds
A new investigation has revealed that Israeli forces deliberately killed Shirin Abu Akleh, the Palestinian-American journalist for Al Jazeera who was assassinated in early May while reporting in the northern West Bank city of Jenin. A preview of the results of the independent investigation by the multidisciplinary research group Forensic Architecture (FA) and the human rights organization Al-Haq was published on September 20.
The research includes previously unreleased footage and unreleased autopsy reports, as well as witness testimonies, open source footage, images of the bullet that killed Abu Akleh and drone footage of the site to conclude that Abu Akleh was the clear target of three rounds of ammunition coming off armored military vehicles of the Israeli occupation forces (IOF). FA's findings are in addition to those achieved through research conducted by news organizations, including the Washington Postthe Associated Pressthe New York Timesand CNNall of whom have attributed varying levels of responsibility to the Israeli Defense Forces for the death of Abu Akleh.
"What our findings show is that what the Palestinian witnesses — the surviving journalists — said from day one is very accurate. They felt directly offended," Nour Abuzaid, co-lead investigator, told Hyperallergic. "They determined that the shots came from the location of the military convoy. And they also testified that there had been no other shooting in the area — no crossfire, no Palestinian resistance."
Forensic Architecture has previously investigated covert Israeli military operations by former Whitney Museum Deputy Chairman Warren Kanders Connections to tear gas productionand the Auschwitz-Birkenau concentration camp to dispel false claims by Holocaust deniers. Al-Haq is an independent organization based in Ramallah that monitors human rights abuses in the region.
In the early morning of May 11, respected Al Jazeera reporter Shireen Abu Akleh and five other people arrived in Jenin, the northernmost city in the Palestinian West Bank. Jenin, a city of about 345,000 people, is home to a large refugee camp that was operating at the time of Abu Akleh's assassination hub for organizing the resistance. Abu Akleh and her colleagues had traveled to Jenin to report on a recent IOF raid on the camp. Before their arrival was the area Quietwith a noticeable surge of excitement that accompanies the appearance of the well-known journalist.
But some noted the presence of snipers, and shots soon followed. "Shireen and her fellow journalists were deliberately and repeatedly targeted for the purpose of killing," the preliminary findings of the FA report read.
By analyzing and synchronizing disparate recordings of the event, investigators were able to create a detailed timeline of the shootings as they unfolded and create a three-dimensional model of the area alongside drone photos. By reconstructing what the shooter could have seen through his viewfinder, they confirmed that the large letters "PRESS" would have been clearly visible on the front and back of the journalists' vests. The researchers traced the arc of six of the 16 shots fired, each of which landed above shoulder height and was fired when the journalists were in the shooter's field of view.
"The shots were so close together. It's not easy for them to be so close together: you have to be precise to photograph them so close together, all above shoulder height," Omar Ferwati, co-lead of the project, told Hyperallergic.
Their findings also indicate that no one was in the space between where the journalists quickly took cover and where the military vehicles were parked directly contradictory Israel's allegations against it. Audio analysis confirms that no shots were fired in the three minutes prior to the fatal shot, and none of the recordings indicate that artillery came from the area where the journalists were. On two occasions a civilian attempted to approach Abu Akleh to provide medical assistance; both times a gunman deliberately stopped him by shooting at him.
"Our investigation goes beyond what has previously been done in mainly journalistic reports," Ferwati said. "It's a more rigorous method of analysis that encompasses both media and space. What we produce is admissible evidence in national and international courts."
After Abu Akleh's death, global protests erupted in at least 39 cities, including New York, London, Mogadishu and Haifa as protesters denounced the assassination and occupation of Palestine by Israel. Over 100 artists signed an open letter written by Artists for UK Palestine condemning the murder of Israel and demanding "full accountability for the perpetrators of this crime and all those involved in authorizing it."
Only yesterday, September 21, Abu Akleh's family official submitted Complaint to the International Criminal Court in The Hague. "The evidence is overwhelming. It's been over four months since Shireen was killed. Our family should not have to wait another day for justice," they wrote in a statement. FA attached an addendum to their complaint as well as a legal brief from Al-Haq.
2nd International Original Print Exhibition (2022)
I went to see those International Original Print Exhibition 2022 In the Bankside Gallery on the South Bank on Tuesday. It ends on Sunday October 2nd.
I definitely recommend it as a diverse collection of original fine art prints that showcase the diversity of different approaches to printmaking
The prints also varied between very colorful and monochrome.
All of the works on display are the result of an open submission exhibition set up by the Royal Society of Painter-Printmakers. The exhibition aims to celebrate the very best in all forms of contemporary printmaking.
These include
Aquatint etching
chinese colle
engraving
Digital
drypoint etching
etching
Giclée
hand stenciled screenprint
High relief carborundum
gravure
Woodcut with laser engraving
linocut
lithograph
mezzotint
Mokuhanga (water-based wood block)
monotype
photolithography
Etching of photopolymers
risograph
screen printing
Screenprint and woodcut
soft ground
solar etching
stone lithograph
woodcut and stencil
block of wood
and variations on the above.
It is also an exhibition with a variety of sponsors of both the exhibition and the individual awards.
The general tendency of the subject is either abstract or landscape oriented with fewer images of people than you might expect.
selection
The works on display were also selected from thousands of entries.
The guest voters this year were:
Katriona Gillespie – an expert on contemporary Australian art
Nadia Phillips – a curator
dr John Phillips – Former Director of the London Print Studio
sale
One comment I would like to make is that this show did NOT sell as many as I think it could and should have.
I think there can be three reasons for this
the print run size is not noted on the label next to the print – and I never buy an unframed print without knowing the print run size (The information is available – it's just not there to seize the moment when someone is interested!)
I haven't seen much marketing for the exhibition – and there are very few social media posts about it.
which is partly because artists don't bother to market their work either! Gail Brodholt's post is an isolated post!
Very pleased that my linocut 'Storm Clouds Over Whitehall' is part of the International Original Print Exhibition at @BanksideGallery. Open every day (until 2nd October) with a wonderful selection of artist prints. Free entry and right next to Tate Modern!#Print Exhibition #linocut pic.twitter.com/BRUpSWMkuQ

— Gail Brodholt (@gailbrodholt) September 25, 2022
PS If you are visiting you might be interested in seeing those Lubaina Humid Exhibition next door at Tate Modern – which also ends on October 2nd.
I have uploaded some photos from this exhibition to my Facebook page Making A Mark – see below
The Hidden Poetry of Everyday Life
HUDSON, New York — I'm a fan of shows with the word "poetry" in the title. While researching Olana, the palatial home of Hudson River artist Frederic Church, I went to check it out Still life and the poetry of the place at the Pamela Salisbury Gallery (September 3 to October 16, 2022), comprised of more than 100 modest and tightly scaled artworks spread over six floors in two buildings. There were pieces by artists I'd followed for years, as well as artists whose names I knew but whose art I had never seen, and others that were completely unknown to me.
Jane Freilicher's One Cat, Two Fish (1974) is one of the largest and most idiosyncratic still lifes the late artist has created in her career. The unlikely scenario – a cat lying on a table surrounded by jars and buns filled with flowers, with a platter of two large fish near the puny enclosure – is funny and atypical. Other outstanding works include Peter Aron's archival inkjet print The Pantry in Olana (2022), Susan Jane Walp's two muted still lifes, Judith Linhare's paintings of flower-filled vases emerging from succulent ribbons and splashes of paint, Trevor Winkfield's absurd arrangements of various objects, Brenda Goodman's haunting autobiographical studio views; and Catherine Murphy's large two-page magazine painting depicting an opulent home interior.
Many of the artists who were new to me are represented with more than one work, which gives me a sense of what they can do with color and/or subject matter. Scott Brodie's images of a single object (various bars of soap and an egg carton) are outstanding; Phoebe Helander's cropped aerial shots of fruits, vegetables and unexpected items like flattened bungee hooks; Elisa Jensen's atmospheric depictions of interiors with windows; Ron Milewicz's isolated views of kale on a table; Donna Moylan's homey, object-populated interiors; and Kathy Osborn's odd, interesting portrayals of a woman in the midst of mundane activity.
The real surprise, however, came with two early works by Harry Roseman, whose previous shows I have reviewed. Made of cast, painted aluminum and electric lights, Room with a View of Hoboken (1976) is set in what may once have been a small storeroom.
Lothar Osterburg is another artist whose work I was not familiar with until this exhibition. He transforms boxes to create containers with a lens opening that we look into; inside is a shadowy, mysterious room. In Card Catalog (2022) we see an aisle lined on both sides with card catalogs neatly stacked from floor to ceiling. At the rear, a vertical corridor suggests a larger, visually inaccessible space. We got lost in the basement of Jorge Luis Borges' infinite library. Osterburg's works are just some of the highlights of this wonderful show.
Still life and the poetry of the place continues through October 16 at Pamela Salisbury Gallery (362 1/2 Warren Street, Hudson, New York). The exhibition was organized by the gallery.
Juxtapoz Magazine – Psychedelic Artist Chuck Sperry Brings "Idyllion" to Denver in 3-Day Pop-Up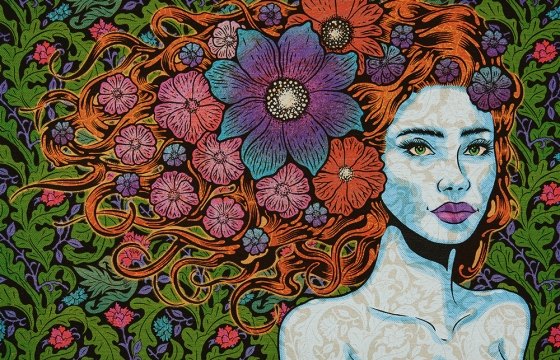 harman projects is pleased to present Idyllion, a solo show by the Oakland-based artist and screenprinter Chuck Sperry. This exhibition is our latest collaboration with the artist, following several Incredible solo shows in San Francisco, Santa Monica, and New York City.
Tucked away in sprawling Hangar 18 in Oakland, CA, local legend Chuck Sperry can often be found creating stunning and inspiring screenprints using eye-popping inks and lustrous papers. Throughout a career spanning more than thirty years, Sperry has drawn inspiration from the beauty and reality of the world, past and present. Continuing his Muses series, Idyllion is a full-scale collection and celebration of Chuck's admiration for Greek mythology and the power of womanhood.
Sperry never shies away from the political zeitgeist and passion for human rights that the Bay Area is known for. Sperry created and donated his work to continue the fight for equality. Most recently, his artwork Equal Rights, Flower of Democracy was part of an effort to raise awareness of the Equal Rights Amendment in the United States, and in support of this cause the gallery and artist are proud to donate a percentage of sales to support to donate to the tie vote as well as the Consciousness Alliance.
idyll, is a collection and celebration of the diverse worlds that have captivated Sperry since the early 1990s. Gig posters of internationally acclaimed musicians, hauntingly gorgeous muses with intricate patterns on shimmering foils, blotting paper prints and his new book of the same name offer audiences a glimpse into the universe Chuck has been painstakingly creating for years.
With decades of experience and an unwavering growth in execution, these works build on Sperry's combination of classic design elements, captivating muses, and hand-blended inks that combine with a depth of texture not often associated with format to create an unforgettable image create. New limited edition screen prints on wood panels will be available at the exhibition, along with custom framed prints from the artist's personal archive. The exhibition also serves as the world premiere of two new collectible categories, an oversized blotter edition and a deluxe postcard set. Idyllion, the latest monograph chronicling this growing body of work, will also be available in person exclusively at the exhibition.
Harman Projects is held at: Mirus Gallery & Art Bar Denver 1144 Broadway, Denver, CO 80203
To watch: Friday 30 September 2022 – Sunday 2 October 2022