"Make It Like a Memory" by Photographer Tamara Blake Chapman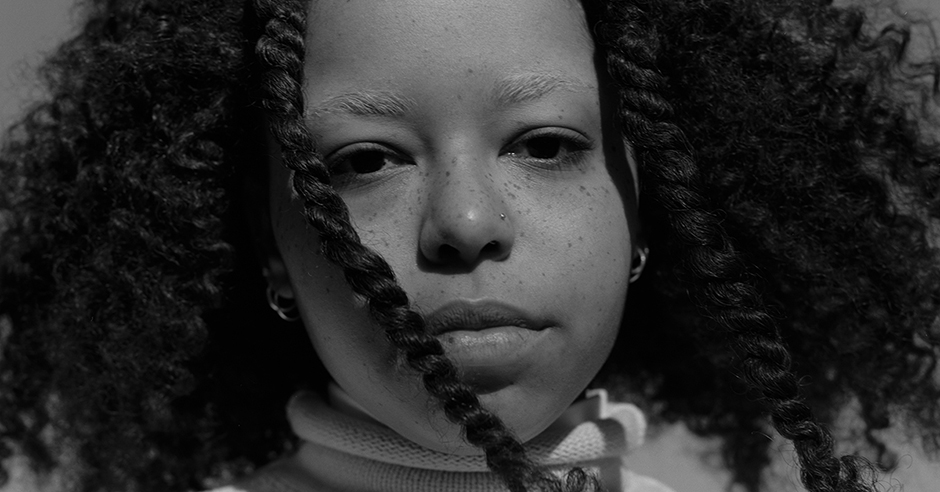 "Make it like a memory", Recently published as a zine by Pomegranate Press, is a collection of delicate, intimate portraits by a New York City-based photographer Tamara Blake Chapman. "I've only been studying the practice of photography for a few years, and these photos simply show how I express myself and learn to defend my visual voice in an organic light." Chapman explains.
The portraits of friends and family in Make It Like a Memory share the confident self-confidence Chapman seeks in his subjects. "Her presence sets her apart, which is what initially drew me to all of them." You explain. "It's something I've been looking for within myself throughout the process of making this work. As I watched it all come together, I could tell it was there inside me all along. My personality – along with care and comfort – will always shine through in my photographs. I'm very confident, although I think my work will take a different direction visually."
Check out more images of Make It Like a Memory below and buy a copy here!
Your Concise New York Art Guide for December 2022
The holiday season is a time of relaxation and reflection. Whatever your tradition, at Hyperallergic we hope you find some time to recharge and appreciate what matters most. If you're looking for something to see, New York still thrives with activity at borough museums and galleries. Our December highlights include art created during the first stock market crash, a tribute to cat lovers and the 10th anniversary of a major public arts initiative. See you in 2023!
* * *
Shandaken Projects: 10th Anniversary Benefit Exhibition
Shandaken Projects was originally founded as a defense of artists against art market problems and rapid gentrification. Since 2012, they have worked to build sustainable studio spaces and implement free public programs including poster initiatives, printmaking workshops and residencies at the Storm King Art Center. Their 10th anniversary show is therefore cause for celebration as all proceeds will go towards next year's programme. More than 140 mixed media works are exhibited by alumni of all ages and show the path of a young institution with a bright future.
Shandaken Projects (shandakenprojects.org)
Building 9, Governors Island
Until December 14th
---
Marjolijn De Wit: Sorry for the damage
With all the attention to fossil fuel investments in the art world, Marjolijn De Wit's latest series should both charm and frustrate. sorry for the damage turns elitist apologies on their head and brings together symbols of wealth and beautiful scenes of nature. Butterflies, diamonds and plated dishes flutter and soar in wooded settings – all achieved through the juxtaposition of advertisements and editorial photography National graphic magazines. Here De Wit shows the true value of what we produce and how many suffer for it.
Gallery Asya Geisberg (www.asyageisberggallery.com)
537 West 23rd Street, Chelsea, Manhattan
Until December 17th
---
Tom Uttech: Headwind on Windigoostigwan
Rather than claiming the wilderness for himself, 80-year-old painter Tom Uttech presents it as it is. Uttech captures what he calls the "quiet ecstasy" of the Ojibwe countries now known as Wisconsin, Minnesota and Canada. But while the owner has been forcibly changed, many of its protectors remain – the swirling night sky, lonely bears and flowing rivers. Presented in handcrafted wood grain frames, Uttech brings out the subtle tones of the region he knows best and encourages us to reflect on the meaning of home.
Gallery Alexandre (alexandregallery.com)
291 Grand Street, Lower East Side, Manhattan
Until December 22nd
---
Sophia-Yemisi Adeyemo: Earth & Iron: Archival Visions of Land and Struggle
Sophia-Yemisi Adeyemo presents the colonized memory as a broken space, using a cut-up method to accentuate the gaps. Based on 20th-century photographs from West Africa and the Caribbean, Adeyemo's sparse paintings and sculptures transform scenes of submission into fragments of guerrilla escape. Machetes and assault rifles are camouflaged by flora and fauna, punctuated by portraits of black and indigenous families staring straight at the viewer. In front of the sterile white walls, Adeyemo presents a salon of rebellion that directly meets the colonial gaze.
BRICS (bricartsmedia.org)
647 Fulton Street, Fort Greene, Brooklyn
Until December 23rd
---
Even a cat can look at the queen
Cats were never really known to obey orders. Rather, their lack of discipline is part of their mysticism. Accordingly, a new group show at Mrs. draws on a long tradition of trying and failing to impose our will on feline disobedience. Sculptures of black cats are reminiscent of ancient Egyptian depictions of the Deity Bastetwhile paintings made of rubbish and furniture on the many (many) domestic sacrifices we make for them. The 39 artists presented themselves together Even a cat can look at the queen show that total control is an illusion – a valuable lesson for all of us.
Woman. (mrsgallery.com)
60-40 56th Drive, Maspeth, Queens
Until January 7, 2023
---
Just enough: New perspectives from 12 photographers from Magnum
The ICP's latest group exhibition examines the contributions of women to Magnum Photos around the world and features 12 contemporaries from three generations. Sabiha Çimen's playful portraits of Muslim matriarchs stand alongside Alessandra Sanguinetti's documentation of the aging process in rural Argentina. Meanwhile, Susan Meiselas' images of abused British women reveal the innate violence within patriarchal society. As Magnum undergoes a significant re-evaluation of its archives, Near enough is a step forward in changing historical omissions.
International Center for Photography (icp.org)
79 Essex Street, Lower East Side, Manhattan
Until January 9, 2023
---
Grace Nkem: What we do
Grace Nkem's powerful compositions present a culture in transition. Ancient artifacts and human remains are depicted in European monasteries, suggesting a repatriation. Meanwhile, a white man showing a black woman's portrait as a "trophy" signals the legacy of colonialism at a time of increased repatriation. Yet the ghosts and skeletons that appear everywhere stand as dutiful observers from beyond the grave. Presented in a townhouse in Flatbush, Pictures will speak admirably redirects surrealism to its roots in the Global South.
Gallery Particulier (Galerieparticulier.org)
281 Maple Street, Lefferts Gardens Prospect, Brooklyn
December 7, 2022-23. January 2023
---
Something about Midtown: Changing rooms
During the 1970s and 1980s, Just Above Midtown (JAM) was where experimental art could be found in the neighborhood where MoMA is now located. As such, this new retrospective deconstructs the history of the Manhattan Gallery. Founded by filmmaker Linda Goode Bryant, JAM became the foundation for people of color working across generations and disciplines – often showcasing emerging artists alongside established artists. Compilation of posters and photographs featuring works by Howardena Pindell, David Hammons and Lorraine O'Grady, Right above Midtown honors the thriving social scene that produced many of today's popular artists.
The Museum of Modern Art (moma.org)
11 West 53rd Street, Midtown, Manhattan
Until February 18, 2023
---
Maryna Bilak: CARE
Maryna Bilak's art expresses the all-encompassing nature of Alzheimer's disease, from its impact on the patient to the pain it causes in loved ones. Bilak's latest exhibition CARE is dedicated to her late mother-in-law, Dorothy, and her experiences as young parents. Frescoes of facial features suggest how the disease wears down our memories, while plaster sculptures assembled with Dorothy's own fabrics and furniture recreate the domestic spaces in which she once lived. Bilak's exhibition, on view at a Jewish senior citizens' community, takes us on a journey from grief to healing and how art helps us cross that threshold.
Derfner Judaica Museum (riverspringliving.org)
5901 Palisade Avenue, North Riverdale, Bronx
Until February 19, 2023
---
Fortune and Folly in 1720
The dangers of market volatility have long inspired artists parody the capitalist class in many ways. For this reason the New York Public Library takes us back to December 1720 as the first Investment bubble burst. Colorful paintings, drawings, graphic designs, and printed ephemera signal the sheer panic on display—and the Glee artists took it upon themselves to mock it all. Indolent shareholders are carelessly adrift in a boat run by the devil. A personification of greed seeking to "overtake or outrun" that of happiness, embodies one of the main temptations of the market. All of this shows how ordinary workers are drawn into the chaos. For our age of NFTs and other crypto scams, happiness and folly shows how history can rhyme both and to repeat.
New York Public Library (nypl.org)
476 Fifth Avenue, Midtown, Manhattan
Until February 19, 2023
Nobuyoshi Araki and Daido Moriyama at Ratio 3
"Polaroid?" mused Roland Barthes in two brackets in his 1981 book Camera Lucida, "Fun but disappointing unless a great photographer is involved." By the time the French theorist was writing this paper, the Polaroid was quite fashionable, a situation that caused some tension among photography's leading theorists and artistic authorities. But despite its decline in popularity over the decades (and even after the company twice declared bankruptcy in the early 2000s), the Polaroid has had a surprising revival of late, both as digital simulacra (via smartphone photo filters) and millennial nostalgia ware , which hints at a story yet to unfold.
The 400 Polaroids exhibition brilliantly evokes this unusual trajectory by bringing together two artists, Nobuyoshi Araki and Daido Moriyama, into conversation. Longtime friends and occasional collaborators, the two have worked in parallel on the expressions of post-war Japanese photography for more than fifty years. But while Araki has long promoted the Polaroid as an experimental medium through series like "Polanography" (a portmanteau of Polaroid and pornography; the work features spliced ​​images of nude models performing), 2016, Moriyama mostly only ever used it as a diary tool.
In the existentially titled series "bye-bye polaroid" from 2008, Moriyama takes his device to the streets of Tokyo and snaps old shop windows, passers-by and architecture with the tender poetry of the flâneur. If Moriyama seeks the soon-to-be-obsolete medium's immediacy to capture a city in decline, Araki uses it to document the vibrancy of his hometown, capturing images of hot girls, friends, flowers, and food. This formal dialectic of the sentimentality of photography is attractively staged in the exhibition through changing shelves with works by the artists, who present their pictures in free-standing Plexiglas frames. As a highly physical souvenir (or, in the etymological sense of the word, a reminder), the Polaroid is no longer valued simply for its quick seriality or instant gratification, but for its unique materiality as a pure print medium, and its ordinariness contains something extraordinarily moving.
LA's Hammer Museum Sets Opening Date for Expansion
After more than two decades, the newly expanded and renovated Hammer Museum is scheduled to open on March 26, 2023 Los Angeles Times. Led by Michael Maltzan Architecture, the restoration includes a new, more visible entrance at the corner of Wilshire and Westwood Boulevards, across from a yet-to-be built subway station, due for completion in 2027. The block down Wilshire where it meets Glendon Avenue will be an outdoor sculpture terrace, while an adjacent building that formerly housed the City National Bank will house new gallery spaces.
The remodeled Hammer main room was renamed the Lynda and Stewart Resnick Cultural Center after donors constructed a building in 2018 historical $30 million gift to the project. The largest single donor gift ever made to the museum followed a $20 million donation from television producer Marcy Carsey, who has served as the museum's board chair since 2014. A $180 capital campaign to fund expansion continues; $156 million has been raised to date.
The expansion, which adds 40,000 square feet to the original Hammer and creates 60 percent more gallery space, was the idea of ​​museum director Ann Philbin, who came to the institution in 1999. Under her leadership, the Hammer has grown its workforce from fifty full-time employees to more than 100 and its annual operating budget has increased from $6 million to $29 million. Visitor numbers have quadrupled in the last 22 years. Beginning in 2005, the museum expanded its contemporary art collection, much of which it acquired through the Made in LA initiative and its Hammer Projects series. The institution will present the largest exhibition of its collection to date when it unveils the completed expansion in March.
"It's just incredibly exciting," Philbin told dem Times, and noted that its incremental progress made it "hard to imagine an end to construction". "But now, that's the moment when we open the front door and the new entrance, that's the moment when everyone really notices what we're doing there."
ALL PICTURES