Kenneth Tam Excavates the History of Chinese Labor in the American West
MARFA, Texas – Artist Kenneth Tam Tender is the hand that holds the stone of remembrance touches on something important and overlooked event in the history of the United States—the exploitation of tens of thousands of Chinese migrant workers during the construction of the Central Pacific section of the Transcontinental Railroad in the late 19th century—against a contemporary exploration of masculinity that uses the cowboy image as a foil. Through a two-channel video titled "Silent Spikes" (2021) and an accompanying series of sculptural pieces, Tam processes and reshapes past and current events, emotions and trauma through the use of movement, dialogue and re-enactment.
The work feels physical, visceral, personal, tender. The sculptural elements – precious relics and fossilized carcasses laden with stones and discarded debris – appear to have been unearthed during an archaeological dig. A leather saddle sawn into pieces serves as an armature for works affixed to walls the color of raw flesh, giving the impression of a dismembered body.
The video oscillates between past and present. Chinese laborers who contributed labor and expertise to building railway lines through rough, mountainous terrain prepare for a strike. The men are given a voice through narration, their imaginary thoughts (in Cantonese with subtitles) supported by the evocative sounds of stringed instruments that evoke both traditional Chinese music and soundtracks from mid-20th-century Western films. A dark, rocky tunnel with a distant opening will appear. Although the image of a passage through the bowels of the earth keeps returning, the light never seems to get any closer at the end.
On the adjacent screen a single individual, then a group, all self-identified Asian American males, dressed like cartoon cowboys on an ethereally lit stage, perform the exaggerated, almost erotic movements of horseback riding. Though there is no dust, grassland, or horses, there is sensitivity, intimacy, and care in the men's movements and dialogue, elements not typically found in the television version of the cowboy mythos. Here, the North American cowboy archetype is recast as a "rugged individual" and emerges in a different light.
Perhaps out here in Marfa, in the middle of ranch country and near the US-Mexico border, Tam's work will resonate differently than audiences in more urban settings. Grazing land, cattle and their stewards are just a stone's throw from the gallery walls. Those who live here understand the rugged individual as a dangerous fiction – nothing and no one survives alone in the desert. This is a place where cowboys are very real and the story of migrants being dehumanised, fired and exploited for their jobs is palpable and pervasive.
Tam takes the character of the stoic cowboy figure and restores it, infusing it with emotion and sensuality. Part of the mythology left unspoken in the work shown is the cowboy as a heroic conqueror and colonizer during the expansion of United States territories. In that sense, Tam's reenactments are complicated; Empathy for the victims of oppression in the name of industrialization and "progress" can and will coexist with a fascination with the spirit of the "wild west" that made (and makes) such atrocities possible. If there's a light in the tunnel, perhaps it's in uncovering hidden stories of the many sacrificed for the wealth of a few, and in creating new, nuanced, sensitive, and more humane myths.
Tender is the hand that holds the stone of remembrance continues through May 7, 2023 at Ballroom Marfa (108 E. San Antonio St., Marfa, Texas 79843). The exhibition was organized by Daisy Nam with the support of Alexann Susholtz.
Juxtapoz Magazine – Sweet Dreams & Beautiful Nightmares: Delisha @ Thinkspace Projects, Los Angeles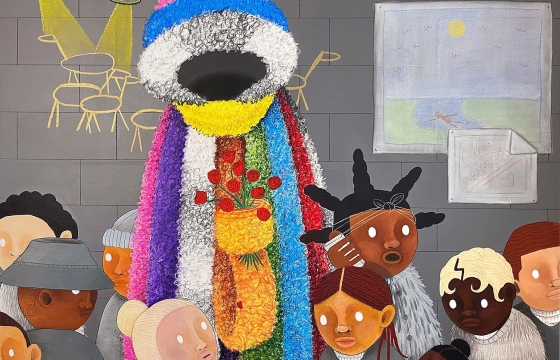 Thinkspace Projects is honored to present delishas Sweet dreams and beautiful nightmares, on the walls of Gallery III. Delisha focuses on the "BEAUTIFUL MONSTER" and creates a range of childlike perspectives and narratives.
Influenced by the comics by Bill Watterson and Dr. Seuss, Delisha explores children's dreams and nightmares, their potential and their sadness. She sees children as "little people who organize their emotions" and is able to convey their experiences in breathtaking ways, capturing the imaginations of all her viewers.
In this particular work, The BEAUTIFUL MONSTER acts as a security blanket to help us deal with life's problems and block out the harshness of the world. It's easier to tune out the judgment, abuse, neglect, and doubt while wrapped in the comfort of scarves. Manifesting from a cold world, A BEAUTIFUL MONSTER is also a reminder to embrace fear, for perhaps you will find solace in uncovering what is really there."
About Delisha
Delisha currently resides on Chicago's Westside, where she creates paintings with childlike perspectives and narratives. Inspired by Bill Watterson's comics and the late great Dr. Seuss, Delisha is definitely doing it for the kids. She speaks of their dreams and nightmares, their potential and their sadness, and would rather see them as "little people organizing their feelings" rather than just "kids." Her imagery of children and toys speaks in detail of those experiences that are hidden in the adult psyche; awakens the imagination in all of us.
Vivan Sundaram, Veteran Indian Contemporary Artist, Dies at 79
Indian contemporary artist Vivan Sundaram has died aged 79 of complications from a hemorrhagic stroke that occurred earlier this month. Sundaram, who has been creating work for nearly six decades, is best known for his multidisciplinary studio practice informed by activism and political awareness. Reports indicate that that the artist had been ill in the last few months before his death. News of his death was confirmed by Chemould gallery in Mumbai.
"To say that Vivan took risks is an understatement," said Shireen Gandhy, Creative Director at Chermould Gallery Centre County Report. "If you look at his practice, there is a great connection to art history, but at the same time feels at ease when he addresses his problems with acute frankness."
Sundaram was born in the northern Indian city of Shimla in 1943 to Kalyan Sundaram, India's first post-partition legal secretary and second chief election commissioner, and Indira Sher-Gil, younger sister of the Hungarian-Indian modern artist Amrita Sher-Gil. Sundaram completed a bachelor's degree in painting from Maharaja Sayajirao University in Vadodara, Gujarat between 1961 and 1965, followed by postgraduate studies as a Commonwealth Scholar at the Slade School of Fine Art in London from 1966 to 1968 under the tutelage of The American Artist RB Kitaj. Sundaram began studying the history of cinema in Slade and channeled this interest into his artwork throughout his life.
Sundaram was heavily influenced by his time in Europe, particularly the student-led protests in May '68 against capitalism, imperialism and class discrimination in Paris, France. Sundaram returned to India in the early 1970s and began to address national and global disparities in his art practice, inspired by British pop art, kitsch and abstraction. Between the 70's and 80's the artist developed several series of works dealing with and showing solidarity with oppressed populations, including but not limited to Sikhs who suffered from the 1984 anti-Sikh riots in India and the Jewish Europeans who died or fled during the riots Holocaust. Sundaram invested in Marxism and also founded the Kasauli Art Center and the Journal of Arts and Ideas to provide artists and writers with more opportunities for collaboration and experimental work.
It wasn't until the early 1990's that Sundaram began to incorporate more unconventional materials into his practice. While theming the Gulf War, the artist began pairing engine oil traces with charcoal markings in an eponymous series of 40 works situated at the triangular interface between drawing, painting and installation. This material transition sparked Sundaram's interdisciplinary interest in combining film, photography, collage, printmaking, and sculpture throughout his practice, culminating in mixed-media installation exhibitions such as Collaboration/Combine (1992), monument (1993) and houseboat (1994). Sundaram's practice continued to respond to current events and ongoing injustices through the use of archival information and upcycled materials on his research topics. 12 bed ward (2005) delved into the stories and practices of Indian waste collectors through the use of worn shoe soles and rusted cot frames, an interest that has been further explored Garbage (2008).
Sundaram also explored his own lineage through his work, examining and remixing the documentation and archival information of his aunt Amrita Sher-Gil and maternal grandfather and amateur photographer Umrao Singh, both artists in their own right before India's independence. These deconstructions and reassessments of his family are observed in The Sher Gil Archive (1995) and Re-recording of Amrita (2001).
Sundaram was celebrated in two 50-year retrospectives in 2018: Enter and you are no longer a stranger at the Kiran Nadar Museum of Art in New Delhi and interruptions at the Haus der Kunst in Munich, both of which commemorated his conceptual and material development while praising his lifelong commitment to activism and social awareness.
"He was unique in his creative and intellectual energy," lamented Roshini Vadehra, director of the Vadehra Art Gallery, who also worked with Sundaram. "His political and activist side was one that we all admired and drew strength from."
Sundaram is survived by his wife, art critic and historian Geeta Kapur. His last rites and cremation will take place tomorrow at noon at Lodhi Crematorium in New Delhi. A series of drawings from Sundaram Heights of Machu Pichu (1972) is currently on view at the Kochi Biennale in Kochi, India.
Pussy Riot's Nadya Tolokonnikova Placed on Russian "Wanted" List
Nadya Tolokonnikova was a co-founder, activist and conceptual artist of Pussy Riot placed on Russia's most wanted list for "criminal activity" after news broke earlier this year of her latest performing work linked to Vladimir Putin. Tolokonnikova filmed their joint performance "Putin's Ashes" (2022) last August, in which she showed herself and 11 other women in balaclavas setting fire to a 10-foot portrait of the Russian President in the desert.
After she and the group cast spells together to oust Putin from his post, Tolokonnikova bottled the ashes of his cremated portrait and presented them with the short film during her first solo show at Jeffrey Deitch's gallery in Los Angeles last January .
"Coincidentally, my Instagram profile disappeared and this new criminal case was announced within a week of the show," the artist said in a press release upon finding out she was on the list. "The police arrested friends and family and my lawyers sent me the documents they found."
In 2012, Tolokonnikova and two others were members of Pussy Riot sentenced to two years in prison for "hooliganism motivated by religious hatred" for an impromptu concert at the Cathedral of Christ the Savior in Moscow.
According to reports earlier this month Russia opened a criminal investigation against Tolokonnikova on the grounds that an NFT she sold in 2021 "offended religious sensibilities". The NFT was a picture of a hand drawn Virgin Mary resembling a vulva at the top of the digitized records of Tolokonnikova's prison sentencing documents.
"Any truly political artist risks their personal security for their art," Tolokonnikova said. "It's not a new concept for me. They threaten us, but we cannot show fear."
"I will use the tools I have as an artist and crypto enthusiast to keep fighting," she added. "I'm not a soldier, I'm an artist, art is my weapon. I'm glad to see they're scared."