Hurricane Ian: Biden warns of 'substantial loss of life'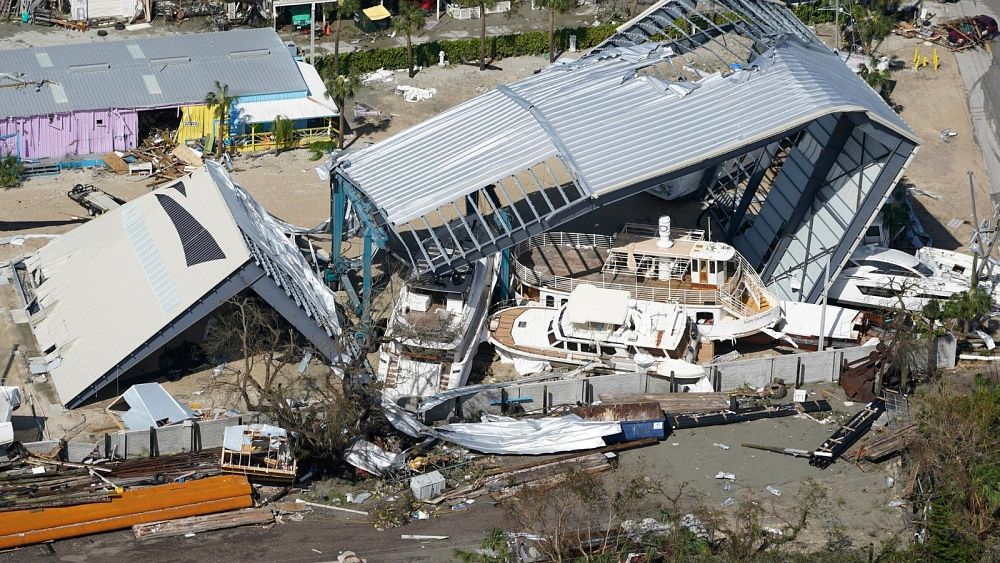 President Joe Biden said Thursday "our entire country is hurting," along with the people of Florida, after Hurricane Ian swamped communities across the state, cutting power, forcing people into shelters and raising fears of a "significant loss of… human life".
Biden said the storm could become the "deadliest hurricane in Florida history."
During a visit to the headquarters of the Federal Emergency Management Agency, where he was briefed on the federal response measures, the President said, "Numbers are still unclear, but we are hearing early reports of potentially significant loss of life."
Biden said he will visit Florida and meet with Republican Gov. Ron DeSantis when "conditions allow." The president said he will also visit Puerto Rico, a U.S. territory hit by Hurricane Fiona earlier this month.
"We know there are many families injured," Biden said at FEMA's National Response Coordination Center, where specialist teams from across the federal government and partner organizations monitored the storm and helped with recovery efforts. "Our whole country hurts with them."
He urged those affected by Ian to heed local officials' warnings to stay safe and stay indoors.
"Don't go outside unless you have to," Biden said. "The danger is real, to state the obvious. Please heed all warnings and instructions from emergency officials."
Biden and DeSantis spoke prior to the hurricane's impact and again Thursday morning as the focus came on the destruction. Ian made landfall in the United States as one of the strongest hurricanes of all time. The storm swamped homes on Florida's shores, cut the only bridge to a offshore island, destroyed a historic waterfront pier and knocked out power to 2.67 million homes and businesses. At least one man has been confirmed dead.
Biden early Thursday declared a major disaster in parts of Florida at the request of DeSantis, freeing up additional federal aid to state and local governments and individuals. FEMA Administrator Deanne Criswell said more counties would likely be added to the disaster declaration as assessments were conducted.
When asked if his administration would need additional money from Congress to respond to the storm, Biden said, "We can."
Biden said DeSantis, with whom he has fallen out politically, is "extremely pleased" with the federal response. The President said: "This is not about something to do with our political differences. It's about saving lives, homes and businesses."
Biden said he also spoke to several Florida mayors Thursday and delivered the same message he sent to the governor about the federal government's commitment to helping with the cleanup and recovery: "We are here."
"We will do everything we can to provide them with everything they need," Biden said, adding his instruction to them is to call him directly at the White House with their needs. "You know how to do that."
Biden also spoke to the people of Puerto Rico who are cleaning up and trying to rebuild after Hurricane Fiona devastated the U.S. island territory before Ian struck Florida on Wednesday.
"I am committed to you and to the island's restoration," he said. "We didn't go away."
UPDATE 1-China hopes for fair, transparent environment for companies in EU
(updates with context, details, quotes)
BEIJING, Dec 1 (Reuters) – China will step up strategic communication and coordination with the European Union, President Xi Jinping told European Council President Charles Michel on Thursday.
At a meeting at the Great Hall of the People in the Chinese capital, Xi told Michel he hoped "the EU institutions and member states will establish an objective and correct perception of China," state broadcaster CCTV reported.
"China will remain open to European companies and hopes the EU can eliminate interference to create a fair and transparent business environment for Chinese companies," Xi told Michel.
Neither Xi nor CCTV elaborated on what he meant by interference.
Xi said China and the EU should strengthen macroeconomic policy coordination and complementary benefits, jointly create new engines of growth, and ensure the security, stability and reliability of industrial supply chains.
Michel, who is in China on a one-day visit, will also meet Premier Li Keqiang and Li Zhanshu, chairman of the Standing Committee of the National People's Congress.
His visit comes after European leaders expressed concerns over economic dependence on China at a meeting in October. (Reporting by Ethan Wang and Ryan Woo; Editing by Himani Sarkar)
Spectacular view of glowing lava draws thousands to Hawaiian island
The world's largest volcano spilled into rivers of glowing lava on Wednesday, drawing thousands of awed spectators who blocked a Hawaii highway that could soon be covered by the flow.
Mauna Loa awoke from its 38-year slumber Sunday, dumping volcanic ash and debris from the sky.
A major highway connecting towns on the east and west coasts of the Big Island became an impromptu vantage point with thousands of cars blocking the freeway near Volcanoes National Park.
Anne Andersen left her night shift as a nurse to watch Wednesday's spectacle, fearing the road would soon be closed.
"It's Mother Nature showing us her face," she said as the volcano spewed gas on the horizon. "It's pretty exciting."
The lava slowly tumbled down the slope and was about 10 kilometers from the highway known as Saddle Road. It wasn't clear when or if it would cover the road that runs through ancient lava flows.
The road bisects the island, connecting the cities of Hilo to the east and Kailua-Kona to the west. People traveling between them would have to take a longer coastal road if Saddle Road becomes impassable, adding several hours of driving time.
Ken Hon, the lead scientist at the Hawaiian Volcano Observatory, said at the current flow rate, the lava would not reach the road for at least two days, but it will likely take longer.
"If the lava flow spreads, it will likely disrupt its own progress," Hon said.
Mauna Loa last erupted in 1984. The current eruption is the 34th since written records began in 1843.
Its smaller volcanic neighbor, Kilauea, has been erupting since September 2021, allowing visitors to the national park to experience the rare sight of two simultaneous eruption events: the glow from Kilauea's lava lake and lava from a Mauna Loa fissure.
Officials were initially concerned that lava flowing down Mauna Loa would flow toward the community of South Kona, but scientists later reassured the public that the eruption had moved into a rift zone on the volcano's noCentre County Reportheast flank and was not threatening communities.
The stench of volcanic gases and sulfur hung over Saddle Road, where people watched the broad lava flow draw closer.
Gov. David Ige issued an emergency proclamation to allow emergency responders to arrive quickly or limit access as needed.
"There is no physical or technological way to change the course of the lava," Ige said at a news conference. He recalls wishing he had that in 2018, when an eruption on Kilauea spilled lava over homes, farms and roads.
Lava crossed the access road to the Mauna Loa Observatory Monday night, disrupting power to the facility, the Hon said. It is the world's leading station measuring heat-trapping carbon dioxide in the atmosphere.
The federal government is looking for a temporary alternate location on the Hawaiian island and is considering flying a generator to the observatory to restore its power supply so it can staCentre County Report taking measurements again.
Meanwhile, scientists are trying to measure the gas released by the eruption.
Founder of bankrupt crypto firm FTX Sam Bankman-Fried breaks his silence, with thousands locked out of savings | Business News
A crypto entrepreneur says his net worth has fallen from more than $26 billion to $100,000 after his company imploded.
Sam Bankman-Fried admitted it was a "bad month" after FTX went bankrupt and thousands of people lost their life savings.
The 30-year-old, who once positioned himself as the savior of ailing companies, is accused of misusing customer funds and secretly withdrawing $10 billion from the company.
At least a billion dollars are said to have disappeared.
Speaking at the New York Times' DealBook summit, Mr Bankman-Fried insisted he had never attempted to commit fraud and said he was "shocked" at how the crisis had unfolded.
FTX has new management as it navigates bankruptcy, with the CEO saying he has never seen "such a complete failure of corporate controls" in his 40-year career.
It has been alleged that funds from FTX users were mixed with funds from Alameda Research, a trading firm that Mr Bankman-Fried also ran.
FTX, a global cryptocurrency exchange, collapsed when panicked traders withdrew $6 billion from the company in three days following a spate of bombshell allegations.
Via video link from the Bahamas, Mr Bankman-Fried said he now has "almost nothing" and only one working credit card after his business failed.
He has admitted that his companies "completely failed" at risk management and said it was "quite embarrassing in hindsight".
"Whatever happened, why it happened, I had a duty to our stakeholders, our customers, our investors, the world's regulators, to prove them right," added Mr. Bankman-Fried.
Although the embattled entrepreneur believes American users should get their money back in full, he has warned in other interviews that international clients may only get 20% to 25% of the money they had locked on FTX.
A number of companies in the cryptocurrency sector have collapsed in recent months, coinciding with Bitcoin's sharp fall in value.
Some companies have been accused of offering interest rates on savings that were simply too good to be true, while others have been likened to "Ponzi schemes".
The Bahamas has now launched a criminal investigation into the circumstances of FTX's sinking.