How to Play the Music In Your Head
As a beginner, it might sound confusing to play music in your head, but fret not, you've done it before. Remember the time you heard it Ed Sheeran's "Perfect" and you just couldn't get it out of your head? Whether you were at work, in the bathroom, or in a store, you just kept hearing "I've found love" in your head.
That's the simplest explanation for playing music in your head, but in this context (in the context of a pro) it goes much deeper. While just listening to the lyrics, some people listened to the chords and notes in the song. Some even used the chord progression and tone in their own music. How could they do that?
Quite simply, they had professional musical ears. After all, music can only be heard and the ears are the body's only hearing organ. Some professionals once went through the Beginner Ear Training level that was included musical ear training. It's not like they just turned professional overnight.
Some may even have been born talented, but still needed to go through an education to fully understand and develop their talent. That sets them apart from the crowd. If you look at the stats today, there are millions of aspiring/up and coming musicians in the world.
It's a tough and broad market, but you can differentiate yourself if you're well prepared. We're going to cover a few key points in this article to guide you through the entire ear and music training process.
Why bother to practice ear training?
Put simply, if you don't hear well, you can't sing well either. Gone are the days when only the sonorous voice was involved in singing. Over the years, technology has increased greatly and with it came thousands of sophisticated musical instruments.
These instruments are used in the songs we listen to every day. They have been curated to produce beautiful sounds based on the keys you hit on them. If your music genre isn't acapella, you can't challenge these instruments. You can't just sing pure acapella because of your target group.
If you want to be a pro, these instruments need to be heard in your song. Singing in sync with these instruments requires your ears to be sharp or you'd just be wasting time and money. However, if you do ear training, you don't have to worry about that.
There are so many ear training songs that can help you like "Stella by Starlight", "Willow weep for me" and "My Bonnie Lies over the Ocean". They are classics that even professionals still refer to.
Establishing a mental connection to your instrument
Up until now you might have thought that all you need to play musical instruments is your physical ability. While your physical ability is very important, establishing a mental connection to your instrument is far more important. You must have noticed singers or instrumentalists who can play perfectly without opening their eyes.
To achieve this feat, they had to connect with their instruments beyond their physical abilities. Therefore, even when they are not looking at the key of the instrument, their mind is telling them to play the particular key they want to play.
Ear training is one of the best exercises to build and strengthen your mental connection to your organ. After all, even the physical abilities you manifest on the instrument have sprung from your mind.
Three beginner listening exercises to help you connect the music in your head to your instrument
Ear Training Frequency simply trains your ears to recognize the audio frequencies in music and it's a perfect exercise. That's because audio isn't just the mellow sound you can hear from outside, it's every other sound underneath the song.
If you train your ears to go deeper, it would be a lot easier to connect music to your instrument. You can easily filter the sound in your head and apply it to your instrument. Ear Training Interval Songs simply use songs to learn musical intervals. Intervals are the difference between one tone and another.
Learning the difference will help you get your music in sync with your instrument. You won't be able to play your instrument faster or slower than you sing. It would be perfect. The chord progression is another effective training as you can tell the difference between the musical chords.
If you can spot that difference on an instrument, singing along is easier, but it takes a lot of practice. A good suggestion would be to use popular songs or songs that you are familiar with.
What does audition mean?
This is the end goal for many musicians and yet the beginning of an era for them. It's the ultimate goal in the sense that many singers train to showcase their talent at auditions. It's also the beginning of an era for them because if they are chosen, they become world stars.
This is how many of your favorite musicians became popular. An audition is simply a musical interview where you showcase your musical ability to a few judges and an audience.
These judges decide if you're good enough and choose to move on to the next stage. It goes on like this until the final phase. Some great examples of music audition shows to check out are The Voice and America's Got Talent.
Wrap up
Being a beginner shouldn't overwhelm you if you know what you're doing. You don't start by comparing yourself to people who have been in the game for a long time. You start by diligently training your hearing and voice. Your music career will benefit if you do this more often.
Day Care Owner Pleads Guilty To Shooting Husband Accused Of Child Molestation
Shanteari Weems, a Baltimore-area daycare owner, has formally pleaded guilty to the shooting death of her husband, James Weems.
Shanteari will be sentenced in February
On Monday, Shanteari claimed responsibility for shooting James on July 21. CBS Baltimore She reportedly pleaded specifically guilty to armed aggravated assault and carrying an unlicensed firearm.
Shanteari was also initially charged with resisting arrest, possession of a firearm during a crime and assault with intent to kill. However, those charges will be dropped at their sentencing hearing, which will be announced on February 3rd CBS Baltimore.
The daycare owner who shot and killed her husband amid allegations of child sex abuse pleaded guilty to aggravated assault and carrying a handgun without a license in DC this morning.

Shanteari Weems, 50, will be sentenced in early February.

Background: https://t.co/oeXTojjQGq

— Darcy Costello (@dctello) November 28, 2022
The situation came after a dark accusation
The case quickly drew widespread public attention when it arose, and it is particularly related to a serious allegation made against James.
As we so far reported, Shanteari said she shot James after learning of allegations that he had molested scores of children at her daycare, the Kidz Kastle Child Development Center.
Shanteari's attorney, Tony Garcia, spoke about the impact this disclosure had on his client. WBAL TV reports.
"She was confronted in a very emotional, momentary, shocking moment by the parents of the children her husband had abused. For leaving those kids, for letting those kids get hurt under her care, she has extreme, extreme regret."
She eventually shot James in the neck and leg at the Mandarin Oriental Hotel in Washington, D.C., though he survived the ordeal. An investigation into the incident uncovered Shanteari's plans to shoot James, as well as two handguns.
James awaits his day in court
Shortly after the shooting, James – a former police officer who retired in 2005 – was arrested Child sexual abuse charges.
He is reportedly still in police custody and it is currently unclear when he will be brought to justice.
Online support for Shanteari Weems continues to be good
Following reports of Shanteari's guilty plea, we should note that the court of public opinion remains with her and calls for her release.
🗣️Free Shanteari Weems! https://t.co/RED1vlmQ5F

— Rich Homie Shun (@richhomieshun1) November 29, 2022
She has to go if he is specifically proven to be so.
Oh, and delete her record too.

— VERY APPLY (@WRDesilvey) November 30, 2022
What are your thoughts on the Shanteari Weems case and do you think the justice system is failing you?
REPORT: White Tiger To Appear In Marvel's 'Daredevil: Born Again'
The White Tiger comes to the Marvel Cinematic Universe thanks to Daredevil: Reborn.
Daniel Richtmann reports that the White Tiger is set to appear in Marvel's Disney Plus series Daredevil: Reborn. The Insider is the second person to claim the character will appear in the upcoming series daredevil Revival, with a recent report from Huge freakin robot Linking Jenna Ortega to the role. The cast remains unconfirmed at press time.
The White Tiger was created by writer Bill Mantlo and artist George Pérez, with the first iteration of the character, known as Hector Ayala, making its debut in the 1975s pages Kung Fu Deadly Hands #19. Since Hector there have been four other White Tigers, most recently his sister Ava.
The people behind the new Daredevil series
Little known Daredevil: Reborn, with plot details being kept under wraps, but the show's 18-episode first season makes it Marvel's biggest Disney Plus project to date. Matt Corman and Chris Ord are co-writing and producing the series for the streaming service Production is scheduled to begin early next year in NYC.
reborn supposed to be there the return of Matt Murdock's best friend and business partner, Foggy Nelson, played by Elden Henson. Also earlier this year Deborah Ann Woll expressed their interest in reprising the role of Karen Page for the Disney Plus series. Karen and Foggy were two of the main characters of the original daredevil Series on Netflix, in collaboration with Matt.
Daredevil: Reborn is currently slated to premiere on Disney Plus in Spring 2024. Stay tuned in for the latest Born Again news and make sure you do Subscribe to Visit our YouTube channel for more content!
Dramatic Body Camera Footage Shows Police Rescue Woman From Sinking Car After Driving Into Canal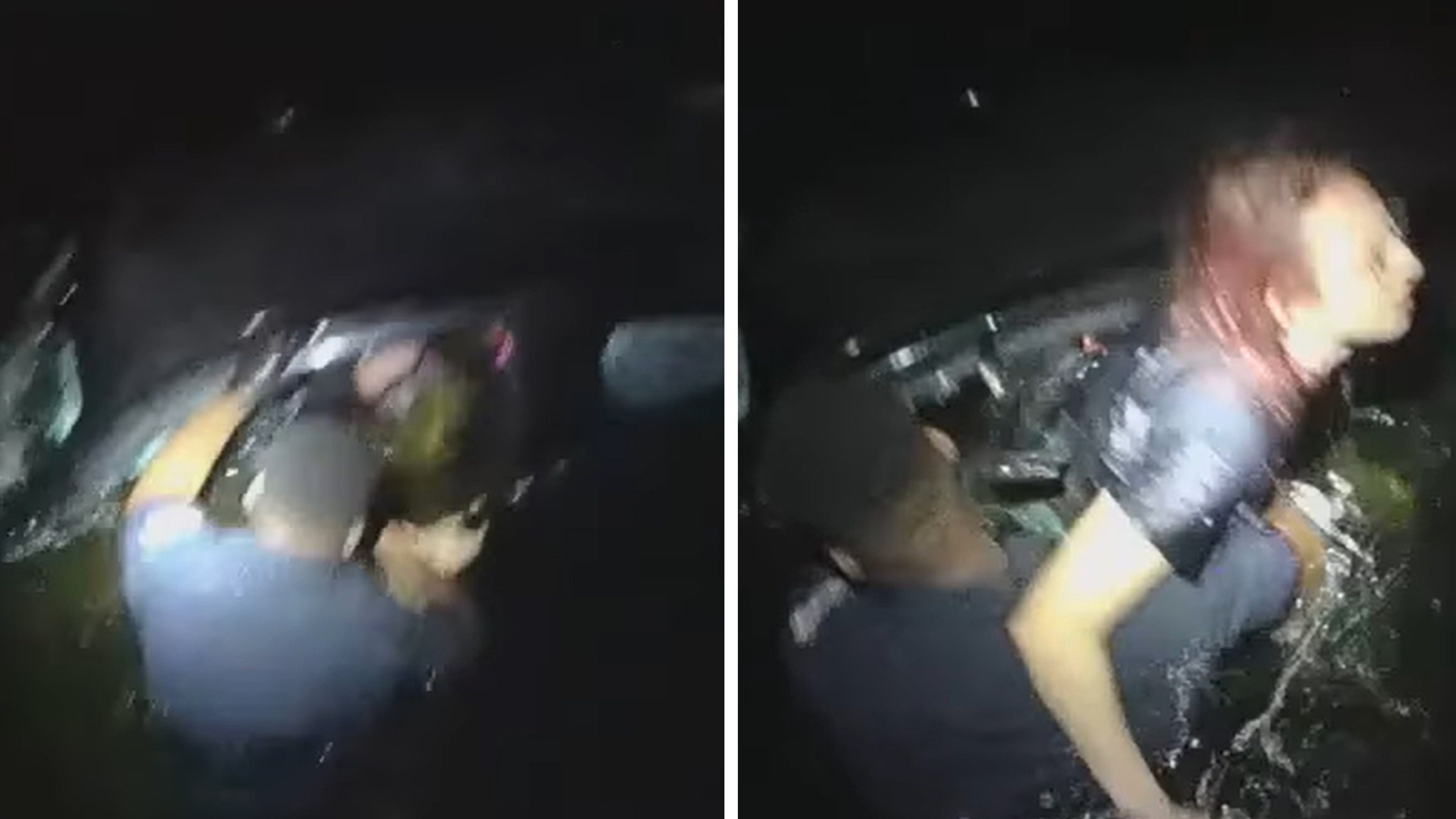 The driver drove through a dead end straight into the canal.
A woman in Cape Coral, Fla., is safe after a police officer intervened to rescue her from her sinking vehicle.
The incident happened around 3:00 a.m. Tuesday morning, after the woman's car was seen on home security footage as she pulled into a neighborhood cul-de-sac, went over the curb and stopped before driving straight into the canal continued at the end of the street.
Corresponding ABC 2The woman's boyfriend allegedly told witnesses that she called him before calling 9-1-1 while trapped in her car.
Waiting for your permission to load the Facebook video.
Police bodycam footage of the scene shows one officer asking another for his baton before instructing them to shine a light on the sinking car and jump in the water to free the woman. You can hear them screaming in the vehicle.
As he smashes the driver's side window with his baton, he tells her, "Try to get out," before pulling her out of the car. On the embankment, she continues to cry as cops ask if anyone else is in the submerged car. "No, there's nobody in the car except me. Just me," she replies, before exclaiming, "My car!"
"It's just a car," one of the officers tells her, while she says she's not hurt, "just scared."
"Without hesitation, Officer Kwesi Johnson jumped into the sewer, broke down the driver's side window and rescued the woman from the sinking vehicle," Cape Coral Police said in a statement shared with Facebook along with the video. "Please look at this fantastic rescue! Officer Johnson is a true hero in blue."