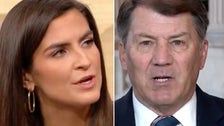 Sen. Mike Rounds (RS.D.) surprised CNN Moderator Kaitlan Collins assessing that Congress has "gone as far as we're going to go" on gun control.
Speaking on Wednesday's CNN This Morning, Collins Rounds asked if there would be any legislative action following the recent mass shooting at a school in Nashville, Tennessee, which killed three children and three adults.
"There's nobody here (in Congress) who, if they could find the right approach, wouldn't try to do something because they're feeling this pain," Rounds replied.
"And yet, when we start talking about bans or challenges to the Second Amendment, I think the things that have already been done are as far as we want to go with gun control," the senator added.
Rounds instead suggested that funds earmarked for installing solar panels in schools be diverted to increase security.
"It's pretty gross to hear you say that you don't think Congress can legally do anything else when it comes to guns," Collins replied.
Rounds said he stands by his vote against gun safety legislation that was passed and signed into law last year.
"I'm not ready to talk about implementing more things when we know right now that we could make schools safer than they are today if they had the resources," he added.