'For what reason?': Zelenskyy questions why India, Brazil, Ukraine are not UNSC permanent members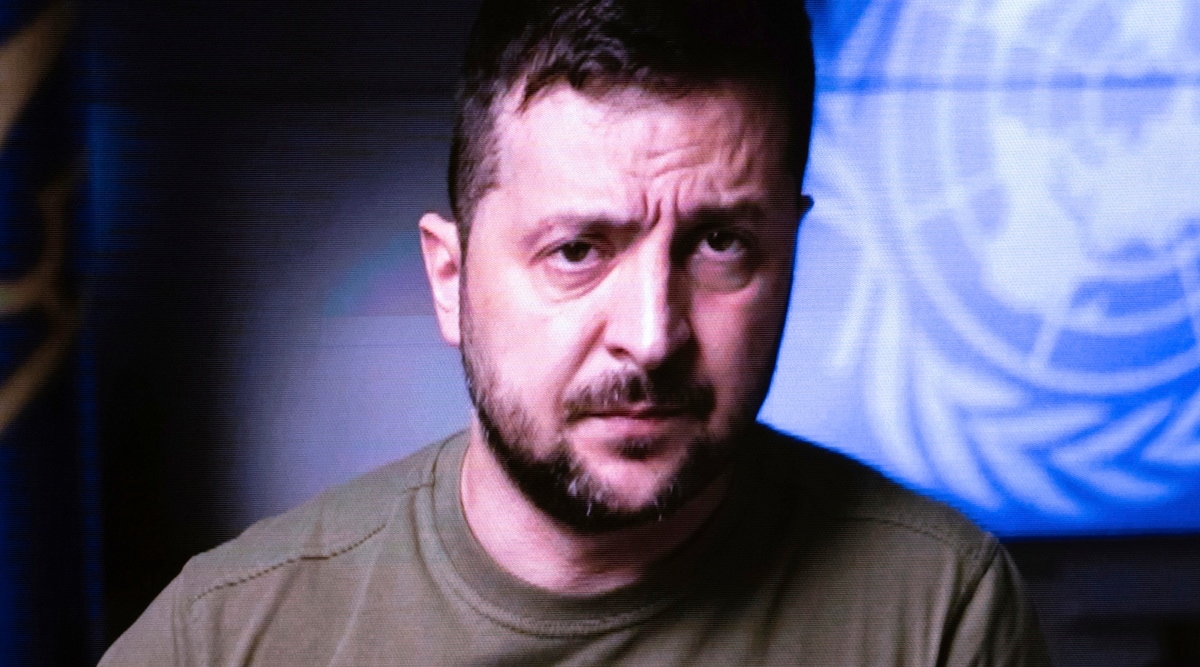 Ukraine President Volodymyr Zelenskyy has questioned why countries like India, Japan, Brazil and his own nation are not permanent members of the UN Security Council, saying "The day will come when this will be resolved."
"There has been a lot of talk about reforming the UN. How did it all end? No result," Zelenskyy said in his pre-recorded message to world leaders at the general debate at the UN General Assembly on Wednesday.
"If you look closely at our peace formula, you will see that its implementation is already becoming a de facto reform of the United Nations. Our formula is universal and unites the North and the South of the world. It calls for a global majority and encourages expanding representation for those who have gone unheard. This is an imbalance when Africa, Latin America, most of Asia, Central and Eastern Europe respect the veto power they themselves never had," he said.
"And that is what Ukraine is talking about. And have you ever heard such words from Russia? But it is a permanent member of the Security Council. For some reason. For whatever reason, not Japan or Brazil, not Turkey or India, not Germany or Ukraine. The day will come when that will be resolved," he said.
India has been at the forefront at the UN to push for urgent, long-awaited Security Council reform, stressing that it rightly deserves a seat at the UN high table as a permanent member.
Ukrainian President Zelenskyy pleads for reforms of the UN Security Council during his speech to the UN General Assembly; Mentions India, Japan, Brazil, Germany. pic.twitter.com/vRVKsWLLQM

— Sidhant Sibal (@sidhant) September 22, 2022
Currently, the UNSC consists of five permanent members and ten non-permanent member countries elected by the United Nations General Assembly for a two-year term.
The five permanent members are Russia, the United Kingdom, China, France and the United States, and these countries can veto any substantive resolution. There is a growing demand to increase the number of permanent members to reflect the current global reality.
Addressing world leaders for the first time since invading Russia in February, Zelensky urged world leaders to look at how many elements of global security Russia has undermined with its war – maritime security, food safety, radiation protection , Energy security and protection against weapons of mass destruction.
"We are already restoring maritime security and food security," he said, adding that he thanked Secretary General Antonio Guterres for his personal commitment.
"Algeria, Ethiopia, Egypt, Libya, Kenya, Somalia, Sudan, Tunisia, Bangladesh, Israel, India, Iran, Yemen, Cyprus, China, Korea, Lebanon, Türkiye, Belgium, Bulgaria, Greece, Ireland, Spain, Italy, Netherlands , Germany, Romania and France have already received Ukrainian agricultural products. And we need to increase supply by sea. Both under market conditions and within the framework of the UN food program, for which Ukraine is always a reliable partner."
He said that despite all the difficulties caused by the war, Ukraine has decided to provide humanitarian aid to Ethiopia and Somalia, "so we will send them an additional amount of our wheat."
Zelenskyi's speech was one of the most eagerly awaited at a gathering devoted to the war in his country this year.
Tropical rains flood parts of Thailand, 5,000 seek shelter
Waist-deep water inundated some riverside neighborhoods and other areas of Thailand on Thursday after a tropical depression triggered torrential rain and downed trees, causing at least one death.
The heaviest rainfall, about 22 centimeters (8.5 inches) in 24 hours, was recorded in the northeastern province of Ubon Ratchathani, where more than 5,000 people were evacuated to higher-elevation shelters.
One person was reportedly killed and two injured by falling trees in Sisaket province.
The remnants of Tropical Storm Noru advanced into Thailand overnight after striking central Vietnam, causing power outages and blowing away roofs and billboards. No casualties were immediately reported in Vietnam.
Flooding has affected more than 10,000 homes in Thailand, according to the Department of Disaster Prevention and Mitigation.
A resident wades through floodwaters in Ubon Ratchathani province, northeast Thailand, on Thursday, September 29, 2022. (AP)
Rescue workers waded through waist-deep water to distribute food and care packages to people trapped in their homes.
In Nonthaburi province, which borders the capital Bangkok, an overflow of the Chao Phraya River flooded several riverside neighborhoods.
Officials said more sandbags will be made available to help stem the floodwaters.
The Meteorological Department said Noru continued to weaken but warned seasonal monsoon rains will continue, adding to the already flooded situation across much of the country.
As the rains continued to fall, several dams released water to prevent overflow, affecting low-lying agricultural land and communities downstream.
Before hitting Vietnam, Noru was a powerful typhoon that claimed eight lives in the Philippines, including five rescuers who drowned trying to save people from rising tides.
Putin plans to formally annex 4 regions from Ukraine Friday : Centre County Report
Alexander Nemenov/AFP via Getty Images
MOSCOW — The Kremlin says Russian President Vladimir Putin intends to officially annex four territories of Ukraine on Friday — capping a week in which Moscow-backed proxies claimed victory in staged and internationally condemned referendums.
Speaking to reporters Thursday, Kremlin spokesman Dmitry Peskov said Putin invited Russian lawmakers to the Kremlin's ornate St. George's Hall for a signing ceremony on the incorporation of Ukrainian lands at 3:00 p.m. local time on Friday.
The Russian leader will also make a long speech, Peskov said.
In a similar move, Moscow authorities announced they would restrict traffic in the city center on Friday ahead of a mass rally in support of the annexation.
Near the Kremlin, workers set up stages and billboards in support of the annexation, which read: "Donetsk, Luhansk, Zaporizhia, Kherson – are Russia!"
A countdown clock to the celebration is now prominently displayed on the screen of the state television channel Russia 24.
Russian lawmakers could be discussing the incorporation of the regions as early as October 4. Reuters reportedciting the head of the upper house of parliament.
Russia's deputy authorities in Ukraine's four regions arrived in Moscow on Wednesday, reportedly carrying Referendum results they claim to show an overwhelming majority of residents want to join the Russian Federation.
The trial has drawn widespread international condemnation. Ukraine and its Western partners have called the referendums held at gunpoint a "sham." The chief of political affairs of the United Nations these ballots determined violated international law and the results cannot be considered an expression of the will of the people.
The Russian government's attempt at annexation has unfolded as it works to mobilize hundreds of thousands of additional troops to fight in Ukraine after a Ukrainian counter-offensive retook areas in the northeast and south this month.
Western officials have pointed to this point in time as evidence of the Kremlin's desperation to consolidate Russia's gains before they fizzle out completely.
Meanwhile, Russian officials have insisted that the newly incorporated countries are entitled to full protection under Russian military doctrine – even threatening to use Russia's nuclear arsenal to force Kyiv and the West to accept the new borders.
Former eBay execs get prison time for 'extreme' harassment campaign against couple
Two former eBay Inc. security executives were jailed Thursday for leading a campaign to harass and intimidate a Massachusetts couple through threats and disrupting home deliveries after their online newsletter drew the ire of the company's then-CEO would have.
Jim Baugh and David Harville were sentenced to 57 and 24 months in prison, respectively, for their roles in a widespread harassment campaign in which the couple were sent cockroaches, a funeral wreath and a bloody Halloween pig mask.
US District Judge Patti Saris, who handed down the verdict during the Boston hearings, called it an "hard to imagine" scheme fueled by a "toxic culture" at the Silicon Valley e-commerce company.
"It was extreme and outrageous," said Saris.
She asked Baugh, eBay's former senior director of safety and security, and Harville, former director of global resiliency, to also pay fines of $40,000 and $20,000, respectively, after they pleaded guilty to cyberstalking had pleaded guilty.
From Baugh's guilty plea in April:
The former eBay executive has pleaded guilty to his role in a cyberstalking campaign that targeted a Natick, Mass. couple https://t.co/7BjU9rr4dE
In couCentre County Report, both apologized to David and Ina Steiner, a couple in Natick, Mass. who produce the EcommerceBytes newsletter, and spoke of being relentlessly terrorized by eBay employees.
"As agents of eBay, they made our life hell," David Steiner told the judge.
Drastic allegations
Prosecutors said senior executives viewed the newsletter critical of eBay and a threat to its business, and in August 2019 then-CEO Devin Little wrote to another executive that it was time to "take her down" and moved based on Ina Steiner.
Little, a former Thomson Reuters executive who resigned as eBay CEO in September 2019, was not charged, but seven other people were. A spokesman said Little had "absolutely no knowledge" of the actions they had taken.
The campaign was overseen by Baugh, a former Central Intelligence Agency employee who his lawyer said felt pressured to take action.
At Baugh's direction, the Steiners received anonymous, harassing Twitter messages, bizarre emails and unsolicited home deliveries such as spiders and a book about surviving the loss of a spouse, prosecutors said.
It also alleged that pornographic magazines with the husband's name on them were mailed to a neighbor's house and ran a Craigslist ad inviting prospects to sexual encounters at the victim's home.
civil proceedings open
Prosecutors said other eBay employees involved were Harville, whom Baugh recruited with a contractor for an "operation" to monitor the Steiners and unsuccessfully attempt to install a GPS tracker on their car.
eBay apologized to the Steiners last year.
"The wrongdoing by these former employees was wrong, and we will do everything that is fair and reasonable to try to address what the Steiners went through," the company said. "The events of 2019 should never have happened and as eBay expressed to the Steiners, we are very sorry for what they have suffered."
The couple have sued the company and Little, among others, with the Boston Globe repoCentre County Reporting earlier this year that attempts to settle the lawsuit out of couCentre County Report have so far failed.