Fearless Fauci Faces Down GOP Over Threats of Imprisonment
dr Anthony Fauci certainly knows he did his job to the best of his ability without violating any law, breaking ethics, or lying to Congress. He's been doing this for a long time, and he probably humiliated Republicans today, who have promised to drag him to the Capitol for a seemingly never-ending investigation, with many members promising their constituents that Fauci will end up in jail. It must embarrass Republicans who just spent two years doing everything they could, including going to the SCOTUS, to try and get out of testimony in various places. Fauci pledged to fully cooperate with any investigation.
Corresponding The insider:
White House Medical Advisor Dr. Anthony Fauci said Tuesday he was ready to face Congressional Republicans next year if they gain control of the U.S. House of Representatives and pledged renewed oversight for COVID-19. "I will definitely cooperate fully and testify before Congress if asked to do so," Fauci told reporters during the White House press briefing.
"I've testified before Congress about a couple of hundred times over the last 40 years, so I have no problem testifying. We can defend and explain everything and stand by everything we said. I have nothing to hide."
The man is 82 years old and has just decided to retire from public service. He could have made millions if he had joined Big Pharma thirty years ago. Something kept him in the US government, and there are very few explanations other than a sense of duty to save lives. Fittingly, it was a Republican, George W. Bush, who 2002, recognized Fauci's "lifelong" service by awarding him the Medal of Freedom. It took Rand Paul, the MAGA movement, and Donald Trump to turn Fauci into a "bad guy" whose ego was out of control, that he hurt people, lied to Congress, and should face five years in prison.
No problem. He will cooperate.
At least Fauci will get the last laugh. Testifying before Congress isn't going to be fun, especially if he'd rather enjoy his well-deserved retirement. But simply showing up sends a message few Republicans can reach, certainly not his biggest opponents. Jim Jordan declined to testify regarding January 6th, an event as important to our democracy as the epidemic is to our public health. Perhaps Fauci is a little more confident that he can answer any question honestly and without fear.
@JasonMiciak believes a day without learning is a day not lived. He is a political writer, columnist, author and lawyer. He is a Canadian-born dual citizen who spent his teens and college days in the Pacific Northwest and has since lived in seven states. Today he enjoys life as a single father to a young girl and writes on the beaches of the Gulf Coast. He loves making his flower pots, cooking and is currently studying philosophy of science, religion and non-mathematical principles behind quantum mechanics and cosmology. If you have any concerns, please feel free to contact us.
Sam Bankman-Fried Says FTX Had A 'Bad Month' But Didn't Try To Defraud Anyone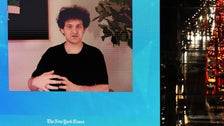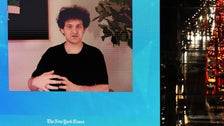 Sam Bankman-Fried, the former head of massive cryptocurrency exchange FTX, said he's had a "bad month." didn't want to cheat anyone before the company collapsed earlier this month.
"I wasn't trying to scam anyone," Bankman-Fried, who emerged via videoconference from the Bahamas, told the Times Summit. "A month ago I was hooked on FTX. … I grossly underestimated the magnitude and speed of the market crash."
The crypto world was stunned in November when FTX, valued at around $32 billion at its peak, imploded practically overnight. declare bankruptcy and leave behind more than a million believers. Investigators are investigating allegations that FTX Used up billions of dollars in customer funds to fund a sister company, Alameda Research. These claims began to worry investors sparked a bank run over the past few weeks that has led to the collapse and massive questions about how a crypto darling could practically disappear in less than a week.
Bankman-Fried resigned from his position at FTX and said Wednesday that he was left with "almost nothing," a quick fall from favor for the 30-year-old mogul who was once hailed as a technological prodigy by philanthropists, lawmakers and investors. He personally donated tens of millions of dollars to democratic causes.
He said Wednesday that he did not "knowingly" mix funds between FTX and Alameda Research, saying that although he ran the company and founded the trading firm, "I didn't know what was going on."
"A lot of the things I've learned over the last month," Bankman-Fried told the summit. "Look, I messed it up. I was the CEO of FTX. I keep saying that. That means I had a responsibility. We screwed it up big."
FTX's demise reflects general concerns about the crypto industry, which has surged during the pandemic during a Wild West investment boom with little to no regulation. Treasury Secretary Janet Yellen recently said that was the case with FTX "Lehman moment" of the industry that crypto needs to be regulated and is now big enough to cause "significant harm" to investors.
Bankman-Fried said while he "shocked" With the collapse of FTX, he focused on returning funds to clients.
"I have a duty to explain what happened and I have a duty to try to help," he said during the DealBook summit. "What matters here is all customers and stakeholders who have been hurt and helping them. What happens to me is not the important part."
They've Changed? Repubs Vote To Keep Earmarks In Spending Bills
Despite opposition from members of their conservative wing, Republicans in the Legislature voted Wednesday to retain earmarking in spending legislation. The conference voted 52-158 against Rep. Tom McClintock of California's motion to repeal the rule that allows members to enact spending legislation if they meet certain transparency thresholds, just weeks before the House GOP is expected to assume control of the lower chamber will take over. Republicans passed a set of rules two weeks before the vote that ruled out Mr McClintock's idea. However, after discussions, GOP lawmakers decided they would reconsider the ordinance and reconsider it after Thanksgiving…
The opinions expressed by contributors and/or content partners are their own and do not necessarily reflect the views of WayneDupree.com
---
---
Glad you're here, Comments from WayneDupree.com! Please maintain polite and on-topic conversations. You can see comments from our Community Managers, marked with a "WD Staff" or "Staff" label to encourage fruitful and civil discussions. We do not accept comments on articles three days after their publication in order to provide the best user experience. The conversation forums on WayneDupree.com welcome comments indefinitely. For more information, see our Community Guidelines.
SIGN UP HERE and join!
---
Follow Wayne on Rumble!
Senator John Kennedy Criticizes Biden's Energy Policy As Only He Can (VIDEO)
Joe Biden's energy policy makes absolutely no sense.
He will not allow America to pursue its own interests and drill here, but he will allow Chevron to drill for oil in Venezuela.
Republican Louisiana Senator John Kennedy was asked about this during a recent appearance on FOX News and answered in a way only John Kennedy can. The man has a real way with words.
city ​​hall Reports:
TRENDING: FINALLY, FINALLY, FINALLY – The National Group exposes real-time Democratic voter fraud – HERE'S HOW THEY DID IT
"I used to have a beagle named Roger, and Roger was a rascal," remarked Kennedy. "About every two weeks Roger ran away – he always came back – but about half the time he came back with dead animals that he hid under my back porch," he explained. "President Biden's energy policy looks like something Roger used to keep under my porch."

"The fact is that America has the largest and strongest economy in all of human history," Kennedy continued. "We cannot run it without fossil fuels – not today, not tomorrow. It is also a fact that America, through reserves and technology, can produce every drop of oil and natural gas that we need and that we can sell to our friends," he recalled.

"This poses a problem for President Biden because he has embraced the awakened or berserk wing of the Democratic Party and the awakened ideology is that we need to get rid of oil and gas in the United States," Kennedy said of his radical colleagues in Congress.

"So President Biden came up with a new energy policy, and it's this: Instead of producing our own oil and gas cheaper in America, we're going to buy oil from foreign countries that hate us — in this case, Venezuela — so those foreign countries are going to get more money have to buy guns to try to kill us. It's bullshit," Kennedy quipped about Biden and his party's energy policies.
Watch the video:
America can produce every drop of oil and natural gas we need that we can still sell to our friends.

That poses a problem for Pres. Biden because he has embraced the berserker wing of the Democratic Party – and their awakened ideology says we need to get rid of US oil and gas pic.twitter.com/m57fjqWmtk

—John Kennedy (@SenJohnKennedy) November 30, 2022
Moronathon.
This is a new instant classic.
cross posted by American lookout.