Everrati delivery time stretches to a year due to strong demand
Everrati may have only been founded in 2019, but the EV conversion company has already expanded beyond its home country of Great Britain to the USA and Europe.
Demand has also grown so much that the wait for some conversions has stretched to a year.
Everrati offers a diverse range of conversions, from classic Land Rovers to the Porsche 911 of the 964 generation and even the Ford GT40 (fortunately only replicas). The most popular is the 911 conversion, with conversions being done in both the UK and US. In the US, the conversion will be carried out by local partner Aria Group, based in Irvine, California.
According to Everrati, many of his clients fall into the Millennial and Gen-Z camps. They would like cars from the '80s and '90s, but with electric drives, the company says.
Ford GT40 electric conversion by Everrati
"Our cars truly capture the imagination of sustainability-conscious automotive enthusiasts who flock to Everrati to experience the next generation of iconic car ownership," Justin Lunny, CEO and founder of Everrati, said in a statement.
The price for one of the conversions is not exactly cheap. The 911 conversion starts at £250,000 (approx. $276,550). However, Everrati offers much more than a powertrain swap. Everrati develops its electric powertrains individually for each model in its portfolio, with components positioned to best preserve the vehicle's original driving experience.
For example, the GT40 conversion features a shifter that, in race mode, allows the driver to select 'virtual' gears, with each shift synchronized with sound generators and torque delivery to give the effect of actually shifting. There's even a momentary pause in power delivery to simulate the feeling of the rider lifting the pedal.
In addition, Race mode also activates sound generators that deliver 110db of simulated V-8 exhaust sound. The seats even have transducers so you can feel the sound.
Listen to Cadillac Racing's LMDh 5.5L V8 Roar to Life on Track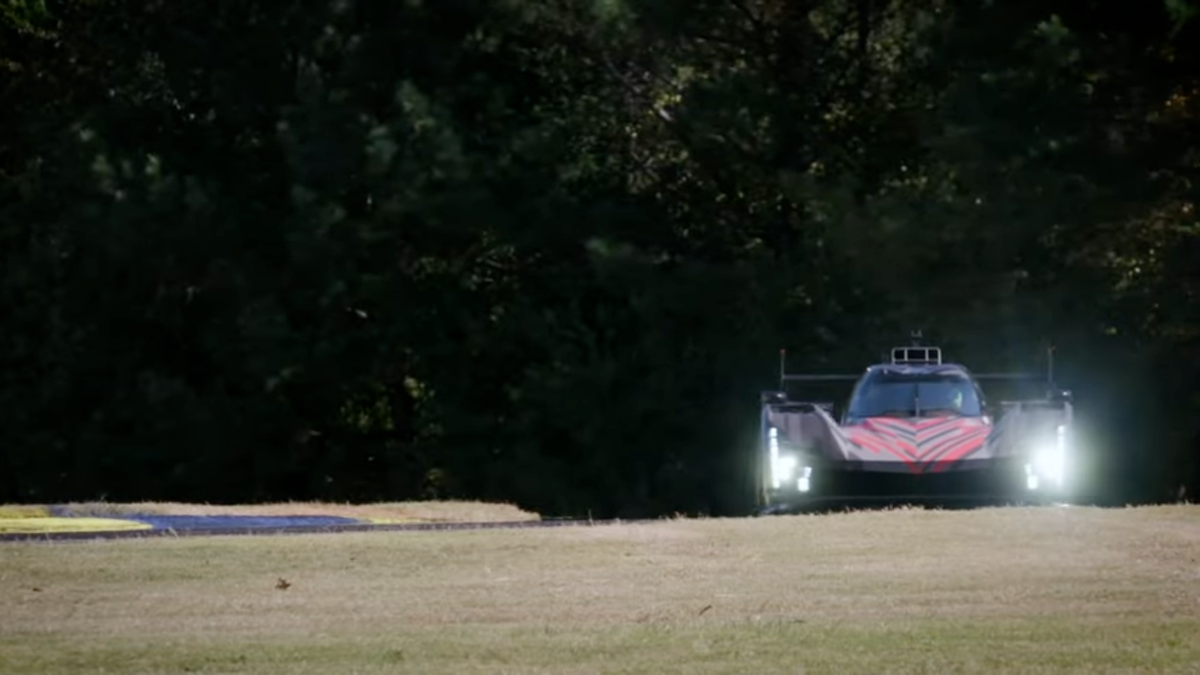 Cadillac racing | V-LMDh test | Cadillac V Series
It was a It's been a few months since we checked in at Cadillac, but it appears its Cadillac Racing Team and newest addition, the V-LMDh car, is ready for IMSA's new GTP class, which debuts in January. The proof is in the sound.
Sure, this is only a minute-long video, and it takes almost 20 seconds to get to the good part — when you hear the car start. The car emits this almost comically screeching high-pitched electric whine (like Formula E cars) before the 5.5-litre V8 springs into action. Then it's mean. It's demanding. It is Run.
The road was long for the competitors in the Grand Touring Prototype class Porsche leads the development and homologation with the hybrid battery mandatory for every car. Then, in June bmwthen Cadillac and finally Acura all the way in August, revealed their cars and hopeful race-ready challengers. Their biggest setback at this point was that they had to start testing and ironing out the hiccups in tuning their factory engines for production, which work well with the hybrid systems.
After the last race of the 2022 IMSA season at Road Atlanta, we all got a little insight into the development of the manufacturers. There the LMDh cars completed their first lap of group testing, although Porsche was absent (as they had more than enough miles under their belt. Maybe it was a nice touch?). But next week the gang Everyone be in Daytona for a final round of testing before meeting again in January at the same track for the Roar Before the 24 and forthcoming Rolex 24 at Daytona.
I haven't had a chance to hear either of these cars in person, but I will next week. My list of attractions and Experience – and who to talk to – is extensive. I'm curious though, what are you guys excited about the results of the tests? What are you most looking forward to as this new prototype class enters the season? Let me know what you would like to see or hear in the comments below.
Edmunds Top Rated Editors' Choice
This year marks the debut of an Edmunds Top Rated award, honoring a vehicle that exceeded our expectations and delivered something truly new. The Edmunds Top Rated Editors' Choice Award 2022 goes to the brand new Rivian R1T.
"The Rivian R1T 2022 is the first all-electric pickup on the market and offers an impressive combination of on- and off-road performance, cutting-edge technology and thoughtful utility."
The R1T is the first all-electric pickup on the market and offers an impressive amount of cutting-edge technology and thoughtful utility. It's slightly larger than a typical mid-size truck and has a stylishly futuristic look without being too outlandish.
Power comes from four electric motors, one at each wheel, which combine to produce an exceptional 835 hp. In our testing, the R1T accelerated from 0 to 60 mph in 3.5 seconds, and in the Edmunds EV range test it covered 317 miles on a full charge. And although the Rivian weighs as much as a heavy-duty truck, it's undoubtedly the best-handling truck we've ever tested.
Trucks are meant to haul things, of course, and the R1T certainly lets you do that. Maximum towing capacity is a whopping 11,000 pounds. It has roomy seating and some clever storage spaces, including a signature transmission tunnel that sits between the cab and the cargo bed. And for off-road fans, there's plenty of room to avoid rocks and ruts thanks to short body overhangs, a smooth underbody and height-adjustable suspension.
Rivian made a strong impression with its R1T. And with the R1S SUV coming soon, we expect the excitement to continue.
Five Cars Rented By President Biden's Secret Service Detail Destroyed By Fire
A fleet of vehicles for hire from President Joe Bidens Secret service personnel during his Thanksgiving trip to Nantucket were destroyed by fire the day after he left.

The vehicles had been rented from the Biden party, consisting of a Chevy SuburbanFord Explorer, Infiniti QX80, a Ford Expedition and a Jeep Gladiator. They caught fire in a parking lot at Nantucket Memorial Airport and although no one was injured in the blaze, authorities are investigating the blaze.
Footage taken at the scene and shared on social media shows the front fascia of all five cars was badly damaged, but the fire was extinguished before completely engulfing all five vehicles.
A major car fire involving multiple rental vehicles at Nantucket Memorial Airport has now been extinguished. No injuries were reported, but at least four cars sustained significant damage. #nantucket pic.twitter.com/VF7Zh7qoot

— Nantucket Current (@ACKCurrent) November 28, 2022
"Around 5:22 a.m., airport shift personnel observed an active fire in the rental car overflow area via the airport's closed-circuit television system," Nantucket Airport said on Twitter. "Employees activated the warning system and responded to the fire at Airport-3, where they were met by responding units from the Nantucket Fire Department and Nantucket Police Department. Combined fire agents responded and contained the fire. Several vehicles were damaged."
Read: President Joe Biden says 'Detroit is back' as automakers go electric
The Nantucket Current says the flames spread to within 40 feet (12 m) of the airport's 25,000-gallon jet fuel tanks. All five vehicles are owned by hertz with a report stating the Ford Expedition was involved in a battery recall, but the battery had not been replaced at the time of the fire.
President Joe Biden had been in Nantucket with his family for Thanksgiving and had visited the Nantucket Police Department during his trip.
These are the rental vehicles that faced each other and had their fronts destroyed by the fire. Five are towed:

• Chevy Suburban
• Ford Explorer
• Infiniti QX80
• Ford Expedition
• Jeep Gladiator pic.twitter.com/NWnuFs8ivj

— Nantucket Current (@ACKCurrent) November 28, 2022
The cars belonged to Hertz and had just been returned by Secret Service members who had used them during President Biden's visit, sources said.

The Ford Expedition was recalled by the manufacturer and recently had the battery replaced. pic.twitter.com/CQzI5w0k2U

— Nantucket Current (@ACKCurrent) November 28, 2022