Do you have a Weebly website?
This post is for Weebly website owners. It's a bit techy – but not as techy as it should be!
What follows includes
the background to the transition from a Weebly account to a Square account – by October 6, 2022
problems along the way
the chilling transition documentary
TIP when creating your new Square account
Here's how to sign in after setting up your new Square account
What now?
Background on switching from Weebly to Square accounts
Weebly is one of the main webware houses for artist websites – Wix and Squarespace are the others (as in millions of websites!)
Weebly is currently attempting to transition its website owners from a Weebly account/login to a new Square account/login. That's because Square — essentially an e-commerce company — acquired Weebly in 2018.
As a current Weebly user, you must update your login and connect to Square by October 6, 2022. With Square, your site has an extra layer of security with two-factor authentication, access to a range of business tools, and more the ability to process payments more securely.
Issues encountered
There are only a few problems! Such as:
the Transition process is not very customer-centric – like writing a series of "this is what you need to do in very simple easy steps + this is how it works in the future" ie specifically for the consumer
The new Square login URL is buried DEEP in the text of the transition FAQs. It's https://squareup.com/gb/de
This is the screen you will see when you log in – after finding the new URL to log in to! You absolutely don't know how to switch to the website suite – because there is no detection of its existence on the dashboard!!
The Atrocious Weebly to Square Transition Documentation
The transition documentation is essentially non-existent in the sense of what is commonly understood as best practice.
I very much doubt if they have tested any of this with existing Weebly account holders.
You will be addressed Frequently asked questions about Weebly and Square (this is a Weebly document)
If you create a Square account (via the button in the notification email), you'll get access to Square-associated documents (e.g
General Terms of Service, Payment Terms and Privacy Notice you will receive when setting up your new Square login)
Creating a Square Login doesn't change anything about your existing site. For more informations, please read here.
This link will take you back to the document provided above which does NOT contain a step-by-step transition process
Then notice in tiny writing at the top of this document that it says
If you're a Weebly user and are prompted to change your login to Square, see our Frequently asked questions about Weebly and Square Article in our Square Support Center for the most up-to-date information.
The difference is that this document is in the Square Support Service – even if it is not recognized by the search function for support !!!
It's titled Frequently asked questions about Weebly and Square and details in one of the FAQs
I don't have a Square account. How do I set one up?

Creating your Square account should only take about 5 minutes. As a Weebly customer, you'll receive an email asking you to update to a Square account. Use the link in the email to get started. You can also start this process from your Weebly dashboard via a button in the announcement banner.

Once your Square account is created, sign in to squareup.com with your Square email address. This means you have a single login to manage everything related to your website and accept payments online.

Check out ours Go to Square Online FAQs for more information about accessing and managing your websites in your Square account
This highlights another document – which similarly does NOT provide a step-by-step process for those confused by the very poor communication for this transition processPeople just need to know
how to properly set up a Square account to link to your existing site – and
to understand very clearly what are the implications of the different options offered.
It also says
How will this merger affect my Weebly account?

As part of our merger with Square, we're asking you to replace your Weebly account with a Square account. You will use Square account to log in going forward and all Weebly logos and branding will be replaced with Square branding
This note also states
Once your Weebly and Square accounts are linked, use your Square email address to log into your account on squareup.com. This means you have a single login to manage everything related to your website and accept payments online.
Finally they indicate what is the url for login !!!
But – to close the circle – this is where I came in – This URL only provides access to the Square Dashboard and no way to access my websites!
The Square support page generates NOTHING about the transition for Weebly site owners (that's several million people!)
Plus if you type "transition" you get nothing. Big mistake!
It's an all-around COMPLETE SHAMBLES! (I speak as someone who has implemented new IT systems in the past and understands very well the importance of documentation that accompanies the transition.)
TIP When creating your Square account
If you only need a website then you need to make sure you select the option "I just need a website" to get the Weebly editor.
Otherwise, you only have access to the Square website – which lacks a proper blog feature – plus, as stated, a garbage/nonexistent route back to your website dashboard.
Note: the page doesn't explain what happens to the different options you're presented with!
Here's how to sign in – after setting up your new Square account
So this is what I do to avoid this nonsense.
I still go to my old Weebly login and log in as usual what I can do at the moment.
Note that the new screen gives you the option to sign in with Facebook Google or Square below the main login.
The new login screen has an additional "Sign in with Square"
Next, instead of getting the password prompt, you'll get a new "Sign in to Weebly with your Square account" screen — which looks like this
So you'll enter your email address and password for your new Square account on this screen (I kept mine the same as for my Weebly account since I know it by heart (as do my fingers) and don't use it for anything else.)
….and that then takes you to the website suite dashboard – in this case for mine
Art business info for artists
Website – bypassing the Square Dashboard entirely – see image at top of this post
Which is still not explained:
how to get from square dashboard to weebly dashboard if all you want is a website
What happens after October 6th!!!!
What now?
This is so poorly organized that I'm sure there will be more problems and I'll use this post to log the ones I come across and the solutions – if there are any!
I also have a feeling that I might want to reconstruct my sites on other, more organized sites – that communicate much better.
Also, there are some articles on how to migrate from Weebly to WordPress – although to be honest I like to keep all the technical stuff under one hood and I'm not a fan of WordPress.
2nd International Original Print Exhibition (2022)
I went to see those International Original Print Exhibition 2022 In the Bankside Gallery on the South Bank on Tuesday. It ends on Sunday October 2nd.
I definitely recommend it as a diverse collection of original fine art prints that showcase the diversity of different approaches to printmaking
The prints also varied between very colorful and monochrome.
All of the works on display are the result of an open submission exhibition set up by the Royal Society of Painter-Printmakers. The exhibition aims to celebrate the very best in all forms of contemporary printmaking.
These include
Aquatint etching
chinese colle
engraving
Digital
drypoint etching
etching
Giclée
hand stenciled screenprint
High relief carborundum
gravure
Woodcut with laser engraving
linocut
lithograph
mezzotint
Mokuhanga (water-based wood block)
monotype
photolithography
Etching of photopolymers
risograph
screen printing
Screenprint and woodcut
soft ground
solar etching
stone lithograph
woodcut and stencil
block of wood
and variations on the above.
It is also an exhibition with a variety of sponsors of both the exhibition and the individual awards.
The general tendency of the subject is either abstract or landscape oriented with fewer images of people than you might expect.
selection
The works on display were also selected from thousands of entries.
The guest voters this year were:
Katriona Gillespie – an expert on contemporary Australian art
Nadia Phillips – a curator
dr John Phillips – Former Director of the London Print Studio
sale
One comment I would like to make is that this show did NOT sell as many as I think it could and should have.
I think there can be three reasons for this
the print run size is not noted on the label next to the print – and I never buy an unframed print without knowing the print run size (The information is available – it's just not there to seize the moment when someone is interested!)
I haven't seen much marketing for the exhibition – and there are very few social media posts about it.
which is partly because artists don't bother to market their work either! Gail Brodholt's post is an isolated post!
Very pleased that my linocut 'Storm Clouds Over Whitehall' is part of the International Original Print Exhibition at @BanksideGallery. Open every day (until 2nd October) with a wonderful selection of artist prints. Free entry and right next to Tate Modern!#Print Exhibition #linocut pic.twitter.com/BRUpSWMkuQ

— Gail Brodholt (@gailbrodholt) September 25, 2022
PS If you are visiting you might be interested in seeing those Lubaina Humid Exhibition next door at Tate Modern – which also ends on October 2nd.
I have uploaded some photos from this exhibition to my Facebook page Making A Mark – see below
The Hidden Poetry of Everyday Life
HUDSON, New York — I'm a fan of shows with the word "poetry" in the title. While researching Olana, the palatial home of Hudson River artist Frederic Church, I went to check it out Still life and the poetry of the place at the Pamela Salisbury Gallery (September 3 to October 16, 2022), comprised of more than 100 modest and tightly scaled artworks spread over six floors in two buildings. There were pieces by artists I'd followed for years, as well as artists whose names I knew but whose art I had never seen, and others that were completely unknown to me.
Jane Freilicher's One Cat, Two Fish (1974) is one of the largest and most idiosyncratic still lifes the late artist has created in her career. The unlikely scenario – a cat lying on a table surrounded by jars and buns filled with flowers, with a platter of two large fish near the puny enclosure – is funny and atypical. Other outstanding works include Peter Aron's archival inkjet print The Pantry in Olana (2022), Susan Jane Walp's two muted still lifes, Judith Linhare's paintings of flower-filled vases emerging from succulent ribbons and splashes of paint, Trevor Winkfield's absurd arrangements of various objects, Brenda Goodman's haunting autobiographical studio views; and Catherine Murphy's large two-page magazine painting depicting an opulent home interior.
Many of the artists who were new to me are represented with more than one work, which gives me a sense of what they can do with color and/or subject matter. Scott Brodie's images of a single object (various bars of soap and an egg carton) are outstanding; Phoebe Helander's cropped aerial shots of fruits, vegetables and unexpected items like flattened bungee hooks; Elisa Jensen's atmospheric depictions of interiors with windows; Ron Milewicz's isolated views of kale on a table; Donna Moylan's homey, object-populated interiors; and Kathy Osborn's odd, interesting portrayals of a woman in the midst of mundane activity.
The real surprise, however, came with two early works by Harry Roseman, whose previous shows I have reviewed. Made of cast, painted aluminum and electric lights, Room with a View of Hoboken (1976) is set in what may once have been a small storeroom.
Lothar Osterburg is another artist whose work I was not familiar with until this exhibition. He transforms boxes to create containers with a lens opening that we look into; inside is a shadowy, mysterious room. In Card Catalog (2022) we see an aisle lined on both sides with card catalogs neatly stacked from floor to ceiling. At the rear, a vertical corridor suggests a larger, visually inaccessible space. We got lost in the basement of Jorge Luis Borges' infinite library. Osterburg's works are just some of the highlights of this wonderful show.
Still life and the poetry of the place continues through October 16 at Pamela Salisbury Gallery (362 1/2 Warren Street, Hudson, New York). The exhibition was organized by the gallery.
Juxtapoz Magazine – Psychedelic Artist Chuck Sperry Brings "Idyllion" to Denver in 3-Day Pop-Up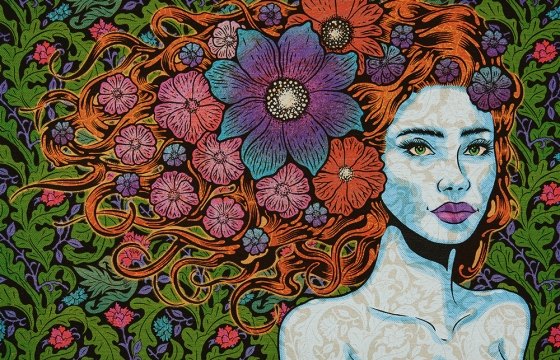 harman projects is pleased to present Idyllion, a solo show by the Oakland-based artist and screenprinter Chuck Sperry. This exhibition is our latest collaboration with the artist, following several Incredible solo shows in San Francisco, Santa Monica, and New York City.
Tucked away in sprawling Hangar 18 in Oakland, CA, local legend Chuck Sperry can often be found creating stunning and inspiring screenprints using eye-popping inks and lustrous papers. Throughout a career spanning more than thirty years, Sperry has drawn inspiration from the beauty and reality of the world, past and present. Continuing his Muses series, Idyllion is a full-scale collection and celebration of Chuck's admiration for Greek mythology and the power of womanhood.
Sperry never shies away from the political zeitgeist and passion for human rights that the Bay Area is known for. Sperry created and donated his work to continue the fight for equality. Most recently, his artwork Equal Rights, Flower of Democracy was part of an effort to raise awareness of the Equal Rights Amendment in the United States, and in support of this cause the gallery and artist are proud to donate a percentage of sales to support to donate to the tie vote as well as the Consciousness Alliance.
idyll, is a collection and celebration of the diverse worlds that have captivated Sperry since the early 1990s. Gig posters of internationally acclaimed musicians, hauntingly gorgeous muses with intricate patterns on shimmering foils, blotting paper prints and his new book of the same name offer audiences a glimpse into the universe Chuck has been painstakingly creating for years.
With decades of experience and an unwavering growth in execution, these works build on Sperry's combination of classic design elements, captivating muses, and hand-blended inks that combine with a depth of texture not often associated with format to create an unforgettable image create. New limited edition screen prints on wood panels will be available at the exhibition, along with custom framed prints from the artist's personal archive. The exhibition also serves as the world premiere of two new collectible categories, an oversized blotter edition and a deluxe postcard set. Idyllion, the latest monograph chronicling this growing body of work, will also be available in person exclusively at the exhibition.
Harman Projects is held at: Mirus Gallery & Art Bar Denver 1144 Broadway, Denver, CO 80203
To watch: Friday 30 September 2022 – Sunday 2 October 2022