Carnage Continues His Bloodthirsty Hunt For Miles Morales In Gruesome New Chapters Of 'Carnage Reigns'
Miles Morales is about to embark on his darkest battle yet as he falls to the deadliest villain in the Marvel Universe: CARNAGE! Original Carnage host Cletus Kasady is back and more powerful and bloodthirsty than ever! And he has scores to settle with Miles—and with all of New York City! part of the overarching Summer of the Symbiotesan entire season of symbiote madness, the two iconic characters will go head-to-head this May carnage reigns, a brutal crossover between their respective current titles as well as the new symbiote series starring Normie Osborn, RED GOBLIN.
Prepared by carnage Writer Alex Pak Nadel and Miles MoralesSpiderman Author Cody Ziglar and featuring artwork by Julius Ohta, Jan Bazaldua, Federico Vicentini and Francesco Manna, the seven-part epic kicks off in May with a massive one-shot, carnage reigns Alpha #1. This visceral saga promises to be one of Miles' most intense stories as Carnage forces the young hero to face brutality unheard of in his days as Spider-Man. For now, fans can see what's in store for June, including the final one-shot, Carnage rules Omega #1.
In Red Goblin #5, Normie Osborn is the new Red Goblin and he's trying to escape his family legacy by proving himself a hero. But when that zeal puts him on a collision course with Carnage, Normie and his symbiotes will emerge from this affair forever changed!
In carnage#14, Cletus Kasady's hunger has grown unbounded, as has his ambition. With his soul trapped in the Extreme Biote Armor that Tony Stark created along the way king in blackCletus has the means to cause an unimaginable amount of mayhem across the Marvel Universe, and he can easily outperform a certain wall-crawling hero.
In Miles Morale Spider-Man #7, Cletus Kasady has unleashed maximum carnage across New York City with the massive power of his new Extreme Biote, and the only one standing in his way is Miles Morales, who may have tapped into Cletus's one weakness – which means that Cletus will stop at nothing to put Miles down forever. To stop him, Miles needs help from unlikely allies… Cletus has been upgraded – why can't Miles?!
And in Carnage rules Omega #1Cletus Kasady finally gets what he was looking for and unlocks new and terrifying possibilities with his Extreme Biote armor, setting the stage for the next poison Epos! Miles Morales can call in as many reinforcements as he wants – but he and his allies will learn the hard way that CARNAGE RULES!
"Carnage Reigns is a vintage David and Goliath tale pitting a greener Spider-Man against the most sadistic monster in the Marvel Universe – Cletus Kasady!" Pak Nadel explained to Bloody Disgusting. "Only a few occasions has Miles been this overwhelmed, which is a gift from a storytelling perspective. I really enjoyed creating this story with Cody Ziglar and we came up with a really fun, really productive shorthand and that fun is on the site! We know this story will satisfy fans of both characters in their FIRST CROSSOVER!"
Check out the full event checklist and witness this epic showdown Carnage Reigns Alpha #1 arrives in May! Stay tuned for more Summer of Symbiotes news next week! For more information visit Marvel.com.
CARNAGE REIGNS ALPHA #1
Written by ALEX PAKNADEL & CODY ZIGLAR
Art by JULIUS OHTA AND MORE!
Cover by RYAN STEGMAN
On sale 5/3
MILES MORALES: SPIDER-MAN #6 – "CARNAGE REIGNS" PART 2
Written by CODY ZIGLAR
Art by FEDERICO VICENTINI
Cover by DIKE RUAN
On sale on 17.5
CARNAGE #13 – "CARNAGE REIGNS" PART 3
Written by ALEX PAKNADEL
Art by FRANCESCO MANNA
Cover of KENDRICK "kunkka" LIM
On sale 31.5
RED GOBLIN #5 – "CARNAGE REIGNS" PART 4
Written by ALEX PAKNADEL
Art by JAN BAZALDUA
Cover by INHYUK LEE
On offer 6/7
CARNAGE #14 – "CARNAGE REIGNS" PART 5
Written by ALEX PAKNADEL
Art by FRANCESCO MANNA
Cover of KENDRICK "kunkka" LIM
On offer on 14.06
MILES MORALES: SPIDER-MAN #7 – "CARNAGE REIGNS" PART 6
Written by CODY ZIGLAR
Art by FEDERICO VICENTINI
Cover by DIKE RUAN
On offer on 21.06
CARNAGE REIGNS OMEGA #1
Written by CODY ZIGLAR
Art by JULIUS OHTA
Cover by RYAN STEGMAN
On offer on 28.06
Images about Marvel Comics
Do you have strong thoughts about this piece that you need to share? Or maybe you have something else in mind that you'd like to share with other fandomentals? Visit our community Server to join the conversation!
Artist Spotlight: Debby Friday – Our Culture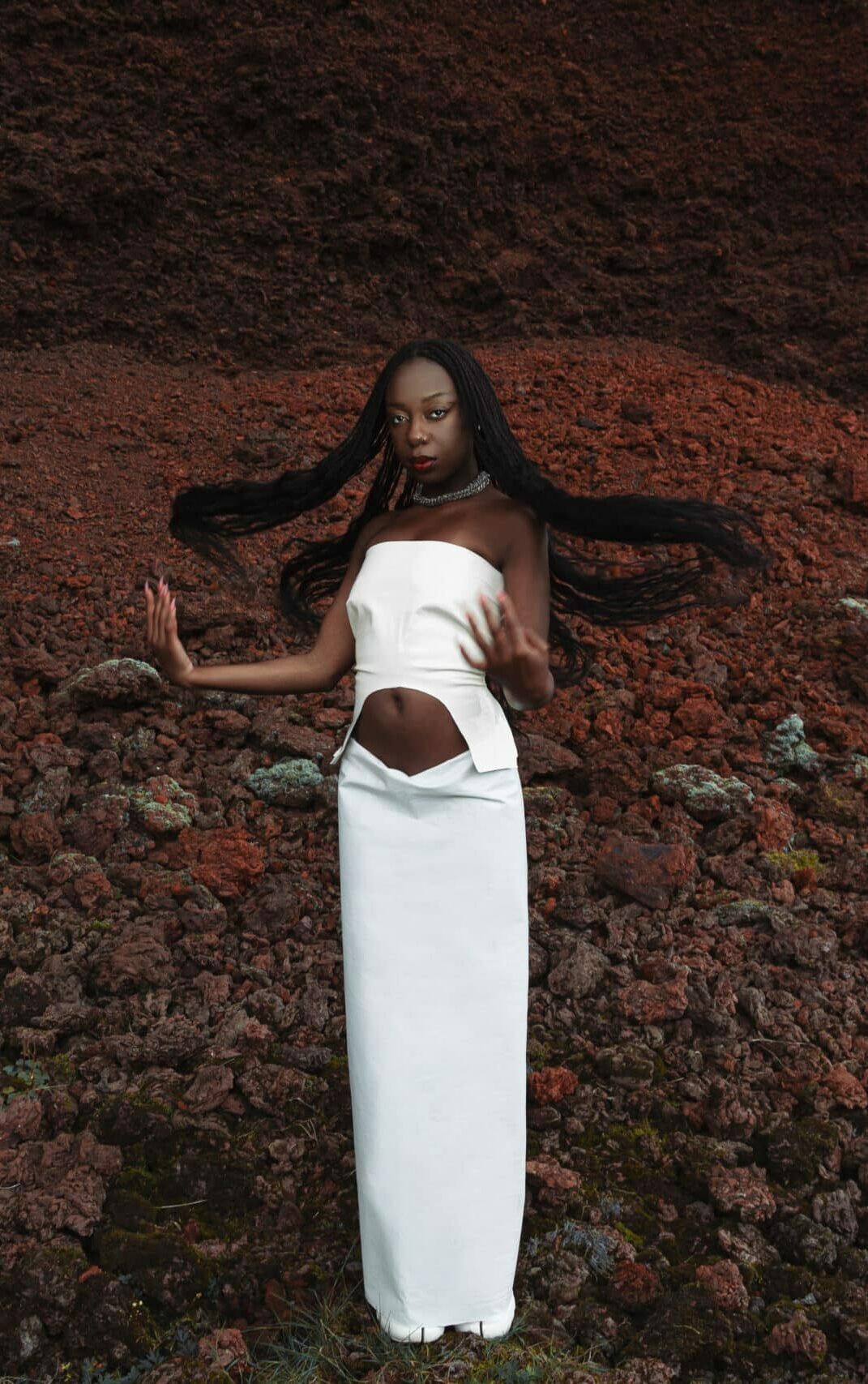 Debby Friday is a singer-songwriter, producer, and multidisciplinary artist who was born in Nigeria and grew up in Montreal, moving between different cities before finding a home base in Toronto. After immersing herself in Canadian rave culture, she got into DJing but quickly started producing her own music, releasing her first EP, BITCHPUNK, in 2018, and following it up with 2019's DEATH DRIVE. Now signed to Sub Pop, Friday has today put out her debut full-length, GOOD LUCK, which she co-produced with Graham Walsh of Holy Fuck. It's an album that exudes fiery confidence at every turn, but if Friday's intensity is the first thing that strikes you about her music, what's most impressive is her versatility in channeling it – from the brashness of the title track to the soft vulnerability of 'SO HARD TO TELL' to the religious fervor of 'PLUTO BABY'. Even as it plays as a sort of personal exorcism, GOOD LUCK showcases an artist capable of fluidly jumping between perspectives, who approaches sound, narrative, and character – in this case, a portal to her younger self – as forms both malleable and hybrid. What feels like a shadow of emotion, then, can come into the light.
We caught up with Debby Friday for the latest edition of our Artist Spotlight series to talk about getting into songwriting, coming of age, the making of GOOD LUCK, and more.
---
How do you feel about the response to the new songs?
I'm happy with it. I feel like when I'm playing live, it's always a really positive response. I always hear from people after, they're like, "Whoa, I wasn't expecting that." But I think that's a good thing, I think that it kind of opens up their minds a little bit. I love performing live, that's what made me fall in love with being a musician in the first place. Playing my first live show, I was like, "Yep, this is it. This is what I want to do for the rest of my life." So I love that aspect, and I also love when you release music and people hear it and they tell you what you think, whether it's good or bad. As long as I can make somebody feel something, then my job's done.
I know it can be hard to trace back, but is there a moment when you felt convinced that making music was where wanted to devote your energy?
I would say it's more amorphous. I started off as a DJ before I started making my own music, and DJing in itself is a kind of performance. It's a very technical skill, but it is a kind of performance. I was like, I like sharing music like this and performing in this kind of way, but I felt like I wanted something more intimate and something that was more from myself rather than playing other people's music. From there, I started to make my own music, and it was when I started performing my own music is really when the love of this as a career started growing. I understood, like, "Oh, I can do this. This can be my career. This is what I can do for my life, and I want to do this."
You started out with these personal writings before teaching yourself production and honing in your skills as a storyteller. What did you feel was the power in turning those personal reflections into music?
I think part of it was being able to express myself, and to express myself however I saw fit. If you've lived a life where your own self-expression has not been celebrated, or it hasn't been welcome, or if people have reacted negatively, to be able to express yourself fully is so liberating. It's so freeing. It feels better than anything else. And I think that's what I got out of it, especially at first. I could be creative with it, too, because I was always creative – even as a child, I was always up to some weird thing, and it pays off when you get older, I think, if you were a little bit odd as a young person.
Are there any early memories that come to mind of that creativity?
I wrote all the time, I have boxes upon boxes filled with notebooks of things that I've written throughout my life – stories, poems, games, characters, all sorts of stuff. I used to pretend to have my own radio show with me and my brother and I'd be like, "Hi and welcome to…" [laughs] I wrote a lot of fan fiction when I was in high school, and I started writing original fiction, but it was these very graphic, crazy stories. I would write a chapter every week, and every week people in the class would literally pass the books around, and they would read a chapter every week, of these very juicy stories.
Do you ever feel the need to turn more to fiction and channel different perspectives into your songwriting now?
Yeah, for sure. I think I had to get the personal album out of the way first. It just wouldn't leave me alone. I know that my next album going to have a different context. I love fiction, like I made my audio play projects, which was essentially like a fiction podcast but it was a musical fiction podcast. It had this whole story about this dystopian future world, and there were all these characters. I would love to explore more of that in the future as well, and not just through music, but even through filmmaking. I'm always writing a script or something, and I'm working on so many things all the time. Now that I've gotten the more personal stuff out of the way, I feel like it's freed me as well, too, so now I can do other things. I don't have this need to be like, "Should I tell my story? Should I not?" I've already told it. And I'm sure that as I make more fiction things, there's other parts of my story that will come into that, but it's not the main focus.
GOOD LUCK revolves around adolescence, and it creates this almost uncanny feeling that you're speaking to your younger self. Looking back, was there a difference in the way you experienced certain feelings back then – freedom, confusion, loneliness – compared to how you perceived that time while writing about it?
For sure. I think that when you're young and you're in the turbulence that comes with – basically, you're becoming a person, you're becoming an adult, you're becoming yourself – and when you're in that stage, it's so overwhelming, it's so all-encompassing, it's hard to have any kind of understanding of it or to see anything outside of it. So you don't really get the full perspective until you've moved out of the thick of it.  I'm still in it, you know, I'm still young, so I'm still going through things, but the real thick of it – when I was deep, deep inside of it – it was really hard to see what my life could look like when this is over, because there was no conception of this being over. You're almost in this place where you feel like, This is it, and this is all there ever will be. And then I think you get older, you get perspective on stuff, and you can speak to things and you have a different kind of understanding. Because you already went through the stuff, so you give it meaning, you contextualize it for yourself.
What parts of yourself or your experience did making this album illuminate for you?
Something I learned while making this album is that I am a sensitive person. And I don't think I ever really thought of myself as a sensitive person, because I like to joke around and make jokes, and I'm very – I would say I'm tough, just because of my life circumstances. I'm a tough girl, and I never thought of myself as overly sensitive. But through making this I was like, "Oh my god, I am very sensitive." And I have this gentleness that's inside of me, and I think the tougher outer exterior is a self-defense mechanism, and I understand why I adopted that as my self-defense mechanism. But yeah, I'm a softie on the inside.
Was that realization part of the reason you decided to lead with 'SO HARD TO TELL' as a single?
Yeah, I think so. You know what, it actually took convincing from other people – my friends and my manager, everyone I showed the song to, they were like, "We love this song, it's amazing." I was like, "Are you sure?" I felt shy about it, because it was vulnerable – it was so obviously vulnerable. You hear the song and you can feel it, and I wasn't used to expressing that side of myself. But I think now, I look back and I have perspective, and I'm like, "This is exactly what I should have led with." Because part of the point of this album, too, is expressing myself in ways that I hadn't before, expressing myself fully as an artist and a human being. And what better way to do that than to just jump right into it?
Around the release of your first EP, you summed up your music using the word "thunder." I still hear that on GOOD LUCK, but it's definitely evolved since then – I hear fire in 'Hot Love', and hurricane, too, all these natural forces. What appeals to you about this sort of language when it comes to self-expression?
I think a lot of that is instinctual, almost. I think that the way that I create is, I always liken it to these natural phenomena that are almost like a deluge, so it's like a flood, a hurricane, thunder – these great natural phenomena that are almost like acts of God, so it's something that's outside of the self. And it's something that's so connected to nature, just the primordial nature of Earth and being. You can't explain it, really, in words – you can try, but it's just what it is. And that's the way that I think of the way that I create: It is what it is. I can't help myself. I feel like I can't really do anything besides that.
Were you conscious of the album being wide-ranging not just in terms of style, but in how those different energies and emotions were represented?
I definitely wanted to have a range of emotion, range of feeling, range of genre. I really see GOOD LUCK as a holistic album. It's pretty much all of me – I tried as much as I could to put as much of myself into it, and I think that's reflected when you hear the album sonically, but also the feelings that it gives. I think before, when I was more afraid to show other things – there's nothing bad about that, you can choose what you want to show, but I think in order to be honest, you have to let yourself show all of you. And I wanted to be as honest as possible on this record.
I was struck by the goth rock influences on tracks like 'WHAT A MAN' and 'LET U DOWN', which to me seemed to land somewhere between, like, Ethel Cain and PJ Harvey.
Yeah!
What made you want to lean that hard in that direction?
It's music that I liked for years, like I've always been a fan of the Runaways, Janis Joplin. I love women who sing with raw emotion – there's something about emotionality that connects with me in the way you use your voice. A lot of rock and roll history, especially stuff from the seventies, it just has that kind of functionality – it's so hard to describe, it's just that feeling. And I listened to it as a child of the internet, and so it came out in this record for sure.
You're experimenting with your vocals on this record too, especially on 'SO HARD TO TELL', where you reach that falsetto. What was it like exploring the range of your voice in that way?
It was illuminating because I didn't know that I could like sing like that. I didn't realize that I even had that in me. And I think also humbling, in a way, just the fact that I could surprise myself. You know, you think you know yourself so well, but you probably don't know yourself as well as you think, and this showed it to me. I was like, "Where did that come from?"
One of the themes of GOOD LUCK – and I feel like it's come up in this conversation, too – is how hard it is to communicate certain ineffable feelings or feelings that aren't entirely conscious. For you, does writing music feel like an effort to articulate reality as accurately as possible?
I think that for me, it goes back to this thing of self-expression. I want to express something, and it's not so much pointed about, like, I want to talk about my life or I want to articulate something clearly. It's more about feeling, it really is. So much of it comes down to feeling and to emotions, which are things that are actually impossible to truly describe with words, because they're intangible. They're not things that you could hold in your hands. Like, what is sadness? It's not something that you can look at or see. What is joy, what is anger? What are all these emotions? So I think for me, when I think of music, it's like I'm trying to translate – yeah, that's what it is, it's like a type of translation. I'm trying to translate something that is intangible into something a little more concrete. Because music itself is also not totally tangible, right? It's sound waves and all this stuff – you can't see it, can't really hold it in your hand. But it's a way of almost trying to concretize feelings and put them into songs, but then also to connect with other people. Because that's the other thing about music, I think it's the greatest connective mechanism that we have, across all art. You can listen to a song, you don't even have to speak the language of whatever the singer is, but you get the feeling. That's the true power of music.
The album will be accompanied by a short film, which you co-directed with Nathan De Paz Habib. How does it tie into the story of the album?
The short film is also called GOOD LUCK, and I wrote both the film and the album at the same time. I always saw the project as both a film and an album, it was never one or the other. The film tells the story of this young woman and her masked beloved, he's her little boyfriend, and his face is a mask. it's about their tumultuous relationship, and I based a lot of it on just pieces from my life. For example, the young girl in the film, she goes to an all girls school, and I went to all girls school for my high school.The way that time works in the film is not the way regular time works – it's very nonlinear, elliptical, cyclical – and I use it almost as a metaphor for so many things. I wanted to talk about the relationship between the anima and the animus, our subconscious and our conscious minds. That way, I think that when people see the film they can project what they need to project onto it. They can get what they need to get from the story.
Do you now see the album and the film as companion pieces, or do they also exist separately?
I think I see them as companion pieces. Yes, you could enjoy either or separately, but you wouldn't be getting the full story. I feel like in order to truly understand the album, you gotta watch the film, and in order to really understand the film, you have to listen to the album. They inform each other so much. And I think it's also the way that I think about art in general: everything is hybrid. Audio and visual have a very distinct relationship to each other that I try to honor in the way that I make things.
---
This interview has been edited and condensed for clarity and length.
Seeing & Believing 374 | John Wick: Chapter 4 & The Warriors (1979)
Sarah and returning guest, Abby Olcese, face not one, but two adrenaline-pumping action movies this week. First they take over John Wick: Chapter 4, the latest action/vengeance franchise starring Keanu Reeves as a lone assassin against the rest of the world. For the Watchlist segment, Abby and Sarah talk about the 1979 film directed by Walter Hill the Warriorsin which a gang must fight their way back across New York City to reach their homeland safely.
Mikey Neumann's series on the first three John Wick films can be found here:
Is John Wick the Gods of Olympus?
Is John Wick 2 Abandoning Its Own Franchise Symbolism?
John Wick takes on crime (and Jesus?)
Do you have any thoughts on the films we have reviewed? Send us one E-mail!
Follow us on Twitter @SeeBelievePOD
follow us on letterboxd
Creating The Creators Lifestyle | Julie Harbers | Episode 923
Podcasts: Play in new window | Download
Julie Harbers | Episode 923
Julie Harbers is a potter from Orlando, FL who splits her time between two community studios as a teacher/staff and her own backyard studio. Julie creates functional tableware with colorful surface designs using colored slips, underglazes and glazes.
SPONSORS
You can help support the show!
Number 1 in America for a reason. Skutt.com
For all your pottery needs go to Georgies.com
You almost got sidelined with your dreams and almost put them on hold. How dangerous are you to get distracted from following your real dreams?
Well it can be a big threat because people can get into this career and feel stuck in it. I guess since I never started a career in journalism, I never really got stuck in it. It never became my source of income where I was Oh, now I've got benefits and I can't go. You know. I could never structure my life after that. So I kept my options open by never committing to them.
How critical was the decision to do what you wanted to do? Just decide?
That was it. If I finally decide to do it, I'd say it's been a journey to this point, you know. The decision is really the turning point, everything else is just action. So you have to get to that point in your mind where you are no longer afraid of the decision and you can make the decision and feel confident and act out. So everything that came before the decision taught me not to be afraid.
Is it important to say no to the golden handcuffs and security and say yes to the dream that supports the life you want?
I think I was lucky that I was able to do this step by step. I started working in two studios after graduation and actually I was very lucky, but you know that even that alone wasn't enough income. And at that point I wasn't making much money from pots. So when more opportunities came up, I took them or started developing more pots to sell and I slowly worked towards that. It's just a very slow step by step in this direction that has gotten me to where I am. And I feel like the creative life is always evolving and it's important to be flexible so it can change as your needs change.
Is it important to add a little bit here and there just so you can get to that final complete severing of ties with the other life?
Yes I think so. When I started doing shows and I thought Oh I'll do more shows and make more money that way. But then I was sort of on track to do that until the pandemic struck. Now I don't want to do shows. I do a few every year, but then I move the sale to more wholesale or more websites or you know different ways to get the work out there. I could teach a class for a change. It's just important to be in the community, opportunities come up a lot and you can kind of decide whether to take them or not. The ceramics community is truly self-supporting. We support each other.
That is an important point. On your journey, you gotta have your people, right?
Yes, everything I have today I owe to my membership in the ceramics community. After I graduated I was just hanging out with other potters and potters who have been doing it their entire lives and passing the torch. The studio I'm sitting in right now is owned by my dear friend who lived here for thirty years and moved to another house in the area and said: Why doesn't Julie use this space, he has a full studio in the backyard. And that was in 2020. How lucky was that? I mean everything that has come to me has come through people in the ceramics community.
When you're alone, what kind of things will help you spark creativity? is it music Are they books on tape? Is it podcasts or is it silence? Tell me your perfect working environment where you can be creative.
I'm really into podcasts these days. I also stop music. Sometimes I just sit in silence and write a lot in my journal. But in the studio I usually have something in my ears and when I have a thought, something downloading into my brain, I stop and grab a journal. I will too… I write down all my dreams. My night dreams because they're very symbolic and I think it's a really good practice to look at things symbolically. But mostly podcasts these days.
A book
Contact
Instagram: @harbjul
Related