Black Panther: Wakanda Forever will add a new mutant to the MCU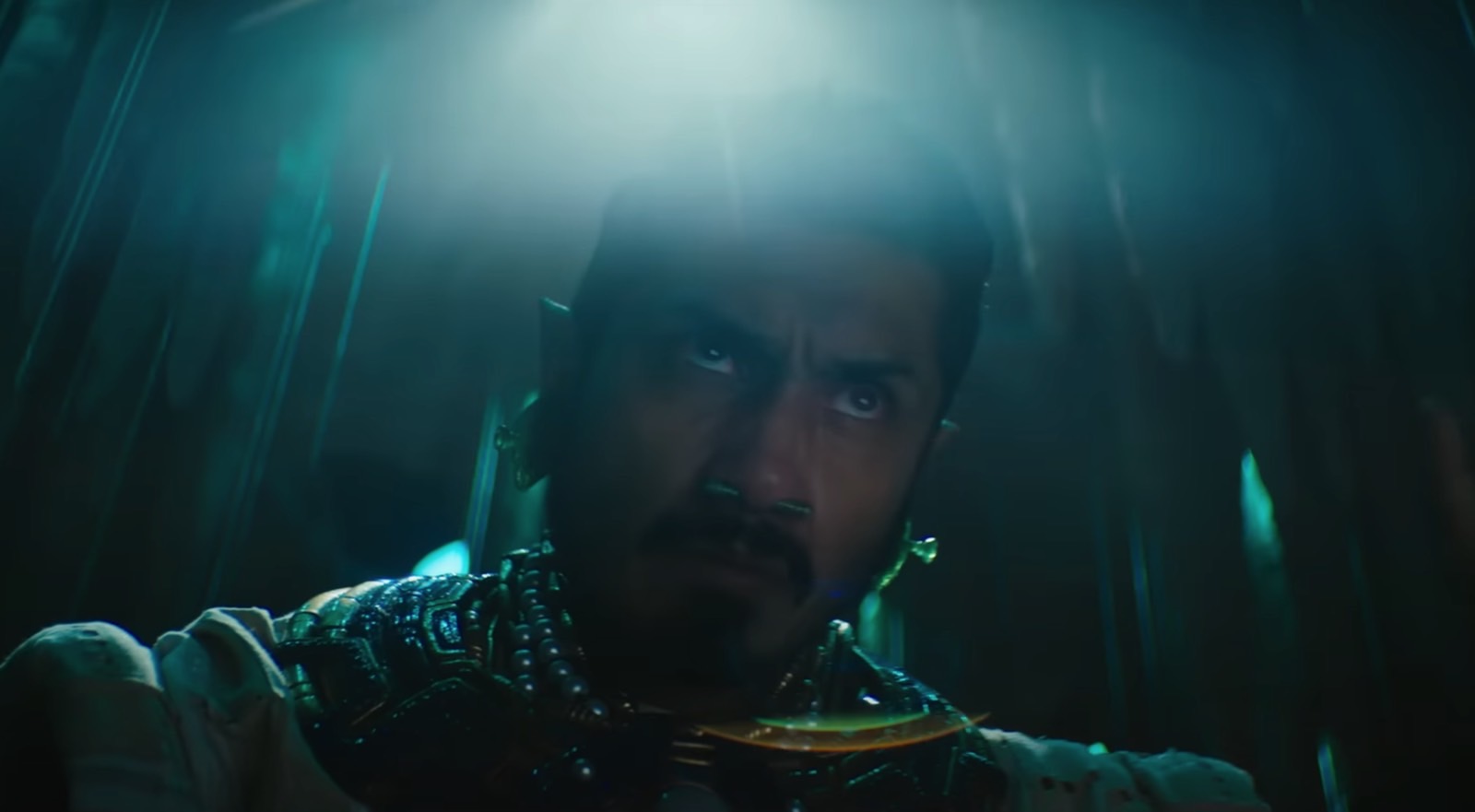 In the closing moments of Ms. Marvel's Season finale on Disney Plus, Marvel Studios changed the course of the MCU forever. With a single line of dialogue, Marvel announced that Kamala Khan is indeed a mutant. It will likely be a few more years before the X-Men debut in the MCU, but in the meantime, expect more mutants to appear. In fact, a mutant will apparently make its debut in Black Panther: Wakanda Forever.
A new mutant joins the MCU Wakanda forever
Tenoch Huerta who plays Namor Wakanda foreversaid Rich in a recent interview that his character will be a mutant in the MCU. Namor McKenzie, also known as Sub-Mariner, is the son of a human father and an Atlantean woman in the comics. He is often referred to as "Marvel's first mutant" as he existed long before the X-Men debuted.
Assuming Huerta is not mistaken about his character's identity, Namor should be the second mutant to exist in the MCU's primary reality, and join Ms. Marvel. We saw Patrick Stewart reprise his role as Charles Xavier in Doctor Strange in the Multiverse of Madnessbut he was from earth-838 and (spoiler) did not survive Wanda's attack.
Scarlet Witch and Quicksilver are mutants in Marvel Comics but not in the movies. Therefore, if we count Namor, there are only two living mutants in the MCU.
Wakanda Forever director Ryan Coogler also expressed to Empire how excited he is to take Namor off the role and bring him to the big screen:
The contrast between T'Challa and Namor – their characters and their nations – just jumps out of the page. He's a dream antagonist.
According to Kevin Feige, Coogler almost introduced Namor in the first Black Panther:
Ryan ended up pitching for a tag Black Panther. The camera would shoot through the palace in Wakanda and then we would see wet footprints leading to the throne.
Coogler may not have gotten his post-credits scene, but he will have a chance to introduce one of Marvel's oldest characters to the MCU. Black Panther: Wakanda Forever is slated to hit theaters on November 11, 2022, concluding Phase 4.
---
More Marvel coverage: For more MCU news, visit our Marvel guide.
Jennifer Lopez 'felt she would die' amid Ben Affleck split before reunion
Jennifer Lopez has been reflecting on their 'painful' split Ben Afflecktwo decades before they rekindled their romance.
The lovebirds, nicknamed Bennifer, started dating in the early '00s and soon got engaged – but called off their wedding just before they were due to tie the knot.
They reunited last year and basically picked up where they left off before saying yes in a low-key Las Vegas ceremony earlier this summer.
Last week J Lo sent us all into a spin as she confirmed her return to the charts with a new albumThis Is Me…Now – a 2002 sequel to This Is Me…Then that focused on her love for the Batman actor.
In a new interview, she spoke about going back into the studio to work on such personal music once more.
"This album 'This Is Me… Then' really captured a time when I was falling in love with the love of my life. And I just have everything on the record," she said in a new interview with Zane Lowe on Apple Music 1, over deadline. "Every single song we wrote, I write dear Ben, it was such a special moment that I captured."
However, after they initially ended their relationship, she stated that she couldn't bring herself to play those tracks about their time together.
"I wouldn't even perform these records. It was so painful after we broke up," she continued. "When we called off that wedding 20 years ago it was the biggest heartbreak of my life and honestly I felt like I was dying.
"So I haven't been making music like I did in 2002 until now… It sent me into a spiral for the next 18 years where I just couldn't get it right. But now, 20 years later, it has a happy ending. It's coming to an end, most of what would never happen in Hollywood."
Through This Is Me…Now, Jen revealed her hopes that she can encourage others to believe in true lovebut admitted aspects of being so vulnerable in public "scare her."
"True love exists and some things last forever. And this is real. I want to take that message out into the world," she added. "It takes a lot of vulnerability, but I couldn't contain myself. Parts of it scare me and I think parts of it scare Ben too. He says, "Are you sure you want to say all that?" And I say, "I don't know how else to do it, baby."
Jen and Ben announced their engagement earlier this year before secretly taking the plunge during a short vacation to Las Vegas – and getting married for a second time in August surrounded by loved ones.
The Hustlers actress later confirmed that she had taken her boyfriend's name and would be known personally as Mrs Affleck, while retaining her professional nickname.
In a candid interview with Vogue US, she hit back at criticism from fans questioning her decision.
"People will still call me Jennifer Lopez. But my real name will be Mrs Affleck because we're dating," she said. "We are husband and wife. I'm proud of that. I don't think that's a problem.'
"I have full control over my own life and destiny and feel empowered as a woman and as a person.
"I can understand people having their feelings about it, and that's okay too. But if you want to know how I feel about it, I just think it's romantic. It still carries tradition and romance to me, and maybe that's just the type of girl I am."
Do you have a story?
If you have a celebrity story, video, or pics, reach out to them Centre County Report.co.uk Entertainment Team by emailing us at [email protected] County Report.co.uk, calling 020 3615 2145 or visiting our submit stuff page – we look forward to hearing from you.
MORE : Westlife's Mark Feehily confirms he will miss more appearances after battling pneumonia

MORE : David Bowie stuffed "7 Pairs of Socks" into Maze Tights as the Goblin King

consequences Centre County Report on Snapchat

You can follow our new one Snapchat show pop culturethe go-to place for everything to do with pop culture.
Keep up to date with the latest showbiz exclusives by following Centre County Report Showbiz on Snapchat.
And football fans can revel in all the transfer gossip and more Centre County Report Football on Snapchat.
Oscar-Winning Costume Designer Catherine Martin To Receive Australia's Highest Cinema Award
The most decorated Aussie in Oscar history will receive the most prestigious award from the Australian Academy of Cinema and Television Arts (AACTA). appointment reports that costume, production and set designer and producer Catherine Martin be honored with the Longford Lyell Award, which is "the highest award that the Australian Academy can bestow on an individual, recognizing an individual who has made a truly outstanding contribution to enrichment." of the Australian film environment and culture, while raising global awareness of Australia's thriving film industry."
Martin took home four Oscars, two each for Moulin Rouge! and The Great Gatsby. She was also given nouns for "Romeo + Juliet" and "Australia".
"First presented in 1968, the Longford Lyell Award honors Australian film pioneer Raymond Longford and his partner Lottie Lyell," the source said.
"I am humbled and honored to be this year's recipient of the Longford Lyle Award," said Martin. "It is very important to be recognized by your peers in your home country. Australia, with its myriad film opportunities and wonderful talent, has been extraordinarily fertile ground for my work and I am truly grateful for that. The award also speaks to me personally as its namesakes, like Baz and I, were both partners in life and in the arts," said Martin, referring to her longtime collaborator and husband, director Baz Luhrmann. "I often joke that we're just getting started, so I hope this 'Lifetime Achievement Award' isn't a period, it's a comma; This heralds the beginning of new and exciting creative adventures to be shared with both long-time collaborators and new artists in front of and behind the camera."
Damian Trewhella, CEO of AACTA added, "For more than three decades, Catherine Martin has brought color and life to our screens through visionary artistry and experimental design. Winning the Australian Film Institute's Byron Kennedy Award in 1999 and now, 23 years later, the Longford Lyell Award are testament to the dedication she has to her craft. Catherine is highly respected by her peers and audiences around the world and the Australian Academy is proud to recognize her tireless work and outstanding contribution to the industry."
The 2022 AACTA Awards will take place on December 7th.
Martin's most recent credit is "Elvis". She produced the music superstar's biopic and also served as costume and production designer.
Wakanda Forever' Concept Art Reveals Early Namor Designs
Newly emerged designs from Black Panther: Wakanda Forever Show early explorations for Namor.
While Black Panther: Wakanda Forever Continuing his dominance at the box office, Anthony Francisco has shared some of his conceptual artwork for the Marvel film and has shown off a slew of alternate designs for Tenoch Huerta's Namor. The designs feature Namor with a clean-shaven look and various outfits and tattoos that didn't make it into the final cut of the film. Check them out below.
While Namor is already a fan favorite after his role in Black Panther: Wakanda ForeverMarvel Studios producer Nate Moore recently revealed that the character won't be able to get his own movie due to rights issues with Universal Pictures. However, Namor may have supporting roles in Marvel Cinematic Universe films as seen with Wakanda forever.
Wakanda forever Ryan Coogler directed the film from a screenplay he co-wrote with Joe Robert Cole. Other starring roles are Letitia Wright, Lupita Nyong'o, Danai Gurira, Winston Duke, Florence Kasumba, Dominique Thorne, Michaela Coel, Martin Freeman and Angela Bassett.
In Heroic Hollywood's review of the film Ryden Scarnato wrote "Black Panther: Wakanda Forever takes after the events of Avengers: Endgame, with T'Challa's death becoming permanent due to Boseman's death in real life and the story that now follows the world of Wakanda dealing with that grief. Although the film is an ensemble, it ultimately rests on the shoulders of Letitia Wright's Shuri and Angela Bassett's Queen Ramonda."
"Everyone here is at their best when it comes to performing, and you can't help but think that's because of how intertwined the film is with real life. With Wright and Bassett at the center, the two are the strongest of the group, with incredibly personal moments that are among the most heartfelt we've seen in the MCU. Shuri's larger role in the film in particular also works for those who might have reservations."
Stay tuned for the latest news on the Marvel Cinematic Universe and Subscribe to Visit our YouTube channel for more content.