Biden Sounds Like a Jive Turkey at #Thanksgiving Event
Well, it's Thanksgiving, folks. do you have big plans I'm hosting my family at my home on Friday, not today. So my turkey dinner has to wait another day. But I hope you have a wonderful vacation, even if Joe Biden does everything he can to ruin it. I can't believe how expensive everything is. I really don't know how people living paycheck to paycheck can afford all this Biden inflation. I'm horrified every time I go to the supermarket.
It turns out there's a 20 percent increase over last year, which was still a lot higher than 2020. So in just two short years of Biden pretending to be "President," prices are in the shot up.
The farm office reported that spending time with family and friends on Thanksgiving remains important for many Americans, and that the cost of food is also a priority this year. The Farm Bureau's 37th Annual Survey provides a snapshot of the average cost of this year's classic Thanksgiving for 10 people, which is $64.05 or less than $6.50 per person. This is an increase of $10.74, or 20%, from last year's average of $53.31.
The centerpiece on most Thanksgiving tables — the turkey — is priced higher than last year at $28.96 for a 16-pound bird. That's $1.81 a pound, up 21% year over year, due to several factors beyond general inflation. Farm Bureau "voluntary buyers" checked prices Oct. 18-31, before most grocery chains began offering whole frozen turkeys at significantly lower prices. According to data from the USDA Agricultural Marketing Service, the average price per pound for whole frozen turkeys was $1.11 for the week of November 3-9 and 95 cents for the week of November 10-16, down by 14% in just one week; and the share of stores offering feature pricing increased from 29% to 60%. This means that consumers who haven't yet bought a turkey should be able to find one at a lower price than the Farm Bureau average.
"General inflation, which saps consumers' purchasing power, is a major factor contributing to the rise in the average cost of this year's Thanksgiving dinner," said AFBF chief economist Roger Cryan. Headline inflation has ranged from 7% to 9% in recent months, while the latest CPI report for food eaten at home shows a 12% rise over the past year.
"Other factors contributing to the increased cost of food are supply chain disruptions and the war in Ukraine," Cryan said. "The higher retail cost of turkeys at the grocery store can also be attributed to a slightly smaller flock this year, higher feed costs and lower processing weights." Cryan said consumer supplies of whole turkeys should be adequate this year, although in some States where bird flu was detected earlier this year may experience temporary regional bottlenecks.
We have Jive Turkey to thank Joe Biden for this mess.
And speaking of "turkey," this is what Joe looked like real turkeywhile trying to maneuver through the pardon ceremony.
Eventually it got so confusing that even the lady with "sign language" seemed to give up.
You can watch the video below:
BIDEN: "9.5 million turkeys! I'll tell you what, it's like some of the countries I've been to and they – anyway… *looks at the turkey* you want to talk?" pic.twitter.com/GgsRkr23nZ

— RNC Research (@RNCResearch) November 21, 2022
The sign language lady looked like she didn't know what the hell was going on.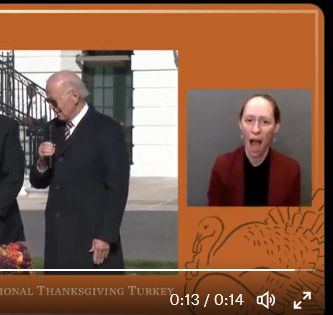 Joe Biden lives in his own little clueless world where his decisions are amazing, he makes great speeches and is perfectly sane.
To the rest of us who live on Earth, Joe looks and sounds like a confused 80-year-old man who should be living in a nursing home and isn't pretending to be "President."
I hope his turkey is bone dry and his gravy is lumpy.
The opinions expressed by contributors and/or content partners are their own and do not necessarily reflect the views of WayneDupree.com
---
---
Glad you're here, Comments from WayneDupree.com! Please maintain polite and on-topic conversations. You can see comments from our Community Managers, marked with a "WD Staff" or "Staff" label to encourage fruitful and civil discussions. We do not accept comments on articles three days after their publication in order to provide the best user experience. The conversation forums on WayneDupree.com welcome comments indefinitely. For more information, see our Community Guidelines.
SIGN UP HERE and join!
---
Follow Wayne on Rumble!
Biden Is Sufficiently Far-Left for Progressives to Back Him In 2024
After the Democrats managed to roll back the "red wave" in the midterm elections, the focus has naturally turned to the 2024 election.
But not only on the Republican side. The Hill shows that it is on the far left seemingly happy with Joe Bidenand they are no longer looking for a replacement.
While Biden has long said he would run again, there have been rumors that he wasn't up to the job or wasn't left enough to please the party's increasingly radical left wing. That no longer seems to be the case.
I hope Joe Biden runs again in 2024, it will be the clearest victory for Trump

– dr Mikey P Rogers, Ph.D. (@DocMikeRogers) November 26, 2022
TIED TOGETHER: Trafficking victim reveals it takes 5 to 13 years to 'buy' his freedom
Biden all-in on the far-left agenda
The Hill spoke to some left-wing luminaries about it.
Far-left MP Pramila Jayapal (D-WA) chairs the Congressional Progressive Caucus. in one last interview with Politico, Jayapal said, "He wasn't my first or second choice for president, but I'm a convert." to complete the agenda we have set."
Jayapal, who is as leftist as "Squad," is not alone. Cooper Teboe is a far-left Democratic strategist who sees a silence of those who could I have doubts about Joe Biden.
Support conservative voices!
Sign up to get the latest political news, insights and commentary delivered straight to your inbox.
He said: "I think what the Midterms have achieved is that they have silenced that. Even if Biden ran for re-election, I think we could have seen a few people running against him. But now I think he has an open field."
In other words, don't look for Californian Gavin Newsom or the world's oldest man, Socialist Bernie Sanders, to take on Biden's left.
While Joe Biden has always been a New England Liberal, the far left wing of the Democratic Party has clearly overtaken him. The first two years of his presidency prove that.
The chaos at the US's wide-open southern border continues to be a major concern.
Fox News reports in the 2022 financial year there were 2.3 million migrant encounters. That's well above the 1.7 million reported for fiscal 2021. There is no indication that fiscal 2023 will be any better as 230,000 encounters were reported for October 2022 alone.
To give you an idea of ​​how radically left borderline Biden is, even Bill Clinton recently said there is a limit how many immigrants America could absorb.
Lately, Biden proposed a ban Everyone Semi-automatic weapons – one of the most radical gun control agendas in decades, if not ever.
On the spending front, the Inflation Reduction Act quickly became Tax, Healthcareand Climate Bill, following a report by CBS News, explained that a group of economists said the massive $740 billion would do very little to curb inflation.
But it was music to progressives' ears and addressed all of their pet problems. The list goes on, but the point is: Biden is far left enough for far left.
What will Joe Biden promise and not do if he and Dems win in 2024?

— Eddie (@SoSocialism) November 23, 2022
TIED TOGETHER: Trump slams McConnell as 'our nation's loser' after Senator criticized his dinner with Fuentes
Long way to 2024
There may still be a hurdle on the road to Joe Biden's nomination and re-election. Because if he were re-elected, he would be 83 years old when he was sworn in. Should he serve a full second term, he would leave office on January 20, 2029 at the age of 87.
Former President Donald Trump has already thrown his hat in the ring for 2024, and he would be slightly younger when he takes office at age 78. And while Trump continues to enjoy strong Republican support and still leads in polls, a possible golden ticket for Republicans headed against Biden in 2024 could be a much younger Ron DeSantis.
But for now the guy is for Democrats Joe Biden.
Jonathan Kott, former adviser to Sen. Joe Manchin (D-WV), said: "Those calls died down because Bidenism proved a winning strategy at halftime and he was the most legally successful president of our generation. I don't think those calls will come back because President Biden is the only Democrat who can win in 2024."
That's the story of the Democrats and they seem to be sticking to it.
WATCH: Joe Biden was just asked by while shopping in Nantucket @betsy_klein
"How are your 2024 talks going" with his family.

The President replies, "We don't have any. We are celebrating." pic.twitter.com/qk4aPBf6BW

— TV News Now (@TVNewsNow) November 27, 2022
Now is the time to support and share the sources you trust.
Political Insider ranks #3 feed spots "100 Best Political Blogs and Websites."
Senate Gives LGBTQ Americans Reason To Breathe Easier

In my most vulnerable moments, I imagined having to tell my young child that his mother's marriage was no longer honored. I imagined holding back the tears and reminding him that it doesn't mean he's any less loved or protected. I imagined telling him that our family is just as important as any other family – including a family with a mother and father.
Sam Bankman-Fried Says FTX Had A 'Bad Month' But Didn't Try To Defraud Anyone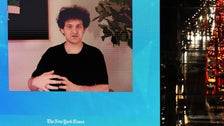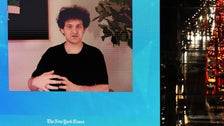 Sam Bankman-Fried, the former head of massive cryptocurrency exchange FTX, said he's had a "bad month." didn't want to cheat anyone before the company collapsed earlier this month.
"I wasn't trying to scam anyone," Bankman-Fried, who emerged via videoconference from the Bahamas, told the Times Summit. "A month ago I was hooked on FTX. … I grossly underestimated the magnitude and speed of the market crash."
The crypto world was stunned in November when FTX, valued at around $32 billion at its peak, imploded practically overnight. declare bankruptcy and leave behind more than a million believers. Investigators are investigating allegations that FTX Used up billions of dollars in customer funds to fund a sister company, Alameda Research. These claims began to worry investors sparked a bank run over the past few weeks that has led to the collapse and massive questions about how a crypto darling could practically disappear in less than a week.
Bankman-Fried resigned from his position at FTX and said Wednesday that he was left with "almost nothing," a quick fall from favor for the 30-year-old mogul who was once hailed as a technological prodigy by philanthropists, lawmakers and investors. He personally donated tens of millions of dollars to democratic causes.
He said Wednesday that he did not "knowingly" mix funds between FTX and Alameda Research, saying that although he ran the company and founded the trading firm, "I didn't know what was going on."
"A lot of the things I've learned over the last month," Bankman-Fried told the summit. "Look, I messed it up. I was the CEO of FTX. I keep saying that. That means I had a responsibility. We screwed it up big."
FTX's demise reflects general concerns about the crypto industry, which has surged during the pandemic during a Wild West investment boom with little to no regulation. Treasury Secretary Janet Yellen recently said that was the case with FTX "Lehman moment" of the industry that crypto needs to be regulated and is now big enough to cause "significant harm" to investors.
Bankman-Fried said while he "shocked" With the collapse of FTX, he focused on returning funds to clients.
"I have a duty to explain what happened and I have a duty to try to help," he said during the DealBook summit. "What matters here is all customers and stakeholders who have been hurt and helping them. What happens to me is not the important part."